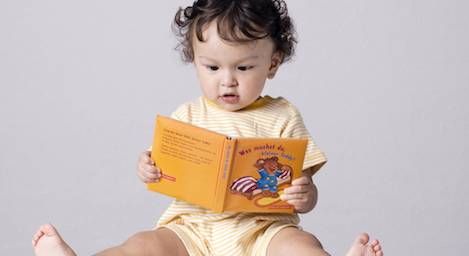 Children's
Learning the Alphabet (and More) Through Board Books
This content contains affiliate links. When you buy through these links, we may earn an affiliate commission.
Since having a baby four months ago, my reading has expanded considerably. Kind of. Not in terms of new genres and authors of adult fiction or non-fiction, but more in a whole different section of the bookshop that I had never even set foot in prior to parenthood. I'm talking, of course, about books for babies.
One key lesson I've learnt is that books for babies and the whole act of reading to your baby are partly (mostly) for the parent. Sure, there are all sorts of benefits to reading to your baby/child, and I think my baby is getting some entertainment and pleasure from me reading to her. But her reactions to me reading out loud the latest Janet Evanovich mystery novel and Where is the Green Sheep? are remarkably similar. I don't think she's quite getting the nuances of plot development and characterisation just yet.
Since my baby has got a bit older and spends more of the day awake and alert, we've been incorporating story time into the morning routine on most days. I don't know if she has favourite books yet, but I certainly do. One thing I've noticed is that alphabet books have become essentially a category of their own. There are plenty of books that will teach your child the basics: alphabet, shapes, numbers, colours. The kind where "a" is for "apple," "b" is for "boat," and "c" is for "car."
And then there are the other alphabet books. The ones that teach your child a little bit more than just the alphabet, and are just a tad more fun than the standard "a" is for "apple" alphabet board book. These are some of my favourites of the "other" alphabet books.
A B See by Elizabeth Doyle. This is a really fun one that a four month old definitely does not fully appreciate, but the parent will. Each letter is made up of things that begin with that letter, and the accompanying sentence uses as many words beginning with that letter as makes sense. A, for example: "Alligator admires an apple," and the letter "A" is made up of an alligator, an apple, an arrow, Australia, Africa, acorns, alarm, alien, anchor, ants, and apricots. A beautifully illustrated alphabet board book.
A is for Activist by Innosanto Nagara. The title is pretty self-explanatory. Each letter has a little poem about a different aspect of activism, rights, and social justice. This is a great one for introducing some concepts about equality, freedom, and standing up for what you believe in.
The next three are all by the same author, and on a similar theme: ABCs of Mathematics, ABCs of Science, and ABCs of Physics by Chris Ferrie. There are cute, simple illustrations and easy-to-understand explanations of various scientific and mathematical concepts. These are great for introducing STEM concepts to kids. And I'll be honest, I'm learning from them too—I haven't taken any maths or science classes since high school, which was a lifetime ago. These books are giving me a refresher course in things I probably ought to know.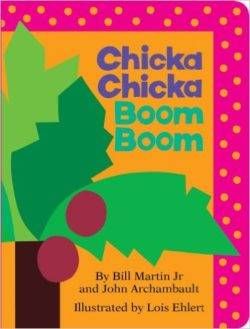 The last one on my list doesn't really actively teach much besides the alphabet, but is an absolute joy to read aloud: Chicka Chicka Boom Boom by Bill Martin Jr and John Archambault. One of the most important things about reading aloud that I've discovered is that plot, characterisation, and lessons imparted don't matter as much as the fun level. Is it rhythmic, repetitive, and joyful to read out loud? This one definitely is.
What I'm on the hunt for now is a board book of the NATO phonetic alphabet. If you know of such a book that exists, let me know!