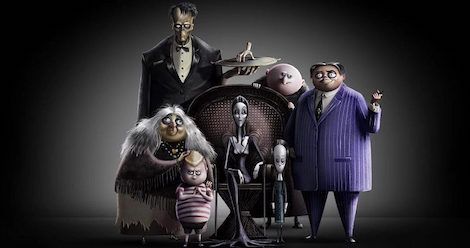 We all know it. The familiar melody. Our fingers snapping. A family where a severed hand, a Frankenstein's monster, and a carpet monster gather together. Wednesday Addams becoming a meme for taking no nonsense.
We got a trailer for a 3D movie featuring this quirky household, complete with the finger snapping and an epic version of the theme song. A married couple engages in kinky hijinks and raves over them, while the kids play with explosions and electricity. We know this household: the Addams family. The cast includes Oscar Isaac, Charlize Theron, Chloe Grace Moretz and Finn Wolfhard.
The Addams Family was originally a comic strip by Charles Addams that ran in the New Yorker starting in 1937. Addams would later collect them in trade books such as Chas Addams Happily Ever After: A Collection of Cartoons to Chill the Heart of You. Soon his new family would become stars in a sitcom, a cartoon, and a film series. The film is popular with Tumblr uses to point to Gomez and Morticia Addams as examples of relationship goals; Oscar Isaac and Charlize Theron have big shoes to fill. I suggest using cement, since it's what the Addamses would do.