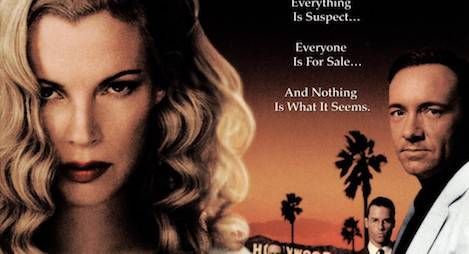 This content contains affiliate links. When you buy through these links, we may earn an affiliate commission.
On September 20, 2016, director and screenwriter Curtis Hanson died of natural causes at age 71. He wasn't a household name, and his death didn't elicit the online mourning ritual connected with so many deaths this year, but I couldn't help but feel a pang when I saw the news. Hanson wrote and directed one of my favorite movies and what I consider one of the greatest film adaptations of all time, L.A. Confidential.
The James Ellroy 1990 novel was a beast of a book. Set in 1950, it's an atmospheric look at crime and cops. It seemed impossible to film, but Hanson's Academy Award-winning screenplay, which he co-wrote with Brian Helgeland, abandons huge chunks of the plot and instead focuses intently on the three main characters, police officers Ed Exley (played by Guy Pearce), Bud White (played by Russell Crowe), and Jack Vincennes (played by Kevin Spacey).
I first encountered this story through the movie, and when I finally read Ellroy's book, I could see how well Hanson and Helgeland captured Ellroy's vision of all three men. The plot of the film is considerably different from that of the novel, but the screenplay features many of the same set pieces. Hanson's direction puts a twist on the noir atmosphere. Instead of shadows, there's bright light, which conveys the optimism of the time depicted while also getting across the idea that this is a story about bringing light to dark places, in more ways than one.
L.A. Confidential is an oddly inspirational film for something so violent and dark. It shows three deeply flawed men, all of them corrupted by the system they're in, finding the best versions of themselves. It's beautiful to look at, the music sets the mood perfectly, and all of the performances are stellar. It's one of a handful of movies that I never get tired of. Whenever I watch it, I almost always want to watch it again right away.
This montage gives you some idea of the style:
L.A. Confidential wasn't Hanson's only film to touch the literary world. He also directed the excellent adaptations of Wonder Boys by Michael Chabon and In Her Shoes by Jennifer Weiner. He was one of the greats.