35 of Your Picks for Activism Fiction
This Riot Recommendation of favorite fiction about activism is sponsored by Parts per Million by Julia Stoops.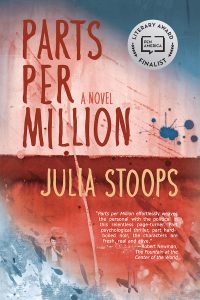 A tale of activism, loss, and transformation, Parts per Million is reading for the resistance. Three Portland activists work hard to save the world—one radio show at a time—when an Irish photographer with an expired visa disrupts their lives. Against the 2002 backdrop of the buildup to the Iraq war, the activists uncover war technologies research at an Oregon university, setting off a page-turning sequence of events. Julia Stoops began Parts per Million, a finalist for the PEN/Bellwether Prize for Socially Engaged Fiction, during the tumultuous period after 9/11, and it's now "a primer for the fight to come."
---
Social engagement can make for some engaging reading, especially during this moment in time when consciousness raising is a civic duty for all ages. So we asked you to tell us what you think are the best fiction reads featuring activism. Here are some of your recommendations:
The Hate U Give by Angie Thomas
The Long Night of White Chickens by Francisco Goldman
Flight Behavior by Barbara Kingsolver
Kira-Kira by Cynthia Kadohata
Landfall by Ellen Urbani
Radio Free Vermont by Bill McKibben
My Son's Story by Nadine Gordimer
Small Changes by Marge Piercy
Zodiac by Neal Stephenson
Gifted by John Daniel
The Ink Truck by William Kennedy
The Normal Heart by Larry Kramer
Meridian by Alice Walker
State of Wonder by Ann Patchett
Marrow Island by Alexis M. Smith
In Dubious Battle by John Steinbeck
Christodora by Tim Murry
Your Heart Is a Muscle the Size of a Fist by Sunil Yapa
Buffalo Brenda by Jill Pinkwater
We Love You, Charlie Freeman by Kaitlyn Greenidge
God's Bits of Wood by Ousmane Sembene
Tell No Lies by Barbara Rhine
Everything Belongs to Us by Yoojin Grace Wuertz
Five Smooth Stones by Ann Fairbairn
The Dispossessed by Ursula K. Le Guin
Click, Clack, Moo: Cows that Type by Doreen Cronin
The Book of Daniel by E. L. Doctorow
Wicked by Gregory Maguire
The Fifth Sacred Thing by Starhawk
Eat the Document by Dana Spiotta
The Sydney Rye series by Emily Kimelman
The Monkey Wrench Gang by Edward Abbey
The Enchanted by Rene Denfeld
Hot Season by Susan Defreitas
The Queue by Basma Abdel Aziz
We've got new perks over at Book Riot Insiders, including the Epic Group Read! Sign up for your free trial today!