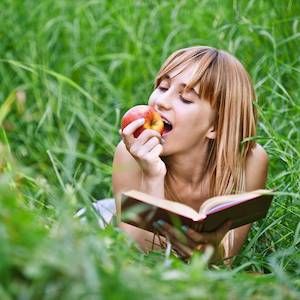 How To
5 Bookish Ways to Hold on to Summer
It's back to school time. Super-marts are wiped out of their school supplies. The smell of new backpacks is fresh in the air and bright white sneakers are shining on little feet. Pinterest is full of mustard color jeans and scarves with short sleeves. There's pumpkin spice scented and flavored most things hitting the shelves. I even saw candy corn at the grocery store the other day. People are craving the crispness of a fall day.
But, can I be real with y'all for a moment? I'm not ready. It's still in the 90s here in Virginia. We're having summer thunderstorms, and ice cream is a daily necessity. I need sandals, not sweatshirts. And I'm not going to apologize about trying to hold on to summer when everyone else has a crush on fall.
Since I'm boycotting jumping the seasons, I'm keeping my book choices summery as well. Here are 5 ways I'm holding on to summer in my reading:
Love stories.

Ah, yes. Summer love, happens so fast. When I'm on vacation, specifically at the beach, I love reading love stories. Romances, YA, fiction, memoir, anything where two people meet and their hearts beat faster.

Summer holds so much promise for new relationships because flowers are in bloom, bees are buzzing, potential meet-cutes are around every corner. Infatuation flares up faster and burns hotter in summer. I want that in my life and in my reading.

Summertime settings.

This one might seem obvious, but I'm reading books that are set in summer time. Give me a murder mystery at the beach. I need summer camp sagas. Adventures where the protagonists are sweating and swatting mosquitos. After reading about a barbecue in a novel, I'm ready to fire up the grill and make a picnic. When my main character goes on a fishing trip with his dad, I want to head down for a day at the river. Reading books with strong setting and sense of place help me stay in that place, or in this case season, as well.

Travel memoirs.

Summer is an excellent time to travel. In summer you can pack less, spend more time outside in the places you're visiting, and have more daylight to enjoy. People have figured this out, so most travel memoirs are set in the summer time. There's something about this season that beckons for adventure and risk taking. By reading travel stories, I can experience someone else's adventure without the jetlag.

Cookbooks.

There's tons of books out there devoted to only summertime cuisine. I love to flip through a cookbook on grilling to get ideas for my next cookout. Looking at cookbooks devoted to seasonal produce helps me put down the potato chips and pick up a melon baller for the watermelon. I can't bear the thought of turning on the oven yet, but a book on homemade ice cream gets me my sweet treat fix without the heat. Reading cookbooks lets me embrace summer in my physical senses as well as my mental.

Getting outside.

Usually, I don't like reading outside unless I'm on a beach. But, there's this perfect window in the times just before fall and at the end of spring where it's perfect to read outside. The sun isn't too harsh and the humidity becomes a bearable level. After work I can sit on my front porch, light a citronella candle, and enjoy the last warm days of the year.