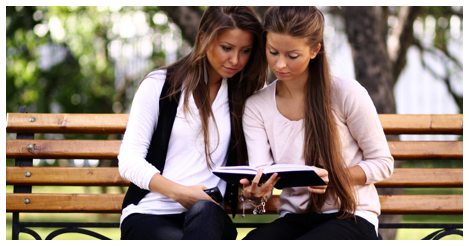 This content contains affiliate links. When you buy through these links, we may earn an affiliate commission.
This week's 3 On a YA Theme is sponsored by our What's Up in YA? Newsletter! Sign up to get a biweekly collection of everything that's happening in YA, right in your inbox.
---
We're all familiar with series. We've all enjoyed many a good debate over what to call them — there are duologies for two books, trilogies for three, and quadologies for four (I totally made that one up). There are series which go on far beyond four books that are called long series or get a special name attached to them (think like Terry Pratchett's "Tiffany Aching" series). There are cycles of books.
And then there are my favorite and perhaps the least appreciated type of series: the companion books.
Companion books are those which fit together because they're either set in the same world, share characters, or tell the same story through various perspectives. They aren't books you have to read in any order, and you don't even need to read all of the books within a companion series to get them individually. But they're written in such a way that readers who fall in love with a world or story or set of characters can dig even deeper.
In other words, companions are great for those of us who love the idea of a series but might be a little too afraid of commitment.
Here are three sets of companion reads worth your time. I've strayed from the ones people tend to know — like Stephanie Perkins's Anna and The French Kiss et al. — and searched for the ones that people might not realize are companions.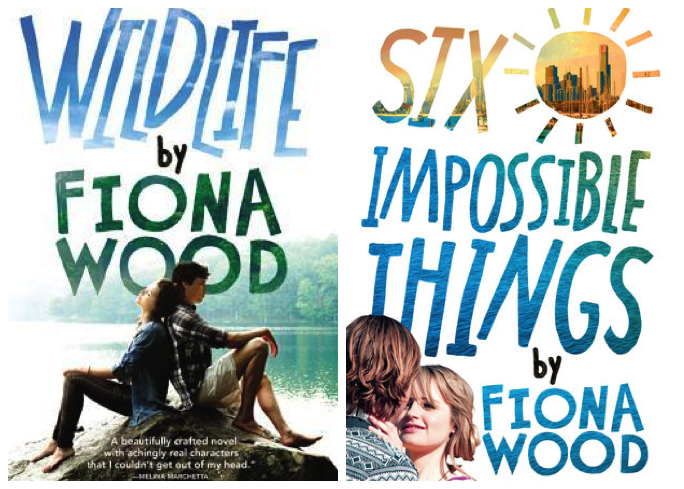 Wildlife by Fiona Wood
During a semester in the wilderness, sixteen-year-old Sib expects the tough outdoor education program and the horrors of dorm life, but friendship drama and love that gets complicated? That will take some navigating.
New girl Lou has zero interest in fitting in, or joining in. Still reeling from a loss that occurred almost a year ago, she just wants to be left alone. But as she witnesses a betrayal unfolding around Sib and her best friend Holly, Lou can't help but be drawn back into the land of the living.
Six Impossible Things by Fiona Wood
1. Kiss Estelle.
2. Get a job.
3. Cheer my mother up.
4. Try not to be a complete nerd/loser.
5. Talk to my father when he calls.
6. Figure out how to be good.
Nerd-boy Dan Cereill is not quite coping with a reversal of family fortune, moving, new-school hell, a mother with a failing wedding cake business, a just-out gay dad, and an impossible crush on Estelle, the girl next door. His life is a mess, but for now he's narrowed it down to six impossible things…
* Fun tidbit about these two books: In Australia, where they originally were published, they were released in the opposite order that they were released in the US.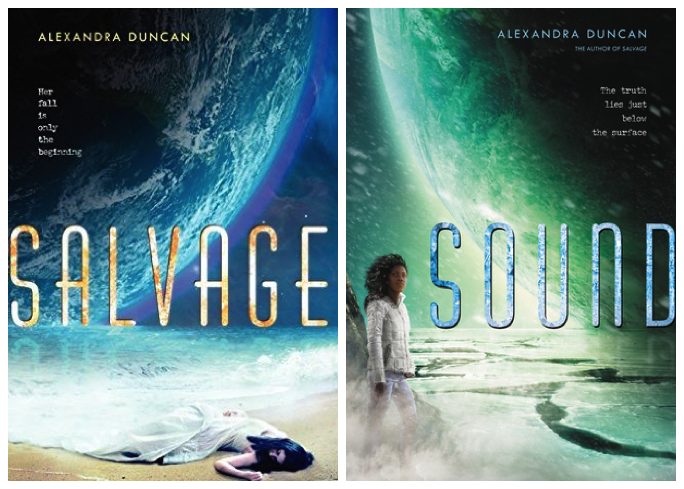 Salvage by Alexandra Duncan
Ava, a teenage girl living aboard the male-dominated, conservative deep space merchant ship Parastrata, faces betrayal, banishment, and death. Taking her fate into her own hands, she flees to the Gyre, a floating continent of garbage and scrap in the Pacific Ocean.
Sound by Alexandra Duncan
As a child, Ava's adopted sister Miyole watched her mother take to the stars, piloting her own ship from Earth to space making deliveries. Now a teen herself, Miyole is finally living her dream as a research assistant on her very first space voyage. If she plays her cards right, she could even be given permission to conduct her own research and experiments in her own habitat lab on the flight home. But when her ship saves a rover that has been viciously attacked by looters and kidnappers, Miyole—along with a rescued rover girl named Cassia—embarks on a mission to rescue Cassia's abducted brother, and that changes the course of Miyole's life forever.
Ship Breaker by Paolo Bacigalupi
In America's Gulf Coast region, where grounded oil tankers are being broken down for parts, Nailer, a teenage boy, works the light crew, scavenging for copper wiring just to make quota–and hopefully live to see another day. But when, by luck or chance, he discovers an exquisite clipper ship beached during a recent hurricane, Nailer faces the most important decision of his life: Strip the ship for all it's worth or rescue its lone survivor, a beautiful and wealthy girl who could lead him to a better life..
The Drowned Cities by Paolo Bacigalupi
Soldier boys emerged from the darkness. Guns gleamed dully. Bullet bandoliers and scars draped their bare chests. Ugly brands scored their faces. She knew why these soldier boys had come. She knew what they sought, and she knew, too, that if they found it, her best friend would surely die.
In a dark future America where violence, terror, and grief touch everyone, young refugees Mahlia and Mouse have managed to leave behind the war-torn lands of the Drowned Cities by escaping into the jungle outskirts. But when they discover a wounded half-man–a bioengineered war beast named Tool–who is being hunted by a vengeful band of soldiers, their fragile existence quickly collapses. One is taken prisoner by merciless soldier boys, and the other is faced with an impossible decision: Risk everything to save a friend, or flee to a place where freedom might finally be possible.

Want more "3 On A YA Theme" posts? Gotcha covered.