Giveaways
26 of Your Favorite Creativity Tips
This giveaway is sponsored by Let the Elephants Run: Unlock Your Creativity and Change Everything by David Usher.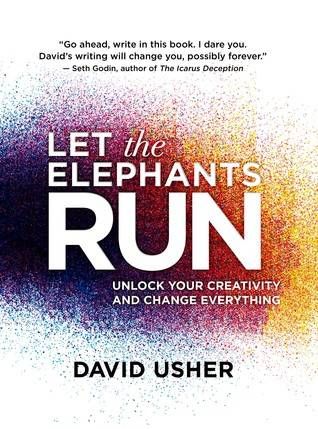 "Go ahead, write in this book. I dare you. David's writing will change you, possibly forever." — Seth Godin, author of The Icarus Deception
Written by David Usher, the award-winning musician and founder of CloudID Creativity Lab in Montreal, this book is based on his wildly popular speaking engagements. This book will help readers reignite creativity in their day-to-day lives.
At David Usher's company, CloudID Creativity Labs, there is a sign on the wall that reads: "Dream big, let the elephants run!" The words are a reminder for us to hold a place in our minds for creativity, where big ideas can form and our imagination can run free. Based on his wildly popular speaking engagements, Let the Elephants Run shows us how to reignite creativity whether in the head office, the home office or the artist's studio.
Usher believes creativity is in our DNA; it's in everyone, not just the creative class. We all start our lives as creative beings but for many that spark becomes lost over time. How do we jump-start our creative process as adults? What does it means to be a creative person? How do we follow through with our ideas and turn them into tangible outcomes?
Usher empowers readers to achieve more "aha" moments through two cornerstone principles of creativity: freedom and structure. Using a mix of personal anecdotes and professional examples from the worlds of industry, technology, science, music and art, he shows us that creativity is not magic; it is a learnable skill that any person or business can master. The dynamic full-colour design includes photographs, artwork and illustrations, as well as action pages to help readers start cultivating the habit of documenting their ideas for future execution.
____________________
Writers create immersive worlds, and readers come up with all kinds of creative ways to engage with them (just check out Tumblr's Reblog Book Club or the bookish sides of Instagram for evidence), but creativity doesn't come easily for all of us.
For this giveaway, we asked you to share your favorite creativity tips, and you shared some great ones! Here are 26 tips to help you crank up your creativity. Some of these are things you can do while others are things that just are.
1. Silly and trite as it sounds, I turn to Pinterest. I know, I know. But it always jump starts my creative instincts.
2. Don't think about it too hard. It comes when you aren't expecting it.
3. Building quiet time into my day where my mind can wander. I don't listen to any music or podcasts during my long runs so I can just let my thoughts flow freely. If I'm always taking information in, I'm not as creative.
4. Get up and MOVE. If I'm feeling stuck creatively, I go for a walk – increased blood flow, time to be alone with my head (whether that's thinking through things or just letting my mind empty), and a change of scenery all do wonders.
5. Hang out with people who are creative in ways that you are not.
6. A glass of wine gets the creative juices flowing.
7. As big of a reader I am, I'm not much of a writer, but I like to doodle, sketch, draw, paint, craft, work with mixed media, pretty much show my thoughts versus describing them through writing. Some of my favorite ways to get out of a creativity rut are to use writing prompts to visualize a story, skim through Pinterest posts for phrases, instagram posts, etc that will set my mind running. I also use dream journals to ignite my creativity.
8. Take time to figure out what tips work for you (ex: what time of day are you most creative? Does background noise or music help or hurt your creative process?) Once you know, you can use this information to create an environment that helps trigger your creativity.
9. Think backwards. If you know what the end result should look like, start thinking "how did it get here?"
10. You have to structure in the time to do the work.
11. Don't try to create for someone else. Create for yourself first, then find your audience.
12. When I feel at a loss for writing ideas, I sometimes put on music before bed that I know will make me dream weird dreams. Jill Tracy is a good one, or Julee Cruise. Tom Waits is the best though, especially Bone Machine or Black Rider. Turn it up and sleep to dream.
13. Take a long, hot bubble bath. Make sure to keep notebook or iphone with Evernote on it nearby to jot down ideas.
14. Go for a drive in the country and let your mind wander where it may. Bring a recorder for notes. (No writing while driving!)
15. Try to think like a 5 year old.
16. Letting your mind wander – that's when you get the big, inspirational ideas!
17. Don't be afraid to turn the world off. If you want to be creative, turn down the lights, put on some music, and stare off into space. Something is bound to fill that head of yours.
18. Try to see things for a different perspective. Literally. Flip a painting upside down or read from the bottom of the page up.
19. Never give up! I think embracing this idea allows people to work through problems, think outside the box, forgive themselves, move past a bad idea, turn a bad idea into a good idea and develop ideas that never would have come about if they didn't keep persevering.
20. Fold the laundry, do the dishes, pull weeds: anything that feels like progress but doesn't require a great deal of thought so the creativity can bubble up.
21. Read, read, and read. Then read some more.
22. Stay active! Taking a walk or a yoga class are great to give my mind a break and recharging my batteries.
23. Meditate every day. Creativity will flow.
24. Talk to yourself. Once you get something good do not be afraid to share and evolve your ideas with people. The right third party can make all the difference in the world.
25. Be confident enough to let yourself be insecure for you to be able to be creative.
26. Inspiration is for amateurs. Professionals place their arse on the chair and do their thing.