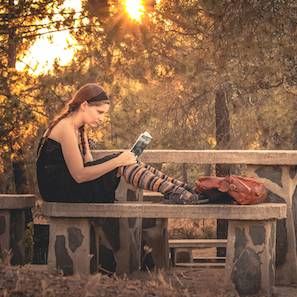 There are tons of "best of" lists floating around this time of year, and as someone who loves a good "best of" list, I delight in digging into them, trying to figure out if I agree or disagree with the choices. More, I use those lists as a way to gauge what my own year in reading looked like. With popular "best of" lists, did I read enough commercial, high-budget fiction? With more professional "best of" lists, did I read enough novels of critical acclaim or with literary merit?
It shouldn't be shocking that a lot of these lists happen to come out on or around Black Friday in the US, when shoppers are creating and executing their holiday shopping plans.
Rather than try to offer up a "best of" in YA fiction or round-up the "best of" lists into one giant list, I thought it might be more useful — and fun — to create a short list of 10 YA books that should be on anyone's "to read" or "to buy" list that, together, illustrate what the year 2014 in YA looked like. That means there's some popular titles here, along with quieter titles that may have slid under the radar. This is a mix of every genre, including both seasoned authors and debut authors. Since this is meant to be a starter/ender set, I'm not including books that are part of a series that aren't kicking off a new series. That would go well past 10 books. Likewise, I've left off graphic novels and non-fiction titles.
For this guide, I'll give the quick description, and more importantly, the "why" of its inclusion in this (very small and hard to narrow down) list. If you're buying books for a YA reader or are trying to bone up on your own reading, this is the guide for you.
Titles have been paired up purposefully, either because of thematic or genre purposes.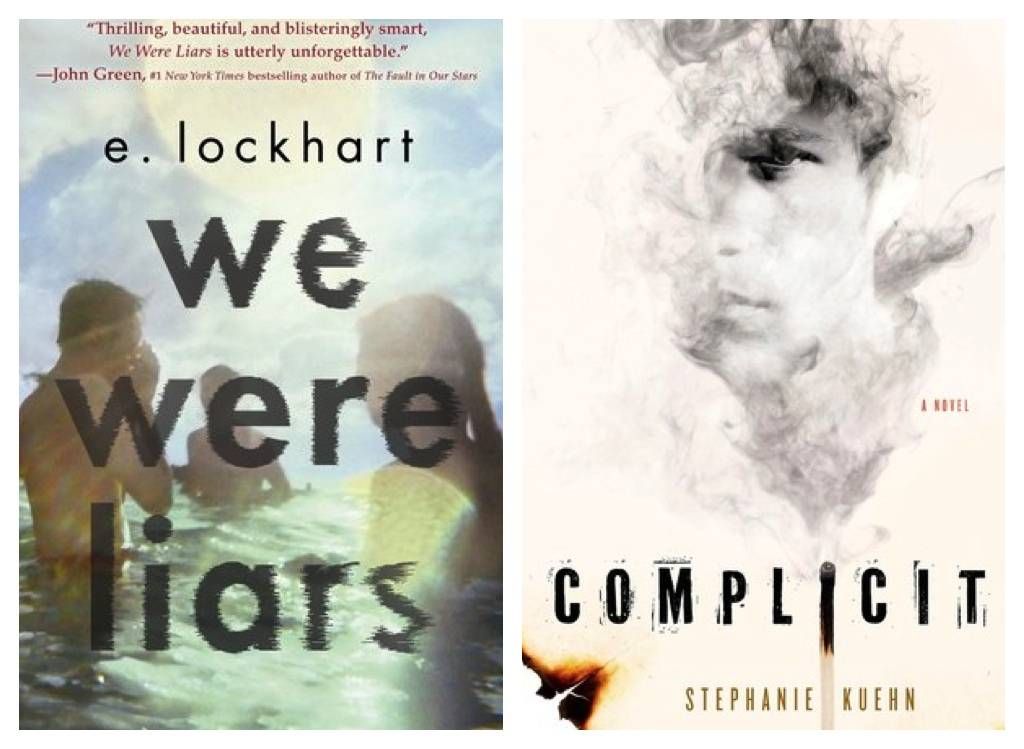 We Were Liars by E. Lockhart:
A beautiful and distinguished family.
A private island.
A brilliant, damaged girl; a passionate, political boy.
A group of four friends—the Liars—whose friendship turns destructive.
A revolution. An accident. A secret.
Lies upon lies.
True love.
The truth.
Complicit by Stephanie Kuehn:
Two years ago, sixteen-year-old Jamie Henry breathed a sigh of relief when a judge sentenced his older sister to juvenile detention for burning down their neighbor's fancy horse barn. The whole town did. Because Crazy Cate Henry used to be a nice girl. Until she did a lot of bad things. Like drinking. And stealing. And lying. Like playing weird mind games in the woods with other children. Like making sure she always got her way. Or else.
But today Cate got out. And now she's coming back for Jamie.
Because more than anything, Cate Henry needs her little brother to know the truth about their past. A truth she's kept hidden for years. A truth she's not supposed to tell.
Why:
Lockhart's We Were Liars and Kuehn's Complicit feature main characters who may not be the most reliable story tellers and both are stories about the complexities of family relationships. Lockhart's novel received major buzz through the year, and Kuehn's story is her sophomore effort, following on the heels of winning a major award for her debut novel, and features masterful weaving of threads to a surprising conclusion.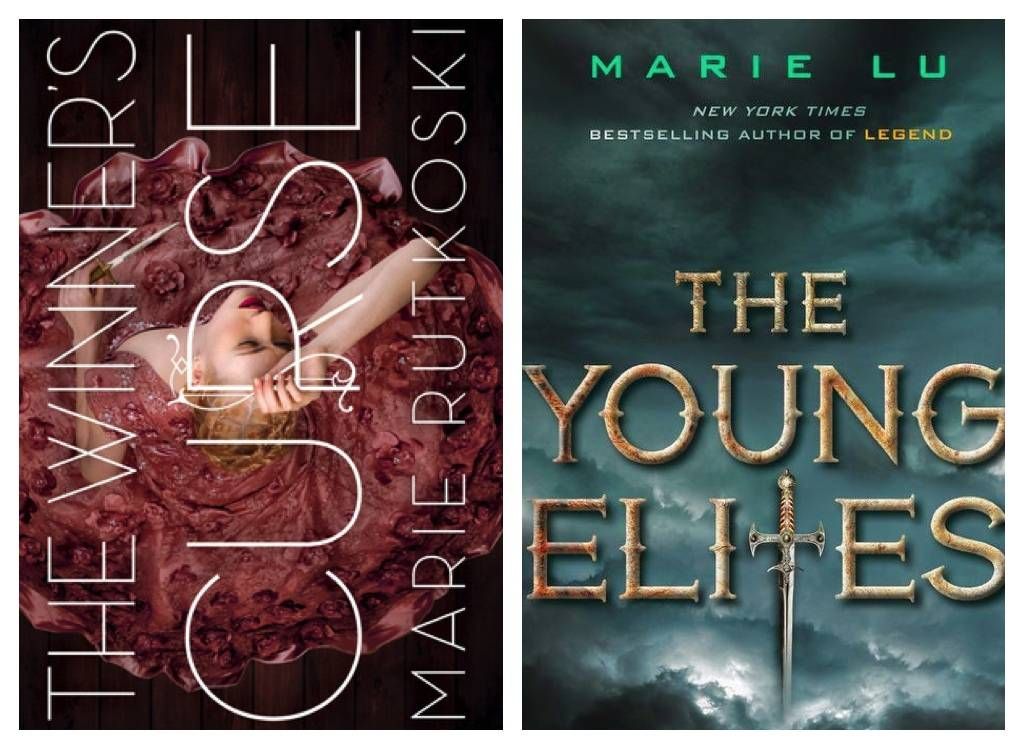 The Winner's Curse by Marie Rutkoski
As a general's daughter in a vast empire that revels in war and enslaves those it conquers, seventeen-year-old Kestrel has two choices: she can join the military or get married. But Kestrel has other intentions.
One day, she is startled to find a kindred spirit in a young slave up for auction. Arin's eyes seem to defy everything and everyone. Following her instinct, Kestrel buys him—with unexpected consequences. It's not long before she has to hide her growing love for Arin.
But he, too, has a secret, and Kestrel quickly learns that the price she paid for a fellow human is much higher than she ever could have imagined.
The Young Elites by Marie Lu
Adelina Amouteru is a survivor of the blood fever. A decade ago, the deadly illness swept through her nation. Most of the infected perished, while many of the children who survived were left with strange markings. Adelina's black hair turned silver, her lashes went pale, and now she has only a jagged scar where her left eye once was. Her cruel father believes she is a malfetto, an abomination, ruining their family's good name and standing in the way of their fortune. But some of the fever's survivors are rumored to possess more than just scars—they are believed to have mysterious and powerful gifts, and though their identities remain secret, they have come to be called the Young Elites.
Teren Santoro works for the king. As Leader of the Inquisition Axis, it is his job to seek out the Young Elites, to destroy them before they destroy the nation. He believes the Young Elites to be dangerous and vengeful, but it's Teren who may possess the darkest secret of all.
Enzo Valenciano is a member of the Dagger Society. This secret sect of Young Elites seeks out others like them before the Inquisition Axis can. But when the Daggers find Adelina, they discover someone with powers like they've never seen.
Adelina wants to believe Enzo is on her side, and that Teren is the true enemy. But the lives of these three will collide in unexpected ways, as each fights a very different and personal battle. But of one thing they are all certain: Adelina has abilities that shouldn't belong in this world. A vengeful blackness in her heart. And a desire to destroy all who dare to cross her.
Why:
Both Rukowski and Lu kick off brand new fantasy series with these books, meaning if either or both of these books hit all the right notes, there's more to come in the future. Rutkowski's story should appeal to adult YA readers (though it'll work perfectly fine for teens, too), especially for those who appreciate alternate history more than high fantasy. Lu's story features magic, which should appeal to readers looking for a more traditional fantasy. Rutkowski and Lu go dark and brutal in these stories, so they're not necessarily for readers looking for light, more escapist books.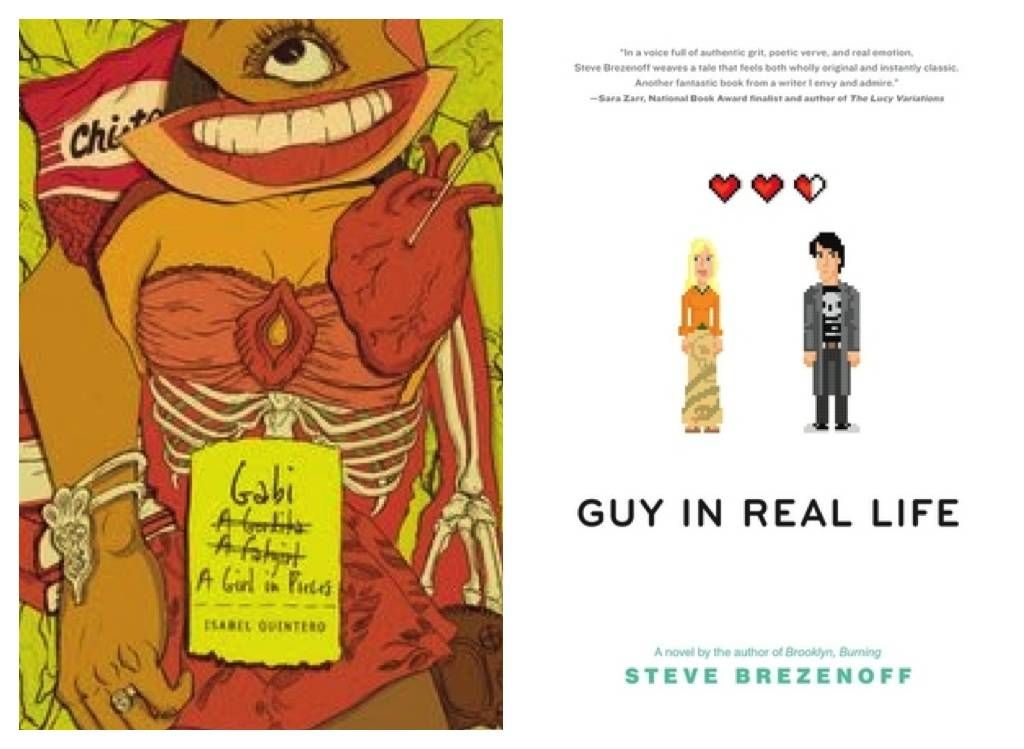 Gabi, A Girl in Pieces by Isabel Quintero
July 24
My mother named me Gabriella, after my grandmother who, coincidentally, didn't want to meet me when I was born because my mother was unmarried, and therefore living in sin. My mom has told me the story many, many, MANY, times of how, when she confessed to my grandmother that she was pregnant with me, her mother beat her. BEAT HER! She was twenty-five. That story is the basis of my sexual education and has reiterated why it's important to wait until you're married to give it up. So now, every time I go out with a guy, my mom says, "Ojos abiertos, piernas cerradas." Eyes open, legs closed. That's as far as the birds and the bees talk has gone. And I don't mind it. I don't necessarily agree with that whole wait until you're married crap, though. I mean, this is America and the 21st century; not Mexico one hundred years ago. But, of course, I can't tell my mom that because she will think I'm bad. Or worse: trying to be White.
Gabi Hernandez chronicles her last year in high school in her diary: Cindy's pregnancy, Sebastian's coming out, the cute boys, her father's meth habit, and the food she craves. And best of all, the poetry that helps forge her identity.
Guy In Real Life by Steve Brezenoff
It is Labor Day weekend in Saint Paul, Minnesota, and boy and girl collide on a dark street at two thirty in the morning: Lesh, who wears black, listens to metal, and plays MMOs; Svetlana, who embroiders her skirts, listens to Björk and Berlioz, and dungeon masters her own RPG. They should pick themselves up, continue on their way, and never talk to each other again.
But they don't.
This is a story of two people who do not belong in each other's lives, who find each other at a time when they desperately need someone who doesn't belong in their lives. A story of those moments when we act like people we aren't in order to figure out who we are. A story of the roles we all play-at school, at home, with our friends, and without our friends-and the one person who might show us what lies underneath it all.
Why:
Aside from pairing these two books together because they both have "girl" in the title ("Guy In Real Life" = GIRL), the reason these two make the list is that they're both realistic fiction about figuring out one's place in life right where they are, as well as figuring out the places they want to get to. In Quintero's novel, Gabi wrestles with her current situation, which includes a family member battling addiction, a best friend who is pregnant (not by choice), a best friend who has been kicked out of his house for coming out, as well as her own body image and the struggle of wanting to go to college and how and where that fits into her cultural values and heritage. In Brezenoff's novel, told through alternating voices, there's exploration of not just gaming, but also gender politics, social status, and more. Both Quintero and Brezenoff feature romance in their stories but it never overpowers the focus on the main characters and what it is those characters want outside a relationship. Likewise, both also have humor in them to temper the tougher stuff and the voices are all authentic and memorable.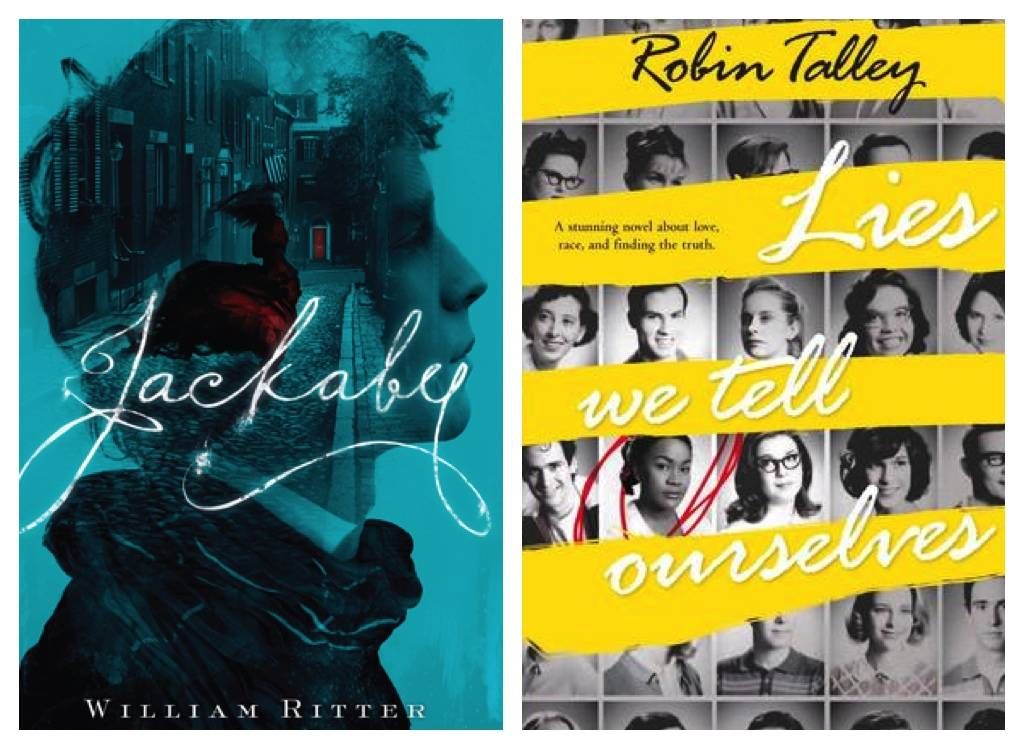 Jackaby by William Ritter
Newly arrived in New Fiddleham, New England, 1892, and in need of a job, Abigail Rook meets R. F. Jackaby, an investigator of the unexplained with a keen eye for the extraordinary–including the ability to see supernatural beings. Abigail has a gift for noticing ordinary but important details, which makes her perfect for the position of Jackaby's assistant. On her first day, Abigail finds herself in the midst of a thrilling case: A serial killer is on the loose. The police are convinced it's an ordinary villain, but Jackaby is certain it's a nonhuman creature, whose existence the police–with the exception of a handsome young detective named Charlie Cane–deny.
Doctor Who meets Sherlock in William Ritter's debut novel, which features a detective of the paranormal as seen through the eyes of his adventurous and intelligent assistant in a tale brimming with cheeky humor and a dose of the macabre.
Lies We Tell Ourselves by Robin Talley
In 1959 Virginia, the lives of two girls on opposite sides of the battle for civil rights will be changed forever.
Sarah Dunbar is one of the first black students to attend the previously all-white Jefferson High School. An honors student at her old school, she is put into remedial classes, spit on and tormented daily.
Linda Hairston is the daughter of one of the town's most vocal opponents of school integration. She has been taught all her life that the races should be kept "separate but equal."
Forced to work together on a school project, Sarah and Linda must confront harsh truths about race, power and how they really feel about one another.
Why:
Jackaby is a historical fantasy with a mystery to it, as well as a solid dash of humor. Talley's novel, on the other hand, is more traditional historical fiction about civil rights during segregation and more, about a romance that develops between a white girl and a black girl.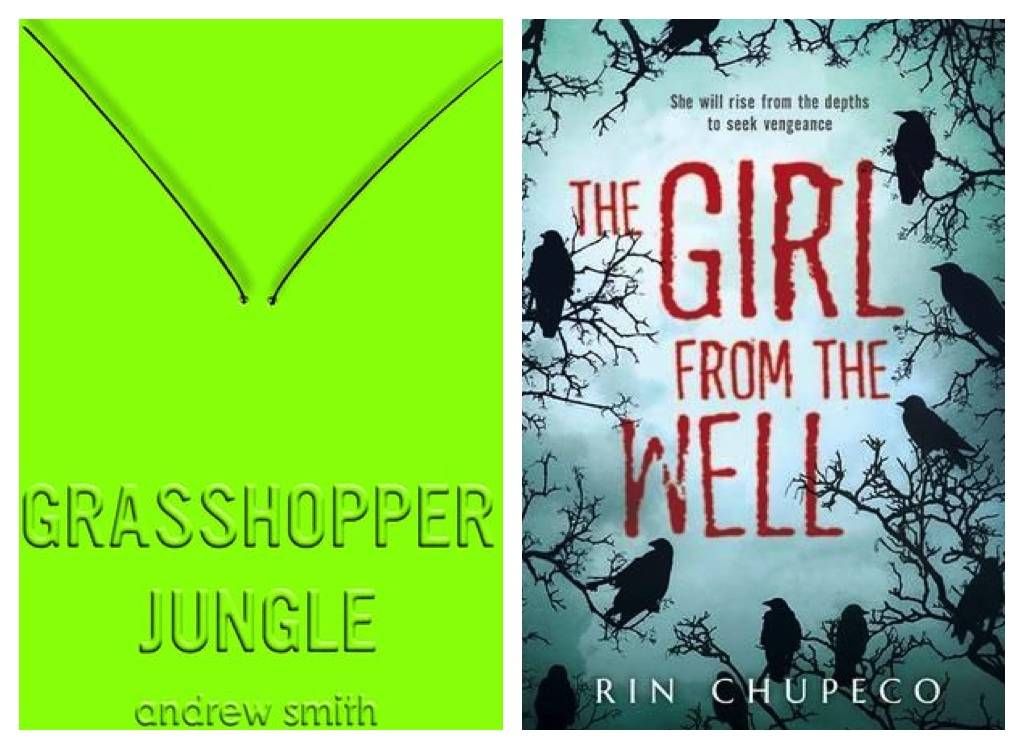 Grasshopper Jungle by Andrew Smith
Sixteen-year-old Austin Szerba interweaves the story of his Polish legacy with the story of how he and his best friend , Robby, brought about the end of humanity and the rise of an army of unstoppable, six-foot tall praying mantises in small-town Iowa.
To make matters worse, Austin's hormones are totally oblivious; they don't care that the world is in utter chaos: Austin is in love with his girlfriend, Shann, but remains confused about his sexual orientation. He's stewing in a self-professed constant state of maximum horniness, directed at both Robby and Shann. Ultimately, it's up to Austin to save the world and propagate the species in this sci-fright journey of survival, sex, and the complex realities of the human condition.
The Girl From The Well by Rin Chupeco
A dead girl walks the streets.
She hunts murderers. Child killers, much like the man who threw her body down a well three hundred years ago.
And when a strange boy bearing stranger tattoos moves into the neighborhood so, she discovers, does something else. And soon both will be drawn into the world of eerie doll rituals and dark Shinto exorcisms that will take them from American suburbia to the remote valleys and shrines of Aomori, Japan.
Because the boy has a terrifying secret – one that would just kill to get out.
Why:
Call these two books the "WTF" picks for this list. Andrew Smith has had a great year in YA, as Grasshopper Jungle published to a ton of interest and buzz, and his second book this year, 100 Sideways Miles, made the National Book Award long list for Young People's Literature. Grasshopper Jungle is filled with "WTF" moments, as it's a story about a little of everything: growing up, sexuality, and giant praying mantises that are not-so-slowly taking over the small town Austin lives in. It's a bizarre, unclassifiable novel with a neon green cover and pages that are so strangely…appealing. Chupeco's novel earns the "WTF" label not because it's bizarre but because it's a rare entry into the horror category of YA that delivers on the scares. This is in the tradition of Japanese horror, and the structure of the narrative is smart and sharp. If you like The Ring or The Grudge, this is satisfying.
____________________
Want more bookish goodness, but mixed in with pics of booze and also the occasional puppy? Follow us on Instagram!