Lists
100 Must-Read Books with Cats in Them
This content contains affiliate links. When you buy through these links, we may earn an affiliate commission.
Cats and good literature go together like peanut butter and bananas. If you don't believe me, check out all of the adorable kitties cuddling books all over Bookstagram. Then take a look at these 100 books with cats across several genres featuring felines. Whether they're the heroes, antagonists, motifs, or simply cuddly home companions, books with cats always make any story a little bit better.
Young Adult/Children's Books
Literary Fiction
25. Life of Pi, Yann Martel – "Life of Pi is a fantasy adventure novel by Yann Martel published in 2001. The protagonist, Piscine Molitor "Pi" Patel, a Tamil boy from Pondicherry, explores issues of spirituality and practicality from an early age. He survives 227 days after a shipwreck while stranded on a boat in the Pacific Ocean with a Bengal tiger named Richard Parker."
26. Kafka on the Shore, Haruki Murakami – "Kafka on the Shore is powered by two remarkable characters: a teenage boy, Kafka Tamura, who runs away from home either to escape a gruesome oedipal prophecy or to search for his long-missing mother and sister; and an aging simpleton called Nakata, who never recovered from a wartime affliction and now is drawn toward Kafka for reasons that, like the most basic activities of daily life, he cannot fathom. As their paths converge, and the reasons for that convergence become clear, Haruki Murakami enfolds readers in a world where cats talk, fish fall from the sky, and spirits slip out of their bodies to make love or commit murder. Kafka on the Shore displays one of the world's great storytellers at the peak of his powers."
27. The Wind-Up Bird Chronicle, Haruki Murakami – "In a Tokyo suburb a young man named Toru Okada searches for his wife's missing cat. Soon he finds himself looking for his wife as well in a netherworld that lies beneath the placid surface of Tokyo. As these searches intersect, Okada encounters a bizarre group of allies and antagonists: a psychic prostitute; a malevolent yet mediagenic politician; a cheerfully morbid sixteen-year-old-girl; and an aging war veteran who has been permanently changed by the hideous things he witnessed during Japan's forgotten campaign in Manchuria."
28. Breakfast at Tiffany's, Truman Capote – "In this seductive, wistful masterpiece, Truman Capote created a woman whose name has entered the American idiom and whose style is a part of the literary landscape. Holly Golightly knows that nothing bad can ever happen to you at Tiffany's; her poignancy, wit, and naïveté continue to charm."
29. As Bright As Heaven, Susan Meissner – "In 1918, Philadelphia was a city teeming with promise. Even as its young men went off to fight in the Great War, there were opportunities for a fresh start on its cobblestone streets. Into this bustling town, came Pauline Bright and her husband, filled with hope that they could now give their three daughters—Evelyn, Maggie, and Willa—a chance at a better life. But just months after they arrive, the Spanish Flu reaches the shores of America. As the pandemic claims more than twelve thousand victims in their adopted city, they find their lives left with a world that looks nothing like the one they knew. But even as they lose loved ones, they take in a baby orphaned by the disease who becomes their single source of hope. Amidst the tragedy and challenges, they learn what they cannot live without—and what they are willing to do about it."
30. Shiloh and Other Stories, Bobbie Ann Mason – "In Shiloh, Bobbie Ann Mason introduces us to her western Kentucky people and the lives they forge for themselves amid the ups and downs of contemporary American life, and she poignantly captures the growing pains of the New South in the lives of her characters as they come to terms with feminism, R-rated movies, and video games."
31. The Elegance of the Hedgehog, Muriel Barbery – "We are in the center of Paris, in an elegant apartment building inhabited by bourgeois families. Renée, the concierge, is witness to the lavish but vacuous lives of her numerous employers. Outwardly she conforms to every stereotype of the concierge: fat, cantankerous, addicted to television. Yet, unbeknownst to her employers, Renée is a cultured autodidact who adores art, philosophy, music, and Japanese culture. Then there's Paloma, a twelve-year-old genius. She is the daughter of a tedious parliamentarian, a talented and startlingly lucid child who has decided to end her life on the sixteenth of June, her thirteenth birthday. Paloma and Renée hide both their true talents and their finest qualities from a world they suspect cannot or will not appreciate them. They discover their kindred souls when a wealthy Japanese man named Ozu arrives in the building. Only he is able to gain Paloma's trust and to see through Renée's timeworn disguise to the secret that haunts her."
32. Franny and Zooey, J.D. Salinger – "The short story, Franny, takes place in an unnamed college town and tells the tale of an undergraduate who is becoming disenchanted with the selfishness and inauthenticity she perceives all around her. The novella, Zooey, is named for Zooey Glass, the second-youngest member of the Glass family. As his younger sister, Franny, suffers a spiritual and existential breakdown in her parents' Manhattan living room—leaving Bessie, her mother, deeply concerned—Zooey comes to her aid, offering what he thinks is brotherly love, understanding, and words of sage advice."
33. We, the Children of Cats, Tomoyuki Hoshino – "By turns teasing and terrifying, laconic and luminous, the stories in this anthology are drawn from sources as diverse as Borges, Nabokov, Garcia-Marquez, and traditional Japanese folklore, and yet they ultimately reside in a slyly subversive literary world that is all their own. Blending an uncompromising ethical vision with exuberant, free-wheeling imagery and bracing formal experimentation, the five short stories and three novellas included in We, the Children of Cats show the full range and force of Hoshino's imagination."
34. A Good Man Is Hard to Find, Flannery O'Connor – "This now classic book revealed Flannery O'Connor as one of the most original and provocative writers to emerge from the South. Her apocalyptic vision of life is expressed through grotesque, often comic situations in which the principal character faces a problem of salvation: the grandmother, in the title story, confronting the murderous Misfit; a neglected four-year-old boy looking for the Kingdom of Christ in the fast-flowing waters of the river; General Sash, about to meet the final enemy."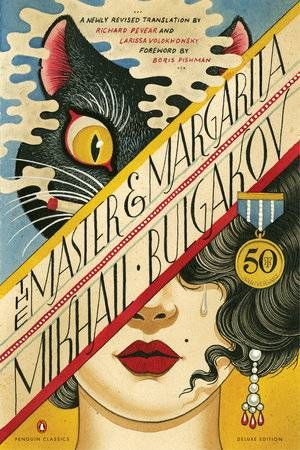 35. The Master and Margarita, Mikhail Bulgakov – "Mikhail Bulgakov's devastating satire of Soviet life was written during the darkest period of Stalin's regime. Combining two distinct yet interwoven parts—one set in ancient Jerusalem, one in contemporary Moscow—the novel veers from moods of wild theatricality with violent storms, vampire attacks, and a Satanic ball; to such somber scenes as the meeting of Pilate and Yeshua, and the murder of Judas in the moonlit garden of Gethsemane; to the substanceless, circus-like reality of Moscow. Its central characters, Woland (Satan) and his retinue—including the vodka-drinking black cat, Behemoth; the poet, Ivan Homeless; Pontius Pilate; and a writer known only as The Master, and his passionate companion, Margarita—exist in a world that blends fantasy and chilling realism, an artful collage of grotesqueries, dark comedy, and timeless ethical questions."
36. I Am A Cat, Sōseki Natsume – "Richly allegorical and delightfully readable, I Am a Cat is the chronicle of an unloved, unwanted, wandering kitten who spends all his time observing human nature—from the dramas of businessmen and schoolteachers to the foibles of priests and potentates. From this unique perfective, author Sōseki Natsume offers a biting commentary—shaped by his training in Chinese philosophy—on the social upheaval of the Meiji era."
37. Luminous Mysteries, John C. Holman – "A novel set in the New South, Luminous Mysteries follows the lives of Grim Power and his sister, Rita, from their youth to early middle age. In prose that has been compared to that of Raymond Carver, John Holman tellingly paints a portrait of the lives of middle-class African Americans today."
38. The Guest Cat, Takashi Hiraide – "A bestseller in France and winner of Japan's Kiyama Shohei Literary Award, The Guest Cat, by the acclaimed poet Takashi Hiraide, is a subtly moving and exceptionally beautiful novel about the transient nature of life and idiosyncratic but deeply felt ways of living. A couple in their thirties live in a small rented cottage in a quiet part of Tokyo; they work at home, freelance copy-editing; they no longer have very much to say to one another. But one day a cat invites itself into their small kitchen. It leaves, but the next day comes again, and then again and again. Soon they are buying treats for the cat and enjoying talks about the animal and all its little ways. Life suddenly seems to have more promise for the husband and wife—the days have more light and color. The novel brims with new small joys and many moments of staggering poetic beauty, but then something happens…"
Sci-Fi/Fantasy
39. The Door Into Summer, Robert A. Heinlein – "It is 1970, and electronics engineer Dan Davis has finally made the invention of a lifetime: a household robot with extraordinary abilities, destined to dramatically change the landscape of everyday routine. Then, with wild success just within reach, Dan's greedy partner and even greedier fiancée steal his work and leave him penniless, and trick him into taking the long sleep—suspended animation for thirty years."
40. The Iron King, Julie Kagawa – "Something has always felt slightly off in Meghan's life, ever since her father disappeared before her eyes when she was six. She has never quite fit in at school or at home. When a dark stranger begins watching her from afar, and her prankster best friend becomes strangely protective of her, Meghan senses that everything she's known is about to change. But she could never have guessed the truth—that she is the daughter of a mythical faery king and is a pawn in a deadly war. Now Meghan will learn just how far she'll go to save someone she cares about, to stop a mysterious evil, no faery creature dare face; and to find love with a young prince who might rather see her dead than let her touch his icy heart."
40. Midnight Crossroad, Charlaine Harris – "Welcome to Midnight, Texas, a town with many boarded-up windows and few full-time inhabitants, located at the crossing of Witch Light Road and Davy Road. It's a pretty standard dried-up western town. There's a pawnshop (someone lives in the basement and is seen only at night). There's a diner (people who are just passing through tend not to linger). And there's new resident Manfred Bernardo, who thinks he's found the perfect place to work in private (and who has secrets of his own). Stop at the one traffic light in town, and everything looks normal. Stay awhile, and learn the truth…"
41. A Beautiful Friendship, David Weber – "Stephanie Harrington always expected to be a forest ranger on her home world of Meyerdahl…until her parents relocated to the frontier planet of Sphinx in the far distant Star Kingdom of Manticore. It should have been the perfect new home—a virgin wilderness full of new species of every sort, just waiting to be discovered. But Sphinx is a far more dangerous place than ultra-civilized Meyerdahl, and Stephanie's explorations come to a sudden halt when her parents lay down the law: no trips into the bush without adult supervision! Yet Stephanie is a young woman determined to make discoveries, and the biggest one of all awaits her: an intelligent alien species."
41. The Cats of Ulthar, H.P. Lovecraft – "'The Cats of Ulthar' is a short story written by H.P. Lovecraft in June 1920. In the tale, an unnamed narrator relates the story of how a law forbidding the killing of cats came to be in a town called Ulthar. 'The Cats of Ulthar' was a personal favorite of Lovecraft's, who was an ardent cat lover."
42. The Color of Magic, Terry Pratchett – "The Color of Magic is Terry Pratchett's maiden voyage through the now-legendary land of Discworld. This is where it all begins—with the tourist Twoflower and his wizard guide, Rincewind."

43. Time Cat, Lloyd Alexander – "Gareth's definitely no ordinary cat. For one thing, he can talk. For another, he's got the power to travel through time. And the instant he tells this to Jason, the two of them are in ancient Egypt, on the first of nine amazing adventures that Jason will never forget."
44. Catalyst, Anne McCaffrey & Elizabeth Ann Scarborough – "Pilot, navigator, engineer, doctor, scientist—ship's cat? All are essential to the well-staffed space vessel. Since the early days of interstellar travel, when Tuxedo Thomas, a Maine coon cat, showed what a cat could do for a ship and its crew, the so-called Barque Cats have become highly prized crew members. Thomas's carefully bred progeny, ably assisted by humans—Cat Persons—with whom they share a deep and loving bond, now travel the galaxy, responsible for keeping spacecraft free of vermin, for alerting human crews to potential environmental hazards, and for acting as morale officers."
45. Star Ka'at, Andre Norton & Dorothy Madlee – "Two intriguing stray cats communicate with Jim and Elly Mae, convincing them that the cats are aliens from another planet."
46. Lyrec, Gregory Frost – "Lyrec and Borregad—two inter-dimensional travelers on a quest to hunt down and destroy the creature named Miradomon, who bestrides whole worlds and drinks the life of everything upon them. If they don't stop him on this world, the next one he'll devour is ours…"
47. Tailchaser's Song, Tad Williams – "Fifteen years ago, a young author surprised and enchanted readers with his first novel—the story of Fritti Tailchaser, a courageous tom cat in a world of whiskery heroes and villains, of feline gods and strange, furless creatures called M'an.The book was Tailchaser's Song, the author was Tad Williams.The legend was born."
48. Storm Front, Jim Butcher – "Harry Dresden is the best at what he does. Well, technically, he's the only at what he does. So when the Chicago P.D. has a case that transcends mortal creativity or capability, they come to him for answers. For the 'everyday' world is actually full of strange and magical things—and most don't play well with humans. That's where Harry comes in. Takes a wizard to catch a—well, whatever. There's just one problem. Business, to put it mildly, stinks. So when the police bring him in to consult on a grisly double murder committed with black magic, Harry's seeing dollar signs. But where there's black magic, there's a black mage behind it. And now that mage knows Harry's name. And that's when things start to get interesting."
49. The Cat Who Walks Through Walls, Robert A. Heinlein – "When a stranger attempting to deliver a cryptic message is shot dead at his table, Dr. Richard Ames is thrown headfirst into danger, intrigue, and other dimensions, where a plot to rescue a sentient computer could alter human history…"
50. To Say Nothing of the Dog, Connie Willis – "When too many jumps back to 1940 leave 21st century Oxford history student Ned Henry exhausted, a relaxing trip to Victorian England seems the perfect solution. But complexities like recalcitrant rowboats, missing cats, and love at first sight make Ned's holiday anything but restful—to say nothing of the way hideous pieces of Victorian art can jeopardize the entire course of history."
51. Mission to Universe, Gordon R. Dickson – "When too many jumps back to 1940 leave 21st century Oxford history student Ned Henry exhausted, a relaxing trip to Victorian England seems the perfect solution. But complexities like recalcitrant rowboats, missing cats, and love at first sight make Ned's holiday anything but restful—to say nothing of the way hideous pieces of Victorian art can jeopardize the entire course of history."
52. Jonathan Strange & Mr. Norrell, Susanna Clarke – "At Hurtfew Abbey in Yorkshire, the rich, reclusive Mr Norrell has assembled a wonderful library of lost and forgotten books from England's magical past and regained some of the powers of England's magicians. He goes to London and raises a beautiful young woman from the dead. Soon he is lending his help to the government in the war against Napoleon Bonaparte, creating ghostly fleets of rain-ships to confuse and alarm the French. All goes well until a rival magician appears. Jonathan Strange is handsome, charming, and talkative—the very opposite of Mr. Norrell. Strange thinks nothing of enduring the rigors of campaigning with Wellington's army and doing magic on battlefields. Astonished to find another practicing magician, Mr. Norrell accepts Strange as a pupil. But it soon becomes clear that their ideas of what English magic ought to be are very different. For Mr. Norrell, their power is something to be cautiously controlled, while Jonathan Strange will always be attracted to the wildest, most perilous forms of magic. He becomes fascinated by the ancient, shadowy figure of the Raven King, a child taken by fairies who became king of both England and Faerie, and the most legendary magician of all. Eventually Strange's heedless pursuit of long-forgotten magic threatens to destroy not only his partnership with Norrell, but everything that he holds dear."
53. Rosemary and Rue, Seanan McGuire – "The murder of Countess Evening Winterrose pulls Toby back into the fae world. Unable to resist Evening's dying curse, which binds her to investigate, Toby must resume her former position as knight errant and renew old alliances. As she steps back into fae society, dealing with a cast of characters not entirely good or evil, she realizes that more than her own life will be forfeited if she cannot find Evening's killer."
54. Fool on the Hill, Matt Ruff – "In the world of Fool on the Hill dogs and cats can talk, a subculture of sprites lives in the shadows and underfoot (if you're the sensitive type, or drunk enough, you might see them cavorting across the lawn), and the Bohemians, a group of Harley- and horseback-riding students dedicated to all things unconventional, hold all-night revels for the glory of their cause."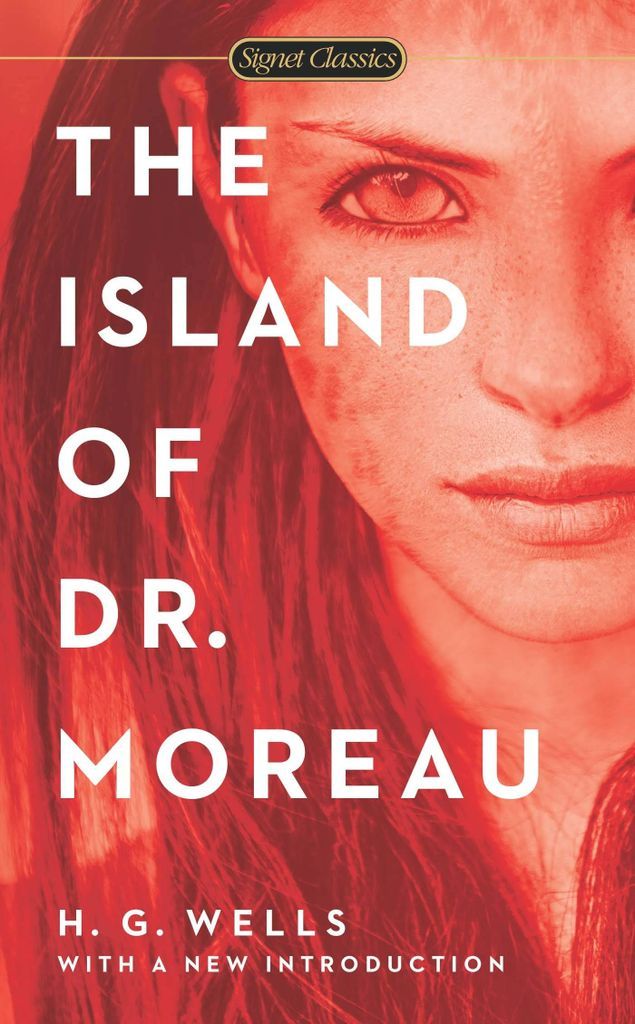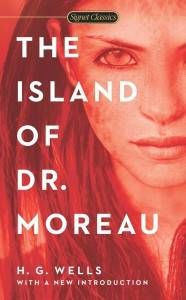 55. The Island of Dr. Moreau, H.G. Wells – "While this riveting tale was intended to be a commentary on evolution, divine creation, and the tension between human nature and culture, modern readers familiar with genetic engineering will marvel at Wells's prediction of the ethical issues raised by producing "smarter" human beings or bringing back extinct species. These levels of interpretation add a richness to Prendick's adventures on Dr. Moreau's island of lost souls without distracting from what is still a rip-roaring good read."
56. A Tiger for Malgudi, R.K. Narayan – "A venerable tiger, old and toothless now, looks back over his life from cubhood and early days roaming wild in the Indian jungle. Trapped into a miserable circus career as 'Raja the magnificent', he is then sold into films (co-starring with a beefy Tarzan in a leopard skin) until, finding the human world too brutish and bewildering, he makes a dramatic bid for freedom. R.K. Narayan's story combines Hindu mysticism with ripe Malgudi comedy, viewing human absurdities through the eyes of a wild animal and revealing how, quite unexpectedly, Raja finds sweet companionship and peace."
Horror
57. Pet Semetary, Stephen King – "Sometimes dead is better….When the Creeds move into a beautiful old house in rural Maine, it all seems too good to be true: physician father, beautiful wife, charming little daughter, adorable infant son—and now an idyllic home. As a family, they've got it all…right down to the friendly cat. But the nearby woods hide a blood-chilling truth—more terrifying than death itself…and hideously more powerful."
58. The Black Cat, Edgar Allen Poe – "'The Black Cat' is one of Edgar Allan Poe's most memorable stories. The tale centers around a black cat and the subsequent deterioration of a man. The story is often linked with 'The Tell-Tale Heart' because of the profound psychological elements these two works share."
59. The Tommyknockers, Stephen King – "Something was happening in Bobbi Anderson's idyllic small town of Haven, Maine. Something that gave every man, woman, and child in town powers far beyond ordinary mortals. Something that turned the town into a death trap for all outsiders. Something that came from a metal object, buried for millennia, that Bobbi accidentally stumbled across. It wasn't that Bobbi and the other good folks of Haven had sold their souls to reap the rewards of the most deadly evil this side of hell. It was more like a diabolical takeover…an invasion of body and soul—and mind…."
60. Just After Sunset, Stephen King – "Who but Stephen King would turn a Port-O-San into a slimy birth canal, or a roadside honky-tonk into a place for endless love? A book salesman with a grievance might pick up a mute hitchhiker, not knowing the silent man in the passenger seat listens altogether too well. Or an exercise routine on a stationary bicycle, begun to reduce bad cholesterol, might take its rider on a captivating—and then terrifying—journey. Set on a remote key in Florida, 'The Gingerbread Girl' is a riveting tale featuring a young woman as vulnerable—and resourceful—as Audrey Hepburn's character in Wait Until Dark. In 'Ayana,' a blind girl works a miracle with a kiss and the touch of her hand. For King, the line between the living and the dead is often blurry, and the seams that hold our reality intact might tear apart at any moment. In one of the longer stories here, 'N.,' which recently broke new ground when it was adapted as a graphic digital entertainment, a psychiatric patient's irrational thinking might create an apocalyptic threat in the Maine countryside…or keep the world from falling victim to it."
61. Twists of the Tale: An Anthology of Cat Horror, Ellen Datlow – "In this extraordinary collection, 24 master storytellers look into the inscrutable eyes of the cat and see a reflection of the frightening, the fantastic, and the bizarre. In 'The Cat From Hell,' Stephen King unravels a most unusual killing for hire. Joyce Carol Oates delves into a mother's worst nightmare in 'Nobody Knows My Name,' while Gahan Wilson's 'Best Friends' tells of pampered cats, gentle mistresses, and bloodshed."
62. The Sentinel, Jeffrey Konvitz – "A beautiful young model. The old brownstone apartment she simply had to have. The grotesque blind priest who watched down on her day and night from an upper-story window. The pair of perverted creatures who wanted her to join their circle. The mad little old man who gave her tea and sympathy. The cool, calculating, supremely rational lover who first mocked her fears. And the secret you will never be able to forget, even if you try…"
63. We Have Always Lived in the Castle, Shirley Jackson – "Merricat Blackwood lives on the family estate with her sister Constance and her Uncle Julian. Not long ago there were seven Blackwoods—until a fatal dose of arsenic found its way into the sugar bowl one terrible night. Acquitted of the murders, Constance has returned home, where Merricat protects her from the curiosity and hostility of the villagers. Their days pass in happy isolation until cousin Charles appears. Only Merricat can see the danger, and she must act swiftly to keep Constance from his grasp."
Thriller/Mystery
64. Gone Girl, Gillian Flynn – "On a warm summer morning in North Carthage, Missouri, it is Nick and Amy Dunne's fifth wedding anniversary. Presents are being wrapped and reservations are being made when Nick's clever and beautiful wife disappears. Husband-of-the-Year Nick isn't doing himself any favors with cringe-worthy daydreams about the slope and shape of his wife's head, but passages from Amy's diary reveal the alpha-girl perfectionist could have put anyone dangerously on edge. Under mounting pressure from the police and the media—as well as Amy's fiercely doting parents—the town golden boy parades an endless series of lies, deceits, and inappropriate behavior. Nick is oddly evasive, and he's definitely bitter—but is he really a killer?"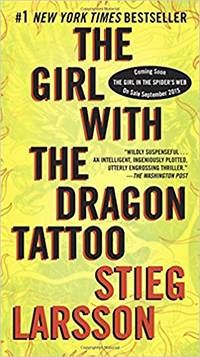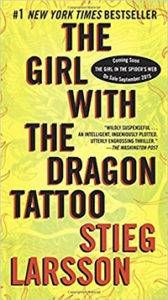 65. The Girl With the Dragon Tattoo, Stieg Larsson – "It's about the disappearance forty years ago of Harriet Vanger, a young scion of one of the wealthiest families in Sweden…and about her octogenarian uncle, determined to know the truth about what he believes was her murder. It's about Mikael Blomkvist, a crusading journalist recently at the wrong end of a libel case, hired to get to the bottom of Harriet's disappearance…and about Lisbeth Salander, a twenty-four-year-old pierced and tattooed genius hacker possessed of the hard-earned wisdom of someone twice her age—and a terrifying capacity for ruthlessness to go with it—who assists Blomkvist with the investigation. This unlikely team discovers a vein of nearly unfathomable iniquity running through the Vanger family, astonishing corruption in the highest echelons of Swedish industrialism—and an unexpected connection between themselves."
66. Sam the Cat Detective, Linda Stewart – "Justice is Sam's business, his only business. It's not a pretty job or an easy one, but it's a job Sam can do. Then 'She' walks into his office, purrs out her unhappy story, and begs him to take her case. Sam doesn't play the sap for anyone, but she's pretty, scared, and needs his help. Or does she?"

67. Felidae, Akif Pirinçci – "An internationally acclaimed suspense novel features the adventures of Francis, a house cat who, in trying to catch the murderer of his feline friends, meets up with a bizarre cat cult, a kitty computer whiz, and a perceptive Persian."
68. The Norths Meet Murder, Frances and Richard Lockridge – "The Norths meet murder in the top-floor studio of the old house in which they live. Long left vacant, Mrs. North decides it is just the place for a party and takes her husband up to check it out. They open a door—and find a murdered man in the bathtub! With no clue, not even the identity of the corpse, nothing to start from but the Norths and their black cat Pete, Detective Weigand begins spinning his web and gathering into it the most amazing conglomeration of information. With the aid of Mrs. North's 'hunches' he carries through to a brilliant, entertaining and fascinating conclusion."
69. Catnap, Carole Nelson Douglas – "When Temple Barr, five-feet-zero of feisty redhead, goes in hot pursuit of a stray black cat streaking through a publishing convention exhibit hall, she stumbles over a big-time NY editor lying dead. While Temple and Midnight Louie are on the case, the famous publishing mascots, a pair of Scottish Fold library cats named Baker and Taylor, are kidnapped for ransom. The pair must sniff out a murderer before Murder by the Book describes their fates."
70. The Cat Who Could Read Backwards, Lilian Jackson Braun – "Jim Qwilleran is a prizewinning reporter who's been on the skids but is now coming back with a job as feature writer (mostly on the art scene) for the Daily Fluxion. George Bonifield Mountclemens, the paper's credentialed art critic, writes almost invariably scathing, hurtful reviews of local shows; delivers his pieces by messenger; lives with his all-knowing cat Koko in a lushly furnished house in a moldering neighborhood, and has a raft of enemies all over town. He offers the newcomer a tiny apartment in his building at a nominal rent, and Qwilleran grabs it, surmising the deal will involve lots of cat-sitting. Meanwhile, a gallery whose artists get happier treatment from Mountclemens is owned by Earl Lambreth. The acerbic critic has praised paintings there by a reclusive Italian named Scrano; the junk assemblages of Nino, who calls himself a 'Thingist,' as well as works by Lambreth's attractive wife Zoe. It's Zoe who, one night past closing, finds her husband stabbed to death in the vandalized gallery. Days later, Qwilleran, guided by an insistent Koko, finds Mountclemens's knifed corpse on the patio behind his house."
71. The Woman in the Window, A.J. Finn – "Anna Fox lives alone, a recluse in her New York City home, unable to venture outside. She spends her day drinking wine (maybe too much), watching old movies, recalling happier times–and spying on her neighbors. Then the Russells move into the house across the way: a father, a mother, and their teenage son. The perfect family. But when Anna, gazing out her window one night, sees something she shouldn't, her world begins to crumble—and its shocking secrets are laid bare. What is real? What is imagined? Who is in danger? Who is in control? In this diabolically gripping thriller, no one—and nothing—is what it seems."
72. What the Cat Saw, Carolyn G. Hart – "Nela wants to ignore what the cat saw, but the idea that the death of former tenant Marian Grant wasn't an accident is something she can't ignore. As Nela begins to do some research into Marian's life, strange events begin to occur, all seeming to lead back to the Haklo Foundation. But when a detective becomes suspicious of Nela's sister and a second murder occurs, Nela realizes she'll have to make the most of her unwanted ability to figure out what's really going on, before she meets her own untimely end…"
73. A Local Habitation, Seanan McGuire – "October 'Toby' Daye is a changeling, the daughter of Amandine of the fae and a mortal man. Like her mother, she is gifted in blood magic, able to read what has happened to a person through a mere taste of blood. Toby is the only changeling who has earned knighthood, and she re-earns that position every day, undertaking assignments for her liege, Sylvester, the Duke of the Shadowed Hills. Now Sylvester has asked her to go to the County of Tamed Lightning—otherwise known as Fremont, CA—to make sure that all is well with his niece, Countess January O'Leary, whom he has not been able to contact. It seems like a simple enough assignment—but when dealing with the realm of Faerie nothing is ever as simple as it seems. Toby soon discovers that someone has begun murdering people close to January, whose domain is a buffer between Sylvester's realm and a scheming rival duchy. If Toby can't find the killer soon, she may well become the next victim."
74. Seeing A Large Cat, Elizabeth Peters – "According to an ancient Egyptian papyrus, dreaming of a large cat means good luck. And that's just what Amelia Peabody could use, as her growing family matures in the new century. What's more, Amelia's dashing husband Emerson has received a mysterious warning not to enter the Valley of the Kings. To Emerson's annoyance, Amelia's meddling distracts her attention as she exposes a fraudulent spiritualist, saves a marriage, and plays matchmaker. But diabolical forces are at work when an unknown tomb reveals a shocking murder—and the Peabody family dodges bullets from an assassin determined to put an end to their discoveries."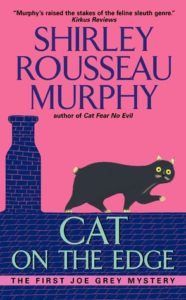 75. Cat on the Edge, Shirley Rousseau Murphy – "It's been quite a week for Joe Grey. First the large, powerful feline discovers that, through some strange, inexplicable phenomenon, he now has the ability to understand human language. Then he discovers he can speak it as well! It's a nightmare for a cat who'd prefer to sleep the day away carefree, but Joe can handle it. That is, until he has the misfortune to witness a murder in the alley behind Jolly's Deli—and worse, to be seen witnessing it. With all of his nine lives suddenly at risk, Joe's got no choice but to get to the bottom of the heinous crime—because his mouse-hunting days are over for good unless he can help bring a killer to justice."
Non-Fiction
76. Born A Crime, Trevor Noah – "Trevor Noah's unlikely path from apartheid South Africa to the desk of The Daily Show began with a criminal act: his birth. Trevor was born to a white Swiss father and a black Xhosa mother at a time when such a union was punishable by five years in prison. Living proof of his parents' indiscretion, Trevor was kept mostly indoors for the earliest years of his life, bound by the extreme and often absurd measures his mother took to hide him from a government that could, at any moment, steal him away. Finally liberated by the end of South Africa's tyrannical white rule, Trevor and his mother set forth on a grand adventure, living openly and freely and embracing the opportunities won by a centuries-long struggle."
77. We Are Never Meeting in Real Life, Samantha Irby – "Sometimes you just have to laugh, even when life is a dumpster fire. With We Are Never Meeting in Real Life, 'bitches gotta eat' blogger and comedian Samantha Irby turns the serio-comic essay into an art form. Whether talking about how her difficult childhood has led to a problem in making 'adult' budgets, explaining why she should be the new Bachelorette—she's '35-ish, but could easily pass for 60-something'—detailing a disastrous pilgrimage-slash-romantic-vacation to Nashville to scatter her estranged father's ashes, sharing awkward sexual encounters, or dispensing advice on how to navigate friendships with former drinking buddies who are now suburban moms—hang in there for the Costco loot—she's as deft at poking fun at the ghosts of her past self as she is at capturing powerful emotional truths."
78. A Street Cat Named Bob, James Bowen – "The moving, uplifting true story of an unlikely friendship between a man on the streets and the ginger cat who adopts him and helps him heal his life."
79. Cleo: The Cat Who Mended A Family, Helen Brown – "Helen Brown had no intention of adopting a pet when she brought her sons, Sam and Rob, to visit a friend's new kittens. But the runt of the litter was irresistible, with her overlarge ears and dainty chin. When Cleo was delivered weeks later, she had no way of knowing that her new family had just been hit by a tragedy. Helen was sure she couldn't keep her—until she saw something she thought had vanished from the earth forever: her son's smile. The reckless, rambunctious kitten stayed. Through happiness and heartbreak, changes and new beginnings, Cleo turned out to be the unlikely glue that affectionately held Helen's family together. Rich in wisdom, wit, heart, and healing, here is the story of a cat with an extraordinary gift for knowing just where she was needed most."
80. The Cat Inside, William S. Burroughs – "Best known for the wild, phantasmagoric satire of works like Naked Lunch, William S. Burroughs reveals another, gentler side in The Cat Inside. Originally published as a limited-edition volume, this moving and witty discourse on cats combines deadpan routines and dream passages with a heartwarming account of Burroughs's unexpected friendships with the many cats he has known. It is also a meditation on the long, mysterious relationship between cats and their human hosts, which Burroughs traces back to the Egyptian cult of the 'animal other.' With its street sense and whiplash prose, The Cat Inside is a genuine revelation for Burroughs fans and cat lovers alike."
81. Making the Cat Laugh, Lynne Truss – "One woman's journal of single life on the margins. A brilliant collection of Lynne Truss's journalism—recording the life of a metropolitan refugee from coupledom."
Comics/Graphic Novels
82. Sailor Moon, Naoko Takeuchi – "One of the most-beloved of all Japanese manga titles, Naoko Takeuchi's Sailor Moon has enthralled millions of readers worldwide since its debut in book form in early 1992. When Usagi Tsukino adopts a stray cat, she gets more than she bargains for The talking cat, Luna, informs Usagi that she is actually Sailor Moon, a magical princess from the future and protector of the Solar System. With the help of her new friends, the Sailor Scouts, and the mysterious Tuxedo Mask, Sailor Moon embarks on a quest to save us all from the evil powers of the Negaverse."
83. Monstress, Marjorie M. Liu – "Set in an alternate matriarchal 1900's Asia, in a richly imagined world of art deco-inflected steam punk, Monstresss tells the story of a teenage girl who is struggling to survive the trauma of war, and who shares a mysterious psychic link with a monster of tremendous power, a connection that will transform them both and make them the target of both human and otherworldly powers."
84. Saga, Brian K. Vaughan – "When two soldiers from opposite sides of a never-ending galactic war fall in love, they risk everything to bring a fragile new life into a dangerous old universe."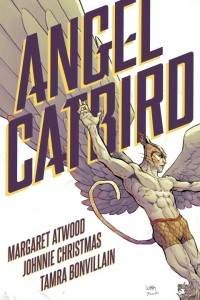 85. Angel Catbird, Margaret Atwood – "On a dark night, young genetic engineer Strig Feleedus is accidentally mutated by his own experiment and merges with the DNA of a cat and an owl. What follows is a humorous, action-driven, pulp-inspired superhero adventure—with a lot of cat puns."
86. The Rabbi's Cat, Joann Sfar – "In Algeria in the 1930s, a cat belonging to a widowed rabbi and his beautiful daughter, Zlabya, eats the family parrot and gains the ability to speak. To his master's consternation, the cat immediately begins to tell lies (the first being that he didn't eat the parrot). The rabbi vows to educate him in the ways of the Torah, while the cat insists on studying the kabbalah and having a Bar Mitzvah. They consult the rabbi's rabbi, who maintains that a cat can't be Jewish—but the cat, as always, knows better. Zlabya falls in love with a dashing young rabbi from Paris, and soon master and cat, having overcome their shared self-pity and jealousy, are accompanying the newlyweds to France to meet Zlabya's cosmopolitan in-laws. Full of drama and adventure, their trip invites countless opportunities for the rabbi and his cat to grapple with all the important—and trivial—details of life."
87. Fairy Tail, Hiro Mashima – "Celestial wizard Lucy wants to join the Fairy Tail, a club for the most powerful wizards. But instead, her ambitions land her in the clutches of a gang of unsavory pirates led by a devious magician. Her only hope is Natsu, a strange boy she happens to meet on her travels. Natsu's not your typical hero, he gets motion sickness, eats like a pig, and his best friend is a talking cat. With friends like this, is Lucy better off with her enemies?"
88. Azumanga Daioh, Kiyohiko Azuma – "It's tough to tell the difference between teacher and students in Azuma's comedy. Teacher Yukari Tanizaki is oblivious, immature, emotional and one of the people shaping young minds. Her students face difficulties in school that most never imagined. For example, as one pupil starts to ask a question, Miss Yukari cuts him off, stating she won't talk about her bra size. Another group of students are ready for their lessons, but instead of learning about social studies or science, they learn how Miss Yukari spent her weekend. Maybe that's not so bad, considering Miss Yukari's not the brightest bulb in the bunch and has her students correcting her on many technical points. Her students aren't sure how to react, but their bewilderment is half the charm of this manga. Like the 1980s TV series Head of the Class, Azu has an eclectic mix of pupils ranging from child geniuses to sports enthusiasts to tough girls; each possessing much more than meets the eye. The precocious child genius may be great at academic subjects, but she still draws like a little girl and has the emotions of a kid. The unemotional tough teen melts for tiny animals and longs to have a pet of her own, even if all of the creatures she comes in contact with seem to hate her."
89. Ito Junji's Cat Diary, Junji Ito – "The representative of Japanese horror comics, Junji Ito = horror manga author J. J, a dog person, was convinced into adopting two cats by his fiancee A-ko: Muu, a foreign cat, and Yun who has an accused face. Much to the chagrin of J, the cats won't get attached to him."
90. Cat Paradise, Yuji Iwahara – "Nine lives might not be enough to survive this catfight! At Matabi Academy, students are allowed to bring their pet cats to the dorms. For Yumi Hayakawa, whose favorite hobby is making clothes for her kitty Kansuke, Matabi seems like a sure bet. After all, nothing can possibly go wrong with her best friend at her side! But on the first day of school, the two find themselves face-to-face with a murderous demonic minion on campus! Will Yumi and Kansuke be able to defend themselves and their school against an ancient cat demon's thirst for vengeance?"
91. Baron: The Cat Returns, Aoi Hiiragi – "The story follows a girl called Haru, a quiet, shy and unassuming high school student who has a long-suppressed ability to talk to cats. One day, she saves a darkly-colored, odd-eyed cat from being hit by a truck on a busy road. The cat turns out to be Lune, Prince of the Cat Kingdom. In return, the cats shower her with gifts of catnip and mice. She is then offered the Prince's hand in marriage."
92. Neko Ramen: Hey! Order Up!, Kenji Sonishi – "Taisho was a former kitten model, who ran away from home and had a hard life on the streets…until the day he was saved by a kind ramen shop owner who later served as his mentor. Now Taisho takes pride in his noodles…and is easily angered when customers are dissatisfied! So step aside, Soup Nazi – there's a new cat in town!"
Poetry
93. Old Possum's Book of Practical Cats, T.S. Eliot – "T. S. Eliot's playful cat poems have delighted readers and cat lovers around the world ever since they were first published in 1939. They were originally composed for his godchildren, with Eliot posing as Old Possum himself, and later inspired the legendary musical Cats."
94. I Could Pee on This: And Other Poems by Cats, Francesco Marciuliano – "Cat lovers will laugh out loud at the quirkiness of their feline friends with these insightful and curious poems from the singular minds of housecats. In this hilarious book of tongue-in-cheek poetry, the author of the internationally syndicated comic strip Sally Forth helps cats unlock their creative potential and explain their odd behaviour to ignorant humans."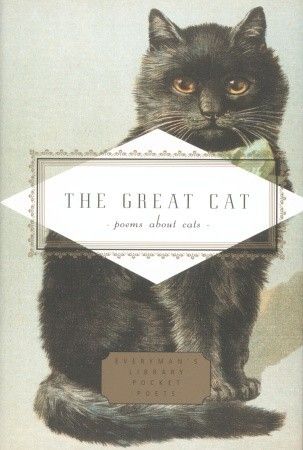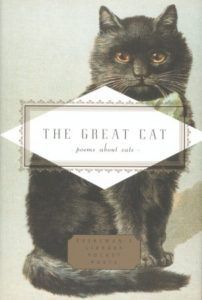 95. The Great Cat: Poems About Cats, Emily Fragos – "The feline has inspired poetic adoration since the days of the pharaohs, and the poems collected here cover an astonishing range of periods, cultures, and styles. Poets across the continents and centuries have described the feline family—from kittens to old toms, pussycats to panthers—doing what they do best: sleeping, prowling, prancing, purring, sleeping some more, and gazing disdainfully at lesser beings like ourselves. Here are Yeats's Minnaloushe, Christopher Smart's Jeoffry, Lewis Carroll's Cheshire Cat, T. S. Eliot's Rum Tum Tugger, William Blake's tyger and Rilke's panther. Here are tributes from Sufi mystics, medieval Chinese poets, and haiku masters of imperial Japan, from Chaucer, Shelley, Borges, Neruda, Dickinson, and Shakespeare. Here are the cats of Mother Goose, and the one who wore the hat for Dr. Seuss."
96.The Lesbian Sex Haiku Book (With Cats!), Anna Pulley – "Lesbian sex has been confounding people since the dawn of time. What is it that two women do together exactly? The Lesbian Sex Haiku Book (with Cats!) is a humorous guide to lesbian sex, dating rituals, and relationships, and aims to dispel all myths. Haiku paired with hilarious watercolor illustrations of cats in various stages of sexual awkwardness will enlighten, demystify, remystify, and most importantly entertain as you learn about all the aspects involved in girl-on-girl action."
97. Honorable Cat, Paul Gallico – "The author of The Silent Miaow examines the cat in all his infinite variety, moods, and from every aspect—psychological, social, intellectual, and historical. More than 60 charming poems are illustrated by beautiful full-color photographs by famed photographer Nishikawa."
98. Poetry for Cats: The Definitive Anthology of Distinguished Feline Verse, Henry N. Beard – "In the vein of his bestselling French for Cats, Henry Beard has assembled a brilliant anthology of treasured works by feline poets. Includes 'Do Not Go Gentle to That Damned Vet' by Dylan Thomas's cat, 'The Human' by Edgar Allan Poe's cat and other works. Poetry for Cats will prove as thrilling as a stiff shot of catnip. Color illustrations."
Romance
99. Friend-Zoned, Belle Aurora – "Nikolai Leokov never thought he'd fall in love with the only girl he's ever befriended. Valentina Tomic has issues with commitment after the ultimate betrayal. When Tina decides to make broody Nik's day better, she never thought she would end up friends with the hard man. Nik has never had a woman be so affectionate to him without expecting something in return."
100. Cats and Cowboys, Ruth J. Hartman – "Lanna Kirby and her cat, Gordon, flee Indiana when her racecar-driver boyfriend publicly humiliates her. A job in a small Texas post office seems far enough away and a good place to start over. Lanna's through with men, for sure. That is, until a handsome cow-boy strolls in."
What are your favorite books with cats?