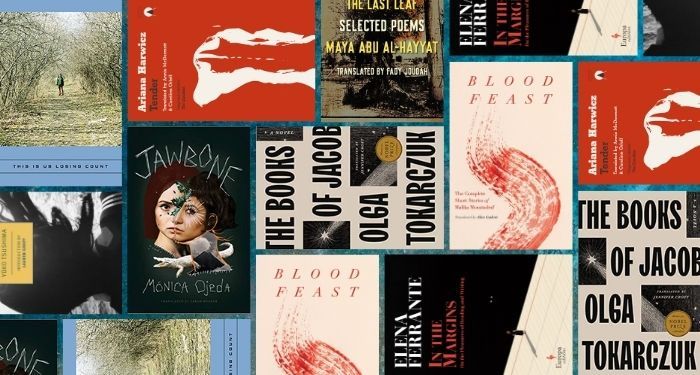 This content contains affiliate links. When you buy through these links, we may earn an affiliate commission.
The days are getting longer and spring is in the air. Admittedly I'm writing this in the midst of another snowstorm in New England and it doesn't feel anything like spring, but supposedly it's coming. And while I wait for better weather, I can enjoy the spring 2022 new releases in translation. There's something for everyone this season, with exciting debuts, thoughtful nonfiction, stunning poetry collections, and so much more. Readers will be particularly excited to see new titles from favorite authors like Olga Tokarczuk, Elena Ferrante, and Yūko Tsushima, and beloved translators like Jennifer Croft, Ann Goldstein, and Geraldine Harcourt.
I've poured over the catalogs and galleys and highlighted just some of the best spring 2022 new releases in translation, and because there's just so much to choose from, I've added notes for others you should seek out as well! Looking over the lists I noticed there was even more incredible literature translated from Spanish this season than usual, more than I could fit into this list, so if you need just a few more suggestions check out The Wonders by Elena Medel, translated by Lizzie Davis and Thomas Bunstead, Linea Nigra: An Essay on Pregnancy and Earthquakes by Jazmina Barrera, translated by Christina MacSweeney, and Portrait of an Unknown Lady by Maria Gainza, translated by Thomas Bunstead.
Best Spring 2022 New Books In Translation
Looking for even more great recommendations? Check out these 24 Must-Read 2022 Books In Translation.