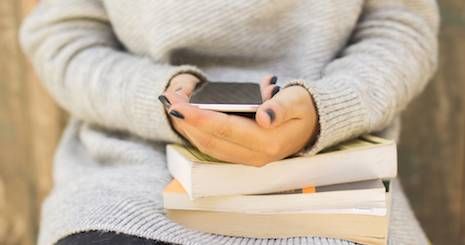 This content contains affiliate links. When you buy through these links, we may earn an affiliate commission.
You might know me by my now as "that Book Riot contributor who's obsessed with The List App." You wouldn't be wrong. I discovered the app on the day it went public – 14th October 2015, a day that will go down as momentous in my personal social media history – and immediately wrote a post about it for Book Riot. Essentially, it's Twitter meets Instagram meets blogging: a place to share thoughts and recommendations on anything from The Small Parts I've Played in the Lives of Famous Men to The Awesomeness That Is the Tuscon Festival of Books to What I imagine the Presidential Candidates Eat for Breakfast.
From early on, it also became a place where bookish people could find each other. Some of the first users included the Strand Bookstore as well as a ton of authors. The "open lists" – which one person starts and then accepts contributions for, from other members of the community – are a great way to get recommendations. The List App itself was the brainchild of BJ Novak, who, in addition to having great acting skills, is a fantastic author, so it's no surprise that readers and writers have felt so welcome there.
But now The List App is taking its bookishness to a whole new level: it's launched a book club.
The way it works is this: every Sunday, two lists are posted by the Book Club account (which, full disclosure, I'm helping to run). One consists of prompts for lists about the book. One is an open list, which becomes a repository of all the lists people have written about the book in that particular week, following the prompts or coming up with something of their own.
The first book that has been chosen, to be read over the course of a month, is Lauren Groff's Fates and Furies – one of my favourites of last year, so that is exciting in itself. BJ Novak chose it, and here's what he had to say about it in the Press Release: "I've been so happy to see such a passionate literary community forming on The List App. Fates and Furies has been highly recommended to me, and its combination of pleasure and substance makes it sound like a perfect choice for our community. We all keep running lists in our head when we read a good book: our thoughts, questions, reactions, favourite lines. I think it will be a fascinating way for people to be able to share a reading experience."
We're a couple of weeks in, but there's still plenty of time to join in. Lists so far have included Emotions Felt and Expressed in Gifs, [An Exercise in Bracket Asides], Thoughts of a Girl Who Really Wants To Hook Up with Lotto at the Cast Party, Lotto's Plays Ranked by How Much I Want to See Them and What's Mathilde Hiding from Lotto?: An Open Prediction List. We've also posted pictures of our reading nooks and been advised by Riverhead – publisher of Fates and Furies – as to what we should have on hand when we read (those things include specific kinds of wine and chocolate, so this seems like a reasonable list to me).
Online book clubs come and go, so what's so special about The List App's, and will it stick? We certainly hope so, and that hope is (I would argue) well-founded. People engage with each other on The List App, rather than just shouting into the void or self-promoting. The vast majority of the time, conversation is respectful and thoughtful. Each Book Club list is, essentially, a discussion thread, in which there is space to say smart, substantive things, but there's also plenty of room for GIF- and emoji-related play. The Book Club account is the central hub, keeping it all nice and organised. Lauren Groff and Riverhead have joined the app and got involved, too. The signs are good. I'm over there at BookishClaire, and the Book Club is at, well, BookClub.
We' d love to have more Rioters on board. Join us!