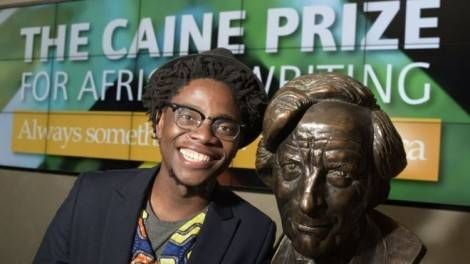 News
The Caine Prize: What It Is and Why It Matters
This content contains affiliate links. When you buy through these links, we may earn an affiliate commission.
This year's winner of the Caine Prize for African Writing was South African writer Lidudumalingani for his story "Memories We Lost," which can be found in the collection Incredible Journey: Stories that Move You (Burnet Press, 2015). His work was chosen from a shortlist of seven stories, in what was apparently a record year for submissions. His own piece, which you can read here, deals with mental illness in a rural setting and looks at the problematic ways a community responds to sufferers.
Lidudumalingani is also a filmmaker and photographer, and talks here with BBC Africa here about the context of his story and about the situation of writers trying to publish not only in Africa but around the world.
Though you might not have heard of the Caine Prize, you probably have heard of the Booker Prize, which was established in part with the support of Sir Michael Harris Caine. The Caine Prize for African Writing (its formal title) is named in his memory, and constitutes a £10,000 sum awarded each July to best short story in English by an African writer.
While its patrons and judges are luminaries such as Nobel Laureates Wole Soyinka and J.M. Coetzee, as well as other famous African writers like Booker Prize winner Ben Okri, the shortlisted authors are generally people that you may have never heard about. The winners tend to be at the beginning of their careers, which the prize is meant in part to help launch. Indeed, the Caine Prize's first recipient in 2000 was was Sudanese writer Leila Aboulela, who won for her story "Museum" and went on to publish three novels and a collection of short stories, most recently The Kindness of Enemies (Grove Press, 2016).
African literature and its reputation worldwide tends to be overshadowed by a few great writers. There's nothing especially wrong with that. And I'm always happy to see people reading books about Africa by Africans, since it's something I've spent so much of my own time doing. But it's also important to recognize that there is a great deal of variety within African literature. It's not all magical realism, and it's not all about people living in Paris or New York. So the shortlist for the Caine Prize can be a starting point if you want to explore more fiction beyond the hit novels everybody is talking about. While you've definitely heard of Chimamanda Ngozi Adichie – especially given the wildfire popularity of her speech turned short book We Should All Be Feminists – and you might have encountered Alain Mabanckou or Tahar Ben Jelloun, there are many contemporary African writers who have not been picked up yet by major European and North American publishers.
In a time of skepticism about the future of African literature – I have actually heard a distinguished specialist in the area claim cynically that "No one is writing in Africa anymore – they're making films or music" – I find hope in the selection of shortlisted candidates every year. Whether living on the continent or not, Africans are writing.
For further reading, you can find all of this year's shortlisted writers and their stories on the Caine Prize website. Also, the shortlisted writers participate each year in a workshop, and their stories go on to be published in a volume, most recently being 2015's Lusaka Punk and Other Stories (Interlink).