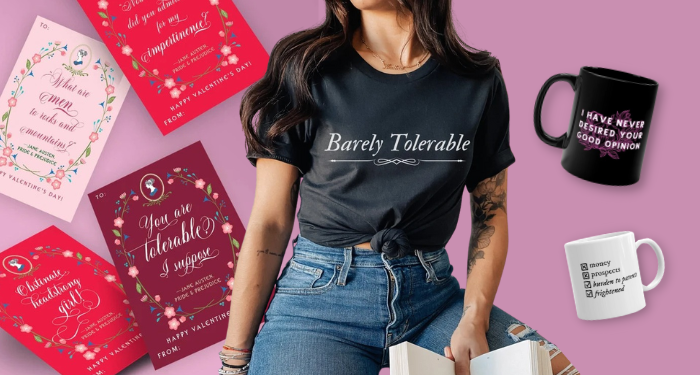 Book Fetish
These Snarky Jane Austen Goods are More Than Tolerable
This content contains affiliate links. When you buy through these links, we may earn an affiliate commission.
Jane Austen gets a lot of praise and attention for her love stories, and while I do enjoy the enemies-to-lovers dynamic of Elizabeth Bennet and Mr. Darcy and the romantic banter between Emma Woodhouse and Mr. Knightly, I think that Jane Austen's work tends to be pigeon-holed as romances. The reality is that Austen's books are as satirical as they are romantic, and they poked a lot of fun at social norms and expectations even as they told some truly romantic stories.
Jane Austen was also a genuinely funny person with a very dry sense of humor — you can see it in the dialogue she gives Mr. Bennet, in the sly authorial voice that is present in many of her novels, and of course, in her surviving letters, particularly those she wrote her sister Cassandra. If Jane Austen were alive today, I bet she'd be the author of some really great memes…and I definitely think she'd approve of these snarky, sarcastic, and funny goods that give a sly nod to some of her funniest lines and characters, and showcase that her characters are as beloved for their wits as they are for their memorable romances!
---
Never read a Jane Austen book? Here's how to get started.