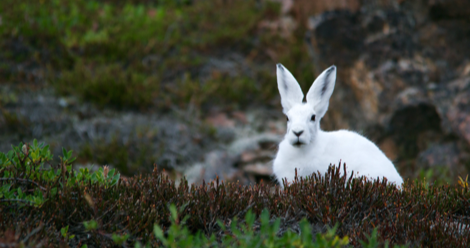 Lists
25 Rabbit Books For Your Inner Bunnyholic
This content contains affiliate links. When you buy through these links, we may earn an affiliate commission.
Face it, you love bunnies. Whether you're an animal enthusiast or just someone looking for a floppy-eared distraction from political garbage fires, there's nothing like a cute, cuddly, bunny rabbit to put a smile on your face. Except of course for books. Books are always where it's at. Rabbit books then are pretty much the best of both worlds.
You know who else digs bunnies? Kids. They love them some rabbits. It's no wonder then that most books about rabbits are geared towards tiny humans. We've all heard of The Velveteen Rabbit and The Tale of Peter Rabbit, but there are so many other options out there to scratch that bunny itch. Here are 25 board books, picture books, and middle grade novels for rabbit-lovers of any age to enjoy.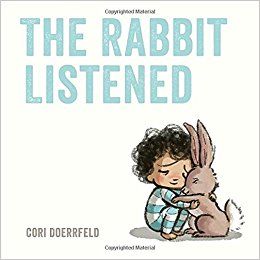 This sweet little book isn't just your average bunny tale; it's an adorable lesson on grief, empathy and friendship. Taylor is overcome with sadness after a really bad day and can't seem to find solace. His animal friends each offer their suggestions for coping with his sadness- talking about it, shouting about it, turning to laughter, etc. But Rabbit, he just listens, and this is exactly what Taylor needs.
I Am a Bunny
by Ole Risom, Illustrations by Richard Scarry
That Richard Scarry guy sure knows what he's doing, I tell ya: Nicholas the overall-wearing bunny is just one of the cutest things I have ever seen! This Golden Book is full of adorable illustrations of Nicholas doing all sorts of adorable bunny things throughout the four seasons: taking cover beneath a toadstool when it rains, picking flowers, wearing teeny tiny mittens when it snows. So cute!
The Runaway Bunny
by Margaret Wise Brown, Illustrations by Clement Hurd
In this board book, our runaway bunny friend basically keeps suggesting ways he's going to run and hide from his mama, and his mama responds to each scenario with some version of "Oh that's cute, I'd still find you." I realize I'm making this bunny dude sound like kind of a punk, but the story really is very sweet. Mama always has her bunny's back.
Love
by Emma Dodd
Emma Dodd's Love You Books are fan faves at the bookstore where I work. Their covers are just slightly squishy to the touch and colored with gorgeous hues of blue, green and purple. Each book features a different adorable animal, which in Love happen to be the rabbit. Rabbit spends a day in the meadow and finds love everywhere he looks.
This Kevin Henkes classic illustrated in all the colors of spring is about a curious white rabbit who wants to know what it would be like to be green, to be still as a rock, to fly! He hops along exploring all that he can and ultimately learns that the most wonderful discovery of all is finding where you belong.
if you were my bunny by Kate McMullan, Illustrations by David McPhail
This book isn't just about rabbits, to be fair: it starts off with bunnies and then goes on to include bears and kittens and ducklings and more. The best part of this book is that each section is told to the tune of a different lullaby. Don't worry, the very last page of the board books tells you which songs go with which sections.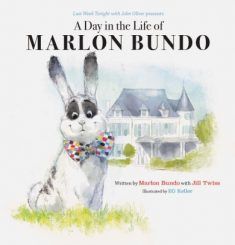 I probably don't need to tell you about that time Last Week Tonight with John Oliver released a kids book about a gay bunny to troll Mike Pence. This charming book about love, tolerance and friendship (and bunnies!) is the story of Marlon Bundo, a lonely bunny who lives with his Grampa Mike Pence, the Vice President of the United States. Marlon Bundo has fallen in love with another boy bunny and finds his life changing forever one very special day.
Wolfie the Bunny
by Ame Dyckman, Illustrations by Zachariah OHora
Wolfie is left on the doorstep of the adorable Bunny family when he's just a wee pup. Mama and Papa Bunny decide to take him in and raise him, much to the distress of their daughter Dot who's like, "Ummm hi! That's a wolf and it's going to eat us all!" Dot is attempting to adjust to life as a big sister when Wolfie finds himself in danger. Will Dot step in to rescue her baby brother? Dun dun dun.
Being the Easter Bunny isn't a one-rabbit job. In fact, there are five Easter Bunnies and Cottontail the country bunny has attained one of these esteemed positions. She must balance her new role with the responsibility of raising her 21 bunny children, and she does so by embodying traits like compassion, intelligence, and determination. I don't know if I can quite do this lovely Easter tale and feminist social commentary justice, but a fellow Rioter has here.
Yes, there are nonfiction books about rabbits, and this is a good one. The title sort of explains itself: top caliber National Geographic photography is paired with simple vocabulary and concepts to make a fun and informative lesson for young readers.
Big Bunny
by Rowboat Watkins
This cover of this picture book makes me chuckle every time: it's a closeup of a giant bunny's mouth and his two front teeth. The fun and slightly snarky story is basically about a hangry rabbit: Big Bunny eats carrots by the literal truckload and gets into all sorts of shenanigans trying to satisfy his appetite.
Yeah, this middle grade mystery-comedy really is about a fanged rabbit who may or may not be a vampire. When the Monroe family finds a peculiar little bunny at a screening of Dracula, they decide to bring him home with them. They name him Bunnicula and introduce him to the family pets, Harold the dog and Chester the cat. Chester is convinced that latest addition to the family is a vampire when strange things start to happen in his presence. Shenanigans ensue as Chester sets out to prove his theory and Harold comes to Bunnicula's defense. So much fun, and it's the first in a series!
Bunnybear
by Andrea J. Loney, Illustrations by Carmen Saldana
POC
Alright, so this book is technically about a bear, but hear me out: this particular bear thinks he's a bunny. The bears don't get him and neither do the bunnies, and Bunnybear just wants to be accepted for who he feels he is. This one gave me all the feels – a really cute little tale about inclusion and acceptance.
Marshmallow
by Claire Turlay Newberry
In this Caldecott winner of rabbit books, Marshmallow is a cute and cuddly baby rabbit who moves into Oliver the tabby cat's home. Oliver is not at all pleased about his new companion but can't help but succumb to his charms. Before long, Marshmallow and Oliver are best buds.
Good Night, Bunny
by Lauren Thompson, Illustrations by Stephanie Yue
POC
This picture book is the perfect bedtime story for bunny lovers. Its soothing rhymes and watercolor imagery will lull sleepy babes to slumber as bunny says good night to the world around him.
Little Nutbrown Hare just wants to show his papa (Big Nutbrown Hare, of course) how much he loves him: as long as his arms can reach, or as far as he can hop! But Big Nutbrown Hare can reach longer and hop further – and that's how much he loves his little bunny son.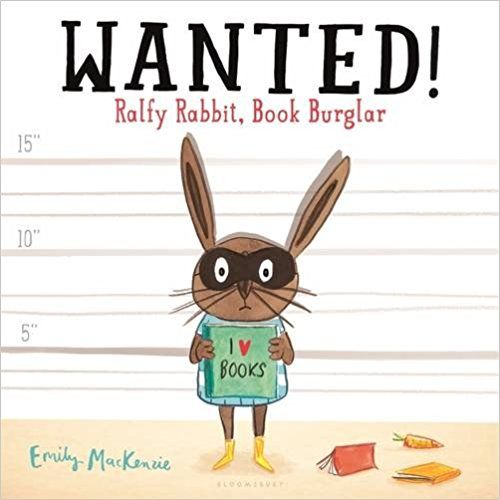 Listen, kids. I'm not saying I condone a life of crime. But when your habit is books and you love them sooooo so much that you just have to resort to stealing them.. I mean, who hasn't thought about it, amirite?? Ralfy Rabbit is one such bookworm and this is his story – as far as rabbit books go, this one is perfect for bunny and book lovers alike.
Errr… confession time. For years I read this title as "Watership Down!!" I thought Watership was some sort of spacecraft and it was…. well, down. Color me surprised when I finally picked up the book and realized Watership Down is a hill in the idyllic English countryside. It's also a timeless classic about a group of resilient rabbits fleeing their home when mankind threatens to ruin it, running head-on into adventure and peril in search of a new place to call their own.
Beloved children's author Kate DiCamillo brings readers the story of Edward Tulane, a rabbit made of china given to a young girl named Abilene by her grandmother. Edward is living a pretty sweet life until he falls overboard while vacationing with Abilene and her family. What follows is an epic adventure as Edward is found and passed from one character to another, hoping all the while he'll make it back home to his mistress.
When you asked for rabbit books, did you think you'd see a book about underwear? Well here it is! Jasper Rabbit and his mom go shopping for a new pair of underwear and Jasper insists on a neon green pair. Later that night, the underwear starts to glow in the dark and Jasper is not having that! He tries to ditch the creepy pair, but it keeps on coming back! I especially enjoy the illustrations – the whole book is black and white save for the glowing neon green of that titular pair of underwear, adding to the fun and creepy vibe of this hilarious – and slightly scary- story.
In this story inspired by Korean folklore, bedtime wishes from creatures on earth sail their way to the moon on paper planes. That's where Rabbit pounds them into stars to light up the night sky. One day Rabbit gets lonely of his solitary lunar existence and takes a ride on a wish down to earth to make friends. He has a splendid ol' time but must return to the moon as the lunar cycle comes to an end. But it's ok, for every wish that arrives is a connection to his earthly friends.
Good Day, Good Night
by Margaret Wise Brown, Illustrations by Loren Long
This book is perfect for fans of Margaret Wise Brown's classic Goodnight Moon: it reads in a similar cadence but with warmer, more modern illustrations. In Good Day, Good Night, the little bunny spends each sunrise wishing a good day to his surroundings, then turns around and wishes them a goodnight as the sun starts to set.
Bunny's Book Club
by Annie Silvestro, Illustrations by Tatjana Mai-Wyss
Why yes, this is the second book I sneak in about a book-loving bunny. Can you blame me?? Bunny loves going to summer story time with his best buds. As summer gives way to fall's cooler temperatures though, this outdoor story time comes to an end. Bunny is like, "Oh hell naw!" (slight paraphrase) and decides he's got to find a way to keep story time going. He convinces his friends to sneak into the library at night using the book drop for a clandestine little book club. Now that's dedication to reading, kids.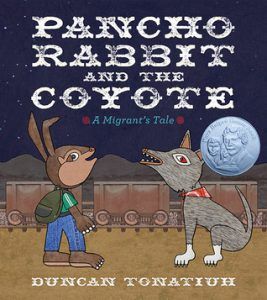 Pancho Rabbit is missing his papa who traveled north to find work in the carrot fields and earn money for his family. When several years go by without his return, Pancho decides it's time to go find him. He meets a coyote along the way who befriends him at first, but down the line proves to have quite nefarious intentions. This is a wonderful allegory for the immigrant narrative, an accessible tool for teaching children about the hardship endured by so many immigrant families in search of a better and safer way of life.
This book is one in a series about the entire Chinese zodiac. This sixth installment features all of the animals in the Chinese lunar calendar but specifically follows the adventures of Rosie the rabbit and all the trouble she tends to get into.
What are your favorite rabbit books?