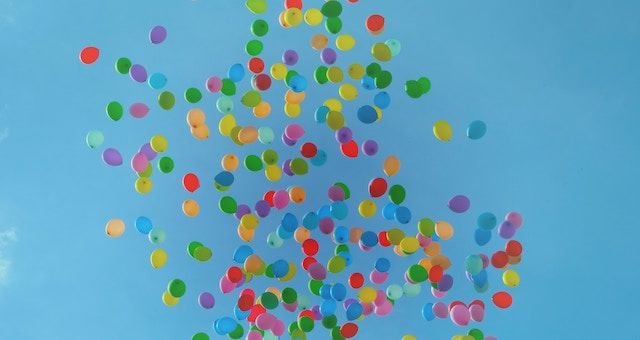 Poetry
15 Poems About Happiness To Reset Your Day
Poetry has power, and one of its greatest powers is to let you step into a moment or a feeling with another person and think "Yes, I've felt that too". If you don't have an exact experience that maps onto the one in the poem, reading poetry can still be a wonderful way to find common ground, and gain an inkling of what it may be like to see the world through the poet's eyes. Poetry deals with all aspects of the human experience, and all feelings – and sometimes, it's wonderful to step into a moment of happiness and share it with the poet. Poems about happiness can lift us up when we feel down, and remind us that there's good in the world even when things seem bleak.
The following poems about happiness explore what it is to be happy in lots of forms, for lots of reasons – whether it's brimming, bubbling happiness, quiet contentment, or something a little more complicated and bittersweet. There are poems that explore happiness in relationships, the fun of celebrations, the fierce happiness that we find when we discover our own power, the quiet contentment of fully experiencing the world around you, and the joy of playing with language. I hope that, however you're feeling, they brighten your day.
Poems About Happiness
A Birthday by Christina Rossetti
My heart is like a singing bird
Whose nest is in a water'd shoot;
My heart is like an apple-tree
Whose boughs are bent with thickset fruit;
My heart is like a rainbow shell
That paddles in a halcyon sea;
My heart is gladder than all these
Because my love is come to me.
Raise me a dais of silk and down;
Hang it with vair and purple dyes;
Carve it in doves and pomegranates,
And peacocks with a hundred eyes;
Work it in gold and silver grapes,
In leaves and silver fleurs-de-lys;
Because the birthday of my life
Is come, my love is come to me.
Phenomenal Woman by Maya Angelou
Pretty women wonder where my secret lies.
I'm not cute or built to suit a fashion model's size
But when I start to tell them,
They think I'm telling lies.
I say,
It's in the reach of my arms,
The span of my hips,
The stride of my step,
The curl of my lips.
I'm a woman
Phenomenally.
Phenomenal woman,
That's me.
I walk into a room
Just as cool as you please,
And to a man,
The fellows stand or
Fall down on their knees.
Then they swarm around me,
A hive of honey bees.
I say,
It's the fire in my eyes,
And the flash of my teeth,
The swing in my waist,
And the joy in my feet.
I'm a woman
Phenomenally.
Phenomenal woman,
That's me.
Men themselves have wondered
What they see in me.
They try so much
But they can't touch
My inner mystery.
When I try to show them,
They say they still can't see.
I say,
It's in the arch of my back,
The sun of my smile,
The ride of my breasts,
The grace of my style.
I'm a woman
Phenomenally.
Phenomenal woman,
That's me.
Now you understand
Just why my head's not bowed.
I don't shout or jump about
Or have to talk real loud.
When you see me passing,
It ought to make you proud.
I say,
It's in the click of my heels,
The bend of my hair,
the palm of my hand,
The need for my care.
'Cause I'm a woman
Phenomenally.
Phenomenal woman,
That's me.
Happy Eid Fitr! by Sukasah Syahdan
happy Eid Fitr!
may all hearts re-bleach awhite
all maids recall the way back
Strawberries by Edwin Morgan
There were never strawberries
like the ones we had
that sultry afternoon
sitting on the step
of the open french window
facing each other
your knees held in mine
the blue plates in our laps
the strawberries glistening
in the hot sunlight
we dipped them in sugar
looking at each other
not hurrying the feast
for one to come
the empty plates
laid on the stone together
with the two forks crossed
and I bent towards you
sweet in that air
in my arms
abandoned like a child
from your eager mouth
the taste of strawberries
in my memory
lean back again
let me love you
let the sun beat
on our forgetfulness
one hour of all
the heat intense
and summer lightning
on the Kilpatrick hills
let the storm wash the plates
Ah, Ah by Joy Harjo
Ah, ah cries the crow arching toward the heavy sky over the marina.
Lands on the crown of the palm tree.
Ah, ah slaps the urgent cove of ocean swimming through the slips.
We carry canoes to the edge of the salt.
Ah, ah groans the crew with the weight, the winds cutting skin.
We claim our seats. Pelicans perch in the draft for fish.
Ah, ah beats our lungs and we are racing into the waves.
Though there are worlds below us and above us, we are straight ahead.
Ah, ah tattoos the engines of your plane against the sky—away from these waters.
Each paddle stroke follows the curve from reach to loss.
Ah, ah calls the sun from a fishing boat with a pale, yellow sail. We fly by
on our return, over the net of eternity thrown out for stars.
Ah, ah scrapes the hull of my soul. Ah, ah.
Happiness (Reconsidered) by Judith Viorst
Happiness
Is a clean bill of health from the doctor,
And the kids shouldn't move back home for
more than a year,
And not being audited, overdrawn, in Wilkes-Barre,
in a lawsuit or in traction.
Happiness
Is falling asleep without Valium,
And having two breasts to put in my brassiere,
And not (yet) needing to get my blood pressure lowered,
my eyelids raised or a second opinion.
And on Saturday nights
When my husband and I have rented
Something with Fred Astaire for the VCR,
And we're sitting around in our robes discussing,
The state of the world, back exercises, our Keoghs,
And whether to fix the transmission or buy a new car,
And we're eating a pint of rum-raisin ice cream
on the grounds that
Tomorrow we're starting a diet of fish, fruit and grain,
And my dad's in Miami dating a very nice widow,
And no one we love is in serious trouble or pain,
And our bringing-up-baby days are far behind us,
But our senior-citizen days have not begun,
It's not what I called happiness
When I was twenty-one,
But it's turning out to be
What happiness is.
In this piece, performance poet Bridget Minamore explores the joy inspired by a champion.
Christmas by John Clare
Christmas is come and every hearth
Makes room to give him welcome now
E'en want will dry its tears in mirth
And crown him wi' a holly bough
Tho tramping 'neath a winters sky
O'er snow track paths and rhymey stiles
The huswife sets her spining bye
And bids him welcome wi' her smiles
Each house is swept the day before
And windows stuck wi' evergreens
The snow is beesom'd from the door
And comfort crowns the cottage scenes
Gilt holly wi' its thorny pricks
And yew and box wi' berrys small
These deck the unus'd candlesticks
And pictures hanging by the wall
This is just a sample of John Clare's poem, as it's pretty long – check out the full version here.
Dis Poetry by Benjamin Zephaniah
Sometimes by Sheenagh Pugh
Sometimes things don't go, after all,
from bad to worse. Some years, muscadel
faces down frost; green thrives; the crops don't fail,
sometimes a man aims high, and all goes well.
A people sometimes will step back from war;
elect an honest man, decide they care
enough, that they can't leave some stranger poor.
Some men become what they were born for.
Sometimes our best efforts do not go
amiss, sometimes we do as we meant to.
The sun will sometimes melt a field of sorrow
that seemed hard frozen: may it happen for you.
How happy is the little Stone by Emily Dickinson
How happy is the little Stone
That rambles in the Road alone,
And doesn't care about Careers
And Exigencies never fears —
Whose Coat of elemental Brown
A passing Universe put on,
And independent as the Sun
Associates or glows alone,
Fulfilling absolute Decree
In casual simplicity —
Hill Rolling by Andrew Taylor
I kind of exploded inside,
and joy shot out of me.
I began my roll down the grassy hill.
I bent my knees up small, took a deep breath
and I was off.
My arms shot out sideways.
I gathered speed.
My eyes squinted.
Sky and grass, dazzle and dark.
I went on forever,
My arms were covered with dents,
holes, squashed grass.
Before I knew it I was at the bottom.
The game was over.
The door of the classroom closed behind me.
I can small chalk dust, and hear the voice of teachers,
to make me forget my hill
Nessie by Rachel Plummer
Honey, I Love by Eloise Greenfield
I love
I love a lot of things, a whole lot of things
Like
My cousin comes to visit and you know he's from the South
'Cause every word he says just kind of slides out of his mouth
I like the way he whistles and I like the way he walks
But honey, let me tell you that I LOVE the way he talks
I love the way my cousin talks
And
The day is hot and icky and the sun sticks to my skin
Mr. Davis turns the hose on, everybody jumps right in
The water stings my stomach and I feel so nice and cool
Honey, let me tell you that I LOVE a flying pool
I love to feel a flying pool
And
My uncle's car is crowded and there's lots of food to eat
We're going down the country where the church folks like to meet
I'm looking out the window at the cows and trees outside
Honey, let me tell you that I LOVE to take a ride
I love to take a family ride
And
It's not so late at night, but still I'm lying in my bed
I guess I need my rest, at least that's what my mama said
She told me not to cry cause she don't want to hear a peep
Honey, let me tell you I DON'T love to go to sleep
I do not love to go to sleep
But I love
I love a lot of things, a whole lot of things
And honey,
I love you, too.
Cats by Jim Howell
Cats
have eyes that yawn,
green
as a halt sign
In morse-tail
language
they speak your mind
loving you
to furr-deep
distraction
For the happiness (and everything else!) that comes with love, read 58 Absolutely Beautiful Love Poems. If you're looking for happy prose, try 100 Must-Read Books About Happiness.