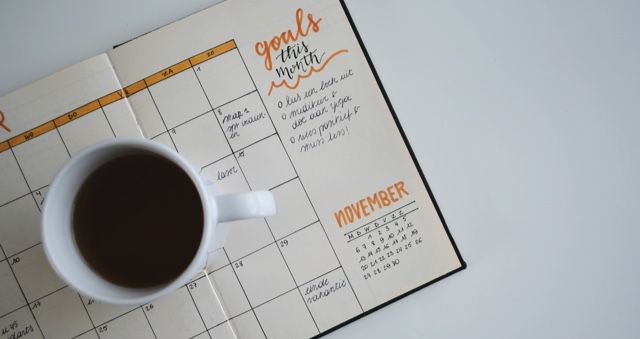 Lists
20 Personal Development Books For Your Best 2020
This content contains affiliate links. When you buy through these links, we may earn an affiliate commission.
Why wait until the new year to focus on personal development? As we near the end of 2019, there are so many great personal development books that can help you better yourself in many different areas of your life. Here are 20 of the best personal development books to get you through 2019 and into 2020 on the right foot. At least one of them (and possibly many more) will be the right fit for you and your goals.
Have you dreamt of "becoming the creative force in your own life"? Then Marie Forleo's advice is just for you. Rather than offering a series of quick fixes for all of your problems, Forleo provides the steps necessary to retrain your brain. After all, personal development isn't just about acting differently; it's about thinking differently. This book will help you learn to think more positively and creatively, and by the end of it you too will believe that "everything is figureoutable."
I'm all about a schedule, so the title of this book alone speaks to me on a personal level. But how can changing your schedule change your life? By combining Ayurvedic wisdom and scientific research, Dr. Kshirsagar reveals how much our biological clocks affect every part of our lives. The smallest bad habit, like working late, can disrupt our natural cycles. So what do we do about this? This book offers a 30 day guide that clearly lays out what you need to change your schedule (and change your life).
Chade-Meng Tan works at Google, teaching people at the company how to apply mindfulness and emotional intelligence in the workplace and beyond. Now he is bringing that wisdom to the general public, offering a guide not only to improving yourself but perhaps the world around you as well.
You probably already know who Shonda Rhimes is, and if you don't, you've at least heard of one of her successful television series (Grey's Anatomy and Scandal ringing any bells?). But even at her most successful, Rhimes still knew there was room for personal development. So when her sister challenged her to say yes to the unexpected offers that came her way for a whole year, Shonda Rhimes said…yes. Here, she looks at how transformative that change was for her personally and how saying yes to more things can change our lives as well.
Have you ever been at a point in your life where happiness seemed unattainable to you? Does true lasting happiness seem like a myth? In this book, Dr. Martin Seligman challenges you to embrace positive thinking, examine your own highest virtues, and consider how you can use your virtues to improve your outlook on life. Real, lasting happiness is all about focusing on your personal strengths rather than your weaknesses, and this book will help you refocus.
So here's Alex Banayan's concept behind his book The Third Door: fame and success are like a nightclub, and there are three ways to get inside. Most people wait in the long line hoping they'll be able to get in. Some people can use wealth and/or who they know to skip to the front of the line. But the way to get in that no one ever tells you about is the Third Door. Yes, there is always another way in, and it's the way many successful people made it. Here, Banayan uncovers the secrets of that third door and how to unlock your own success story.
Does vulnerability scare you? If so, you're not alone. It scares most people. But in this personal development book, Brené Brown dares you to have the courage to be vulnerable. In the book, she explains, "When we shut ourselves off from vulnerability, we distance ourselves from the experiences that bring purpose and meaning to our lives." Of course, putting yourself out there can be dangerous, but it might also just be the thing that changes your life.
Everyone can benefit from growing leadership skills, and in this book, Alec McGalliard breaks down the essentials of leadership into four easy-to-understand categories: Communication, Accountability, Relationships, and Example of Excellence. These are skills you can apply to most relationships, not just those in the workplace.
Author Elizabeth Gilbert is already well-known for her memoir Eat Pray Love and more recently her novel City of Girls. But in this book, Gilbert focuses on the creative process, give you insights into how to tap into your most creative self. Gilbert firmly believes there is a creative soul within each and every one of us, and here she provides the attitudes, approaches, and habits we need to find that creativity.
In just 18 months, Sarah Centrella went from being a single mom living off of food stamps to being successful and living her dream. In this personal development book, she wants to share her secrets with you with a method she calls the #HBRMethod. Centrella's message is positive and inspirational, and many successful people swear by her method.
You've heard it said a million times: timing is everything. But what does that mean? And how do you find the perfect timing? From a psychological, biological, and economical viewpoint, Daniel H. Pink unpacks that question to show you how timing is less about intuition and more of a science. Learn to master timing, and it will help you succeed in school, work, and in your personal life.
At first glance, authors Erric Solomon and Phakchok Rinpoche couldn't be any more different. The former is a Silicon Valley entrepreneur and the latter is a Tibetan Rinpoche. But they both believe in the power of mindfulness and how it can transform your life. In this book, they team up to present a path to living a radically happy life.
Who is the only person standing in the way of achieving your goals? You. And who is the only person who can get that person out of the way? The answer is also you, of course. In this personal development book, Todd Herman discusses how to get that version of yourself who keeps pulling you down out of the way. Once you've done that, you're free to find that version of yourself with the greatest amount of potential.
Author David Goggins's childhood was rife with poverty, prejudice, and physical abuse. In this book, Goggins reveals his personal journey from depression and self-loathing to success. And he shares the techniques he used to overcome his negative thoughts. Goggins believes that most of us only tap into 40% of our capabilities (he calls this the 40% Rule). Here Goggins explains how we can push past fear and negativity to reach our full potential.
15. Unstoppable by Craig Ballantyne
Do you feel anxious and overwhelmed basically every day of your life? You're not alone. Lots of people feel this way, and author Craig Ballantyne gets that. He has personal experience dealing with anxiety attacks and general feelings of apprehension. In this personal development book, Ballantyne offers methods to overcome these feelings so that you can "DOMINATE in business and in life."
Are you a visual artist looking for the perfect personal development book? Look no further. Lisa Congdon's book is basically the only book you need to find your own artistic voice. It's hard to find the balance between your influences and your own creative path, but Congon provides concrete methods in order to do just that. Complete with interviews from established artists, illustrators, and creatives, this book will help you answer the question, "how do I develop a unique artistic style?"
Clinical psychologist and TV personality Dr. Judy Ho knows that everyone is guilt of self-sabotage. And she's here to help you break that cycle. Even the most successful people in the world are guilty, on occasion, of doing things that undermine or goals and intentions. Why do we do this, and how do we stop? By following Dr. Ho's six steps, of course.
Speaking of self-sabotage, Patrick King's personal development book The Science of Getting Started also looks at the troubles of self-sabotage, specifically procrastination. We're all guilty of procrastination, and it never leads to desired results. It only leads to stress and sometimes failure. In this book, King offers scientific solutions to our issues of self-sabotage and procrastination so we can get out of our own way and get the job done.
Worry holds us back from pursuing the things that we want most. We worry we're not good enough or that we'll be rejected or that we simply won't be able to accomplish the things we want. But wouldn't it be more productive to instead wonder, "What if?" What if you do pursue your dreams and end up getting what you want? Wouldn't that make it worth everything? Author Amber Rae invites you to face your fears, overcome your worry, and "rewrite the worry myths" in your mind that keep you from becoming your best self.
Leslie Odom, Jr. originated the role of Aaron Burr in Broadway's Hamilton, the musical that has defined a generation. Now, Odom shares his personal journey of hard work and determination that lead him to performing sold-out shows, winning a Tony Award, and singing for the Obamas at the White House. Through his own personal stories, Odom ask the questions that help you unlock your true potential: "What work did you put in today that will help you improve tomorrow? How do you surround yourself with people who will care about your dreams as much as you do? How do you know when to play it safe and when to risk it all for something bigger and better?" His stories will inspire you, and his questions will motivate you.
---
What are you waiting for? Get yourself one of these personal development books today. It's time for your self-improvement journey! And if you're looking for more help with personal development, check out these self-improvement audiobooks, these books about finding yourself, or these self-motivation books. Your journey begins now.