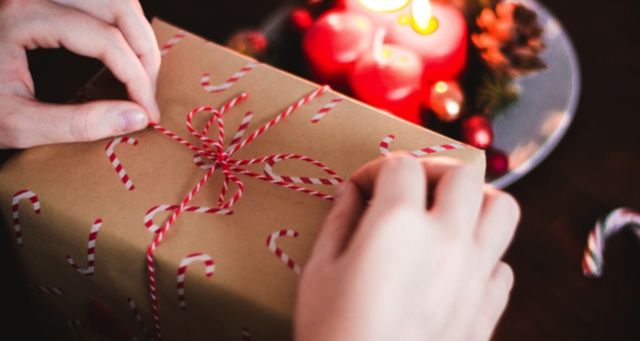 How To
How To Wrap A Book: 8 Unique Options
Wrapping paper is done. It's unrecyclable, gaudy, expensive, and it turns your living room into a sea of single-use trash. Not only that, but wrapping a book turns it into a really boring rectangle of blah, no matter how loud the pattern is. Today I'm going to show you how to wrap a book properly without wrestling with tape and rolls.
Furushiki, the Japanese Art of Cloth Wrapping
Furushiki is the next big holiday thing. Instead of ripping a bunch of paper up and making ugly trash, this beautiful process of folding a precious gift in soft, reusable fabric makes the entire gift-giving process meaningful. If you're into saving the planet, then this is a great way to both wrap your gifts and have a planet-happy holiday. The fabric can even be part of the gift if you're giving to like-minded or crafty people. You can even hand-print your own wrapping fabric if you want to be really extra.
Shirts
Let's say that you love the idea of furushiki but you just know that your friends are going to throw out that nice cloth—or worse, try to give it back to you. Thwart those wasteful instincts and make the wrapping part of the gift! You could probably use a sweater for a hardcover and a large-ish tee shirt for a trade or mass market paperback. Absent long arms, consider the ever-useful scarf. Speaking of which…
Scarves
You could totally wrap a book in a scarf. Same principle as above, but for someone who prefers to wrap a warm or decorative sash around their neck and face. Plus, while a book is a low to mid-range expensive gift whose real value is in the message it communicates about how well you know the giftee's tastes, you can get damn classy with scarves. Amp up that financial statement with silk if you need to!
Cute Bags
It's true that cloth wrapping can be a little much for some folks. Bags are an easy-to-locate, east-to-customize, reusable alternative that's a little more mainstream, but still breaks up the rigid lines of the obvious book covered with paper. There's an extra air of mystery to bags and tissue paper can get quite fancy indeed. Choose recyclable and make those bags pretty!
Old Pages
Let me level with you. As a librarian. There are many, many books in this world that get turned into pulp.
It's a hard but true fact: new books are always coming out and old books usually don't get reread much. Reference books like encyclopedias and giant dictionaries are excellent examples. So instead of donating those books you're done with to the library (because I assure you that we toss most of the donations we receive,) use one or two as wrapping paper! Tear out those pages and wrap up your book in them. You can even make pretty flowers to top the gift off and make it fun.
Maps
It's the age of GPS. Odds are good that you have some old maps lying around that you haven't used in honest to goodness years. Atlases and street maps abound in homes where the digital revolution rolled in so fast that nobody ever thought to dump resources that had become obsolete. Lucky you, they're now colorful, classy wrapping paper that will give your gifting that old timey flair. A book can take you places! Here's a map!
Brown Paper and Innovation
Never underestimate the potential of brown paper bags as wrapping. Plain though they may be, they are also sturdy enough to support all kinds of creativity. You can dip half of your wrapped book in colorful paint, for example. You can paint glue on it and then dredge it in confetti or glitter. You can jazz it up with washi tape, use a stencil to add a custom design, or even attach festive doo-dads, like pinecones and kids' art projects. Some grocery stores, like Trader Joe's, also use paper bags with cool art on them.
Newspapers
Back before our cushy modern era, people wrapped gifts in newspaper all the time. Particularly popular was the wrapping of children's birthday gifts in the colorful Sunday funnies. This is still a very viable idea! It's also a great way to support your friendly neighborhood journalist and save the Earth.
---
Looking for something simple? Check out our post about engineering the perfect classic paper bag book cover! If you're unconvinced and still want to wrap traditionally, let us hook you up with some literary wrapping paper.