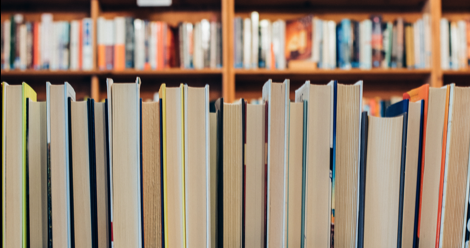 How To
Goodreads Giveaways: Answers To FAQs for Finding and Entering
One of the best parts of being a bookworm on the internet is the book giveaways. They're everywhere, and Goodreads has *so many* posted daily. It can be overwhelming. Let this FAQ for Goodreads giveaways help you navigate your way to mountains of free books.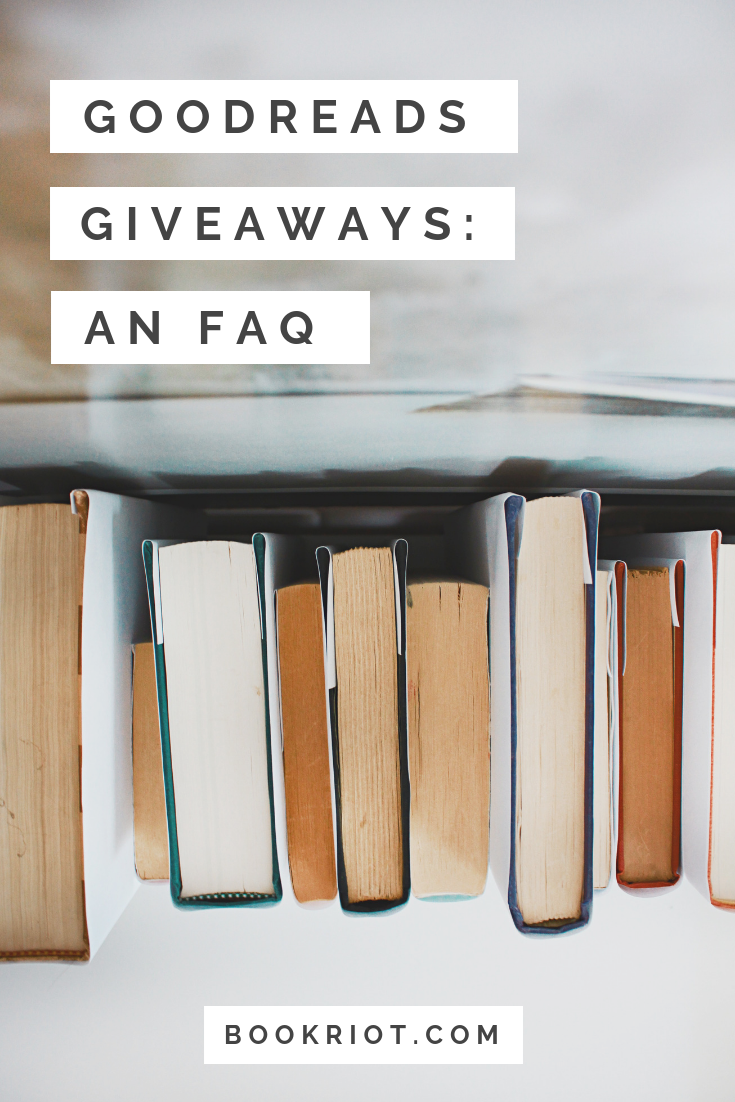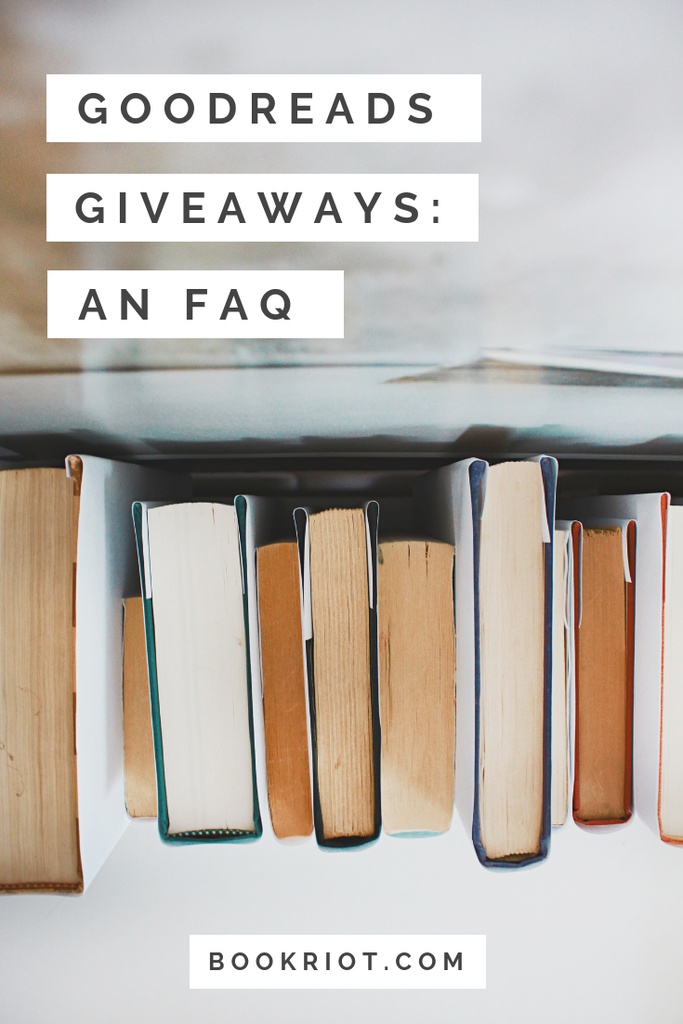 What are Goodreads giveaways?
Goodreads giveaways are exactly what they sound like! They're book giveaways hosted on Goodreads, usually sponsored by the book's publisher or author.
To find giveaways, go to the browse tab on the top banner and click on giveaways: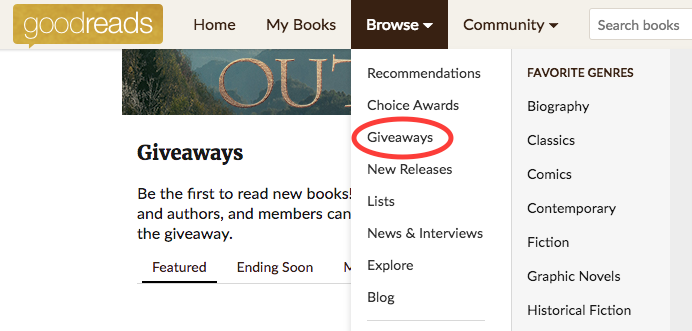 That takes you to the glorious giveaways listings page, which you can scroll for hours.
Open giveaways are also posted on a book's page, below the publisher's information. It's handy for when you're looking to see if a book is one you want to add to your TBR or not.
Are Goodreads giveaways safe?
Yes! You can view the terms and conditions if you're skeptical. Each giveaway has this brief note about who holds your shipping information, too: The author or publisher listing the giveaway is the sponsor, and if you win, they will receive your shipping address and they are responsible for shipping you the book. Goodreads is not a sponsor of the giveaway.
At the beginning of 2018, Goodreads changed its giveaway policy, shrinking the number of books available, but I think that made it a safer program for readers.
Are Goodreads giveaways worth it?
Heck yeah. If you like free books, what's not to like about it? Sometimes they're even advance reader copies (uncorrected proofs for pre-publication reviews), sent out months before the final book is out in bookstores!
In the 10 (TEN!?) years I've been a Goodreads user, I've won six books. That's six books I wouldn't have had without this program. Ya can't beat that.
How do I enter Goodreads giveaways?
Browse the giveaways page, find a giveaway you want to enter, and click the enter giveaway button in the listing's block: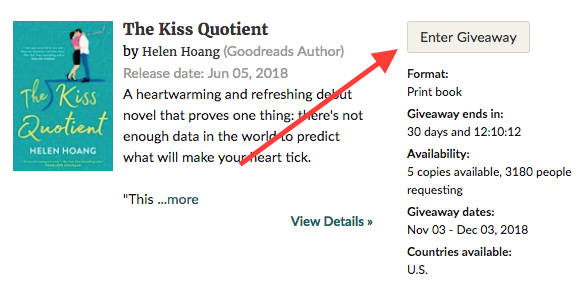 The next page gives information about the giveaway and who holds your shipping information: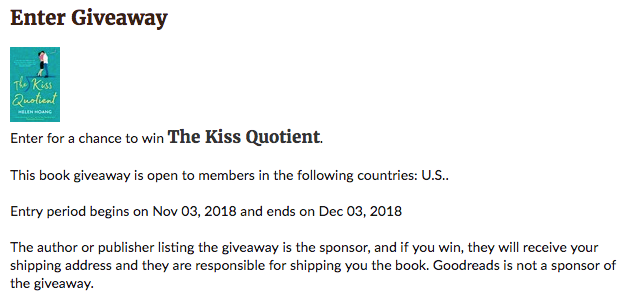 Enter and confirm your shipping information, accept the giveaway terms and conditions, and hit enter giveaway.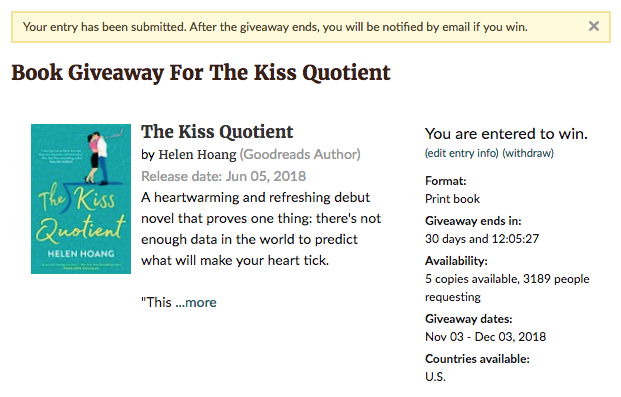 Hooray! You've entered a Goodreads giveaway!
How do I know if I've won a Goodreads giveaway?
You'll get an email if you win, telling you when it should arrive. You can also view your giveaway history, which will tell you if winners have been chosen yet and if you've won.
Are Goodreads giveaways international?
Some of them are! Your giveaway listings should default to the country you have listed on your profile. Otherwise, you can note the countries available line on the entry information: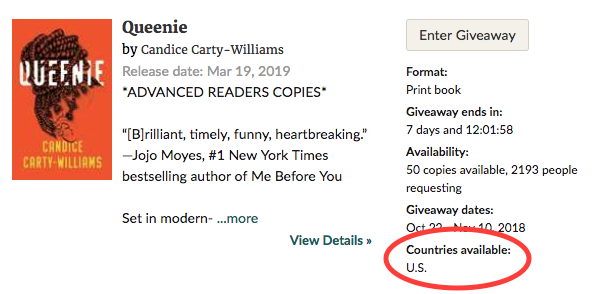 Are Goodreads giveaways print or ebooks?
Both! Some giveaways are exclusively one format or the other, but some are both. You can toggle the listings by print or Kindle ebooks, if you prefer one format:

How do I win Goodreads giveaways?
Enter them, of course. Winners are selected randomly, so there's not any magic you can do to win.
Where can I find YA book giveaways?
Did you know you could search Goodreads giveaways by genre? I didn't until just now. In the right sidebar on the giveaways page, you'll find this chart to browse by genre: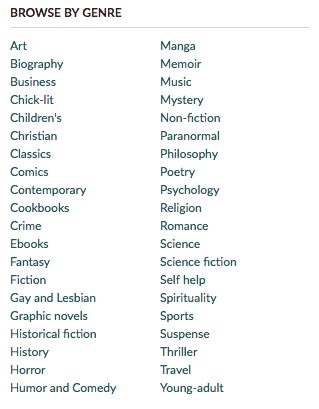 And then you can find all the YA book giveaways (or horror or cookbooks) your heart desires. Neat!
Can I get emails of new giveaways?
You sure can! In your account settings, go to emails and then scroll down to comment and action notifications.

Check one or both of these options, and you get a lovely email that looks like this as soon as the giveaway is posted: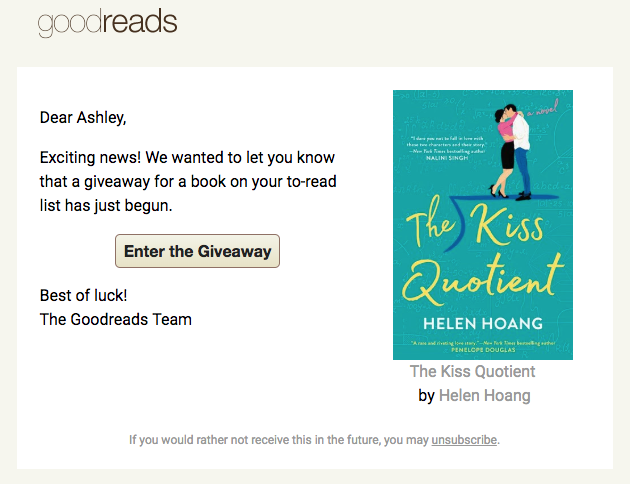 You can also choose to get a notification in the app/website instead of an email.
Happy giveaway entering!
Need even more book giveaway info? We got you: 6 of the best sites for YA giveaways and book giveaway sites that aren't Goodreads. And don't forget, we have loads of giveaways right here at Book Riot.