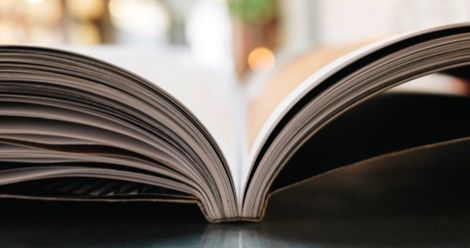 Lists
Risky Reading: 5 Dangerous Books Within Books
This content contains affiliate links. When you buy through these links, we may earn an affiliate commission.
It may be common knowledge that reading is dangerous. There's a reason so many exceptional works of writing end up on banned books lists. Plus, novels like 1984, Fahrenheit 451, or The Handmaid's Tale remind us of how crucial the written word is for obtaining power. However, did you ever consider how dangerous the act of reading could actually be? Earlier this summer, a group of researchers at the University of Southern Denmark uncovered a killer fact about three Renaissance-era manuscripts from their library: the manuscripts were all coated in toxic green arsenic. Well, the paint used to apply the arsenic was green, but the color sure does lend to its fright value.
The poisonous outerwear was most likely intended as an insect repellent (or so they say). Still, it got me thinking about the risky road of reading made more hazardous by tomes with a questionable character. Specifically, those fictional books we find in literature that bring the protagonist no small amount of danger. The most notorious of such books would undoubtedly be the Necronomicon, H.P. Lovecraft's infamous fictional grimoire of black magic. Having never ventured deeply into Lovecraft territory myself, I'm more interested in books I've encountered in my own reading. So, I've compiled a list of the most dangerous fictional books within books I can attest to (and a few honorable mentions thrown in as well).
Hogwarts is chock full of sinister reading material, thanks to the school library's Restricted Section. The students also have to keep their wits (and fingers) around their course books, like The Monster Book of Monsters (thanks so much, Hagrid). However, it's Riddle's diary that threatens the actual livelihood of any who dare to write in it. Just ask Ginny Weasley, who strangled a bunch of roosters under Voldemort's spell, and that was the least of her problems.
The Garden of Forking Paths from "The Garden of Forking Paths," by Jorge Luis Borges

This short story by the incomparable Argentinian author features a indecipherable novel, until a Chinese spy for Germany in World War II pays a visit to a professor. I've read this story so many times, and I come away feeling something different every time. But I am sure I wouldn't want the novel-turned-time-labyrinth to exist. It would frighten me to the core to imagine a life where all possibilities exist, especially those where a friend-or-foe arrives to shoot me.
What could possibly be more dangerous than a book that literally sets off all fantastical factions to hunt you down? Sure, it's my dream to research at Oxford's Bodleian Library, and even more so to discover hidden treasures. But if Ashmole 782 did exist, and a world-altering alchemical manuscript rested beneath its pages, I would prefer not to know about it. Let the witches, daemons, and vampires circle around someone else.
Any original manuscript in THe Eyre Affair, by Jasper Fforde
What fun when a book can become a portal. The opportunities that await! But then you go and choose Jane Eyre as your focus. And then bring Rochester to life. And then mishaps occur that alter the course of the book and any book that gets chosen as a portal…The conundrums are limitless in this novel, but using original manuscripts to capture or even kill people within sure does make them hazardous books. It makes you reconsider the allure of jumping into book worlds.
You might consider every single book dangerous here, because the way the titular library acquires books is nothing but treacherous. This novel and ensuing series depicts librarians with (much deserved) tangible power and impressive skills at espionage. Instead of jumping into the worlds of books, the librarians have to access alternate universes—from magical to mundane—to retrieve alternate versions of books that reside within. The kind of conflict that librarians must venture into day after day (rich with thievery, dragons, vampires, and toppling super villain plots) is enough to make one's bones tremble.
Honorable Mentions:
I have an on-again-off-again relationship with The Shadow of the Wind by Carlos Ruiz Zafón. Every time I start to read it, I am either pulled away or distracted from it. So I have not yet completed this book, but it still deserves a mention. Whenever holding a book puts you in danger of the forces trying to destroy it, well, it doesn't get more dangerous than that. But also, Zafón's depiction of post-war Barcelona is lyrical and riveting (from what I've read, at least).
The Unwritten by Mike Carey (also known as M.R. Carey, of The Girl with all the Gifts acclaim) also needs mentioning. The comic book series truly captures the horror of fiction coming to life, where a book series actually affects the life and livelihood of the protagonist of the series. Most likely because the fantasy books within the comic series may have actually been about him, literally. I haven't yet read these, but I'm intrigued enough to want to see the Tommy Taylor fantasy series.