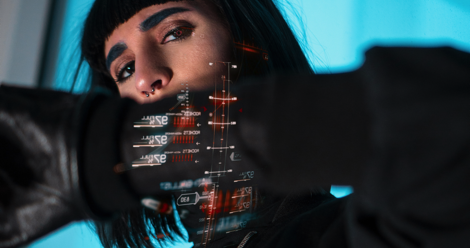 This content contains affiliate links. When you buy through these links, we may earn an affiliate commission.
If you like sci-fi, or anything futuristic, there's a chance you know or have at least heard the term cyberpunk. But that does not mean you necessarily know what it is, or what books might be great to check out if you're interested. So, where do you get started with cyberpunk books?
I'm here to help. I find the genre really fascinating, especially after growing up with one parent who was a major William Gibson fan.
What is cyberpunk?
Cyberpunk is the combination of high or advanced technology and a more broken down social order or gritty society (hence the cyber, and the punk). So fancy advanced technology plus dystopian elements equals cyberpunk. The term itself comes from a short story by Bruch Bethke, Cyberpunk.
It feels like there has been a recent resurgence in cyberpunk on the screen, with Blade Runner 2049 and Altered Carbon both coming out in recent years. The original Blade Runner is still looked at stylistically as a model for cyberpunk visuals and tied together the idea of high technology with a grittier underside. With the increased screen time granted to the genre, people have become increasingly curious about the source material.
The Best Cyberpunk Books
If this genre sounds interesting to you, I've listed some of the most recommended cyberpunk books below. I would like to note that while researching I noticed that there is a certain lack of diversity amongst authors in the genre. There are certainly more white, male authors. But, there are still solid stories to be read. Here are some of the best books you can check out.
The book that Blade Runner is based on. Technically this is probably more pre-cyberpunk, but it's still totally worth checking out (and of course the film is visually very cyberpunk).
You don't make a cyberpunk list and leave out William Gibson. This book, about a hacker taking on some serious artificial intelligence, opened the floodgates.
Imagine a future where death is not really a thing anymore because personalities (or consciousness) can be saved and uploaded. Recently adapted into a Netflix series (that I have not yet watched).
A hacker/pizza delivery driver protagonist. Sumerian language and mythology. I mean, what else do you need? Oh, and here's your intro to this author)
Manga classic that tackles the relationship between technology and humanity in a world where they are increasingly connected.
Akira by Katsuhiro Otomo
Set in a post-apocalyptic Japan, this manga has anti-government groups, gangs, and secret government projects. Like Ghost In The Shell, it is also considered a classic.
This book has the hacker and technology aspects of cyberpunk but is a bit groundbreaking for its feminist viewpoint and LGBTQ characters.
Moxyland by Lauren Beukes
Set in South Africa, in a dystopian future, oppressive government and technology are very much in power. Told through four viewpoints.
Synners by Pat Cardigan
This one is definitely all about that tiny line that can exist between humanity and technology, and what that means for the very concept of reality.
Global warming has taken its toll on the world. Food is engineered, and so are people (hence the titular Windup Girl).
Psion by Joan D. Vinge
This one is technically a YA book, but is great for older audiences too. The main character is a half-human/half-alien telepath. He ends up working with the interstellar government. It just sounds like a good time.
The synopsis of this books includes a menacing too-powerful search engine, warring political parties, and information operatives. Hard not to be intrigued.
In this town, everyone's bioengineered, except one woman. And she might be able to save them all.
Want by Cindy Pon
In a future where the wealthy are able to buy protection from the pollution that makes most sick, a group of teens decides to try and change the status quo.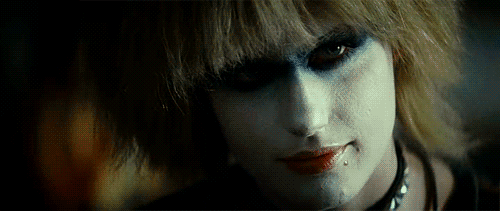 Those are some cyberpunk books to get you started. One thing I noticed while researching is that a lot of the books are categorized under the more vague genre of Science Fiction. But, by looking at the specific characteristics, it's easier to differentiate what is and isn't cyberpunk. If you're noticing a future with a lot of technology, a dystopian vibe, hackers, or a general damn the man vibe, there's a good chance you've stumbled into cyberpunk. Find even more cyberpunk book recommendations in our Blade Runner read-alikes post.