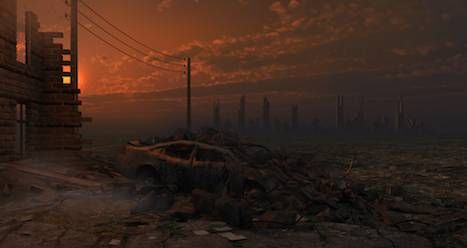 This content contains affiliate links. When you buy through these links, we may earn an affiliate commission.
Sometimes, I like to state the blindingly obvious. Such as saying that post-apocalyptic and dystopian literature is popular (Or at least it was. There seems to be a sad, downward trend in it these days). I have often wondered if these kinds of books are so popular because people feel like, no matter how shitty our own society gets, it can always get worse and they are a weird kind of comfort read. Schadenfreude, maybe? Or maybe they are hoping something like an apocalypse actually happens and they're preppers and using these novels as textbooks, which…okay. Neat.
ANYWAY. I live on the other side of a mountain range from a big nuclear power plant. Nearby, both to the northwest and to the south, are big Air Force bases. I'd be lying if I said I hadn't thought about what I would do if that power plant melted down, or if one of the bases became a target of some kind. Given my love of dystopian, post-apocalyptic literature, it would also be a lie if I said I hadn't considered that maybe it isn't the power plant the blows, but rather it's is the zombie apocalypse, a pandemic, a natural disaster. I can tell you now, as one of the weakest humans on the planet and someone with horrific eyesight, I would absolutely be among the first to die in a zombie apocalypse. If Yellowstone blows, we're all pretty screwed. The fact that I have given serious thought to these things should also tell you something. That's right: Xanax was created just for people like me!
Of course, that doesn't stop me from making plans anyway. Just in case! You never know. I'd get my kid and the dog to safety first. But, time allowing, don't for one second believe I don't also have a list of books I'd go back to save if at all possible. If I needed to, I'd totally set up a barter system that would put the one in Farnham's Freehold to shame. It's for the preservation of literature, people! Of course I'd risk my neck for these!
So, in no particular order, my bug-out book list.
Are there any books you would want to take with you through the end of the world?