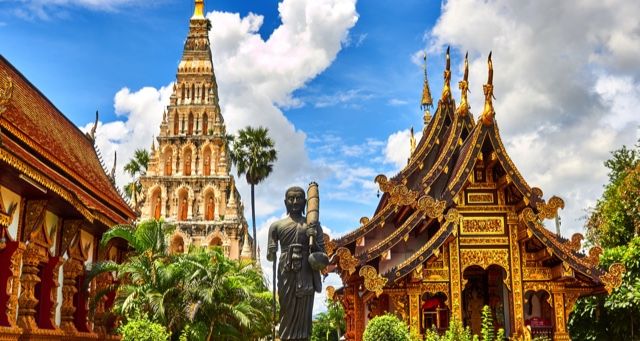 Lists
Backpacking Around Southeast Asia With 11 Books From 11 Countries
This content contains affiliate links. When you buy through these links, we may earn an affiliate commission.
If you love traveling, you may have noticed that backpacking has been on the rise lately. And it's not difficult to see why. You spend less money in transportation, accommodation, and food but you still get to enjoy globe-trotting intimately.
This trend is strong and consistent in Southeast Asia wherein everything can be dirt cheap—you can enjoy authentic local food for just $2! I am a testament of this upward trend as I always see foreign white travelers walking under the sweltering heat of Manila, Philippines, wearing their large backpacks. Backpacking around or traveling conventionally in Southeast Asia is a good experience that nearly everyone needs to experience in their lifetime. Because not only you will learn to be financially aware and truly independent, but you will also be more culturally aware and sensitive of issues surrounding this part of Asia.
Whether you're planning to backpack through Southeast Asia, wanting to diversify your reading list, or signing up for an "Around the World" reading challenge, these books from the 11 countries of this Asian region will let you experience the unique culture of each country, know about their cherished customs and traditions, and learn about their rich and sometimes painful history.
Unfortunately, there aren't a lot of books written in English from Brunei. Much of the literature published about Brunei are from white authors with the country only as the setting. Good thing there are Bruneians who want to preserve their culture and do get published.
K.H. Lim, who was born and raised in Brunei, released his debut Written In Black in 2014. It is a coming-of-age novel set in Brunei that tells the story of Jonathan Lee, who mourns the passing of his Ah Kong (grandfather) and his mother's sudden departure to Australia. Left with no communication at all, he resolves to get in touch, in one way or another, with his mother. This short but heartwarming novel explores cultural and familial themes.
Longlisted for the Orange Prize for Fiction in 2011, Law-Yone's third novel is a harrowing story of a girl named Na Ga who wants to die by suicide in Wanting, a small, decrepit town that borders Burma and China. In flashbacks, we find out why Na Ga wants to end her life—her sorry childhood, a fallout with her American boyfriend, among others.
This book really deserves its merit.
This powerful memoir of an American-Cambodian human rights activist will move you. Loung Ung narrates her and her family's struggles under the brutal dictator Pol Pot's Khmer Rouge regime in Cambodia that lasted from 1975 to 1979. Polpot's dark reign killed more than 2 million people in Cambodia. This is known in history as the Cambodian Genocide.
In 2017, Ung's story was adapted into film directed by Angelina Jolie.
Just like in Brunei, there's a scarcity of East Timor literature in English. Maybe it's because of its colonial masters, Portugal—Portuguese is one of the country's languages—and Indonesia. Fortunately, there's a book from this country that recounts its colonial history.
The Crossing is Cardoso's semi-autobiographical memoir that narrates his early life in East Timor and his exile days in Portugal while his country is being invaded by Indonesia. Cardoso's account is an important narrative of East Timor—broken by colonialism—viewed in the eyes of one of its people.
Longlisted for the 2016 Man Booker International Prize, Kurniawan's novel infuses epic narrative with magical realism.
In a small Indonesian town, the residents are astonished when a usually quiet Margio kills a man named Anwar Sadat. The town's commander doesn't buy the story, but Margio confesses to the deed. According to him, a ghostly tiger living inside his body is the culprit.
After defeating the U.S.-backed forces, the communist Pathet Lao regime took over Laos in 1975. This memoir relays the harrowing experiences of civil servant Bounsang Khamkeo in the gulags (death camps) of war-torn Laos for seven years under the communist government.
But most importantly, it looks into the role of communism in Laos.
Winner of the Commonwealth Writers Prize in 2003, Manicka's first novel is a family saga woven with magical realism.
Told from several perspectives by four generations of a family, the story kicks off when Lakshmi was duped into marrying a 37-year-old man who pretended to be rich. But later on, Lakshmi discovers that he is not.
Dogeaters by Jessica Hagedorn (Philippines)
Told by different characters, Hagedorn's controversial novel puts in front and center the dark Philippine epoch under the late dictator Ferdinand Marcos through a beauty pageant—which still thrives until now—and an assassination. The narrative is nonlinear but inventive and innovative.
Turning 30 years next year, Dogeaters is an essential read if you want to know more about the history of the Philippines.
Want more Filipino reads? Check out this post: 5 Must-Reads of Philippine Literature.
Ponti by Sharlene Teo (Singapore)
Winner of the Deborah Rogers Writers' Award for this manuscript, Teo's debut novel Ponti unfolds the intertwined story of three women in futuristic Singapore: Amisa, a flopped actress of the Ponti movie series; Szu, her taciturn daughter; and Szu's well-off best friend, Circe. However, just as it blooms suddenly, Szu and Circe's friendship fades immediately.
Told from different points in their lives, the three will be forced to confront memories that haunt them.
Bright by Duanwad Pimwan (Thailand)
The title of this "first English-translated novel by a Thai woman" is definitely an irony. It revolves around a boy named Kampol Changsamran who was abandoned by his father, Wasu, in an unknown apartment building. But why? Realizing his father has abandoned him forever, Kampol gets adopted by the townspeople who take pity on him.
Winner of the Southeast Asian Award in 2003, this book is considered a modern classic in Thailand.
Considered a classic in Vietnam, this is one of the most important books on the Vietnam war.
It recounts the story of Hayslip, who witnessed first-hand the arrival of U.S. troops in her small village of Ky La during the onset of the controversial conflict. Having been forced to participate in the war and then incarcerated, she flees the violence and the war-ravaged Vietnam for the U.S. Almost 20 years later, she comes back to her homeland, which is still mending its wounds after the devastating war.
---
As you have noticed, most, if not all, of the books from this list have a commonality: themes of colonialism. So next time you visit these countries (having read these books, too), you will be more sensitive to their plights.
Which country are you going to visit first?