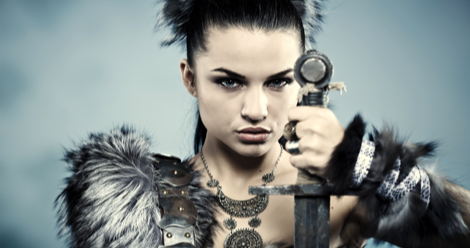 Lists
Beware of Dragons (Or Not): 50 Of The Best Epic Fantasy Series
This content contains affiliate links. When you buy through these links, we may earn an affiliate commission.
Dragons! Magic! Wizards! Sorceresses! 50 of the best epic fantasy series full of them!
Okay, I love me some epic fantasy. My first taste came from Mercedes Lackey's Valdemar series. Instead of waiting for my Hogwarts letter as a preteen (because Hogwarts, alas, did not yet exist), I waited for my magical horse. My companion would come galloping down the gravel driveway, leap over the fence and past the bevy of kind yet loud dogs, and rescue me from my mundane existence.
I mean, obviously I had magical powers (a fantasy I'll never quite shake).
My first epic fantasy series actually came earlier than that. Every year, the entire family would read The Lord of the Rings, so that's technically my first fantasy series, but the first I picked up on my own was Valdemar. After Lackey, I quickly consumed all of David Eddings, Robert Jordan, Terry Goodkind, and on and on and on. My dad had an extensive shelf of fantasy paperbacks, so I had plenty to choose from (something I've written about before).
Today, fantasy remains my favorite genre, and I'd love to share some of my favorites.
I made a few rules in creating this list of best epic fantasy series. First, since it's a series list, at least 2 books needed to be published in the series for it to be included. So while I really wanted to include Sorcerer to the Crown, since book 2 has yet to be released, I held back (but I just gave it my rec right there! Woot!). Second, no marketed YA. Don't misunderstand — there's a ton of wonderful epic fantasy YA series — but those merit their own list. Third, I went with high fantasy vs. urban and paranormal series. Writers define epic fantasy in many ways, but for me, it implies a completely created world. Now, some of these series do take place on Earth, but they feel like high fantasy, so I included them.
On this list you'll find series that will take you years if not decades to complete (Discworld is so worth it), classics that couldn't possibly be left out even if every fantasy lover has already read them a million times (no list is complete without Tolkien), and new or under-rated series for you to give a try (you better go read The Broken Earth trilogy). For completists, I've marked the finished series. I've also suggested places to start.
Having shelved fantasy in a bookstore for several years, I know how — ahem — particular fantasy fans can be. I know your list looks different than mine, so please, share your best epic fantasy series in the comments! You might also check out this list of 7 fantasy series that take a year to read, or this list of 9 diverse fantasies.
Acacia by David Anthony Durham
Where to Start? Acacia: The War with the Mein
Finished? Yes
"Leodan Akaran, ruler of the Known World, has inherited generations of apparent peace and prosperity, won ages ago by his ancestors. A widower of high intelligence, he presides over an empire called Acacia, after the idyllic island from which he rules. He dotes on his four children and hides from them the dark realities of traffic in drugs and human lives on which their prosperity depends. He hopes that he might change this, but powerful forces stand in his way. And then a deadly assassin sent from a race called the Mein, exiled long ago to an ice-locked stronghold in the frozen north, strikes at Leodan in the heart of Acacia while they unleash surprise attacks across the empire. On his deathbed, Leodan puts into play a plan to allow his children to escape, each to their separate destiny. And so his children begin a quest to avenge their father's death and restore the Acacian empire–this time on the basis of universal freedom."
Aegis of the Gods by Terry C. Simpson
Where to Start? Etchings of Power
Finished? Yes
"A legendary killer without a memory, a gifted student who has lost his way, a vengeful assassin on an impossible mission, an old mentor whose only wish is to save her people. Kingdoms separate them but their fates are intertwined.
Between warring nations, vengeful leaders, magic and steel, myth and men, the fate of the world hangs in the balance. Who shall unite the kingdoms? Who can bring the world's power to heel? Who can walk the knife's edge of harmony? If none can, then Denestia is doomed."
Arthurian Saga by Mary Stewart
Where to Start? The Crystal Cave
Finished? Yes
"Born the bastard son of a Welsh princess, Myridden Emrys– or as he would later be known, Merlin– leads a perilous childhood, haunted by portents and visions. But destiny has great plans for this no-man's-son, taking him from prophesying before High King Vortigern to the crowning of Uther Pendragon — and the conception of Arthur, king for once and always."
Avalon by Marion Zimmer Bradley
Where to Start? Mists of Avalon
Finished? Yes
"In Marion Zimmer Bradley's masterpiece, we see the tumult and adventures of Camelot's court through the eyes of the women who bolstered the king's rise and schemed for his fall. From their childhoods through the ultimate fulfillment of their destinies, we follow these women and the diverse cast of characters that surrounds them as the great Arthurian epic unfolds stunningly before us. As Morgaine and Gwenhwyfar struggle for control over the fate of Arthur's kingdom, as the Knights of the Round Table take on their infamous quest, as Merlin and Viviane wield their magics for the future of Old Britain, the Isle of Avalon slips further into the impenetrable mists of memory, until the fissure between old and new worlds' and old and new religions' claims its most famous victim."
The Book of the New Sun by Gene Wolfe
Where to Start? The Shadow of the Torturer
Finished? Yes
"The Book of the New Sun is unanimously acclaimed as Gene Wolfe's most remarkable work, hailed as "a masterpiece of science fantasy comparable in importance to the major works of Tolkien and Lewis" by Publishers Weekly, and "one of the most ambitious works of speculative fiction in the twentieth century" by The Magazine of Fantasy and Science Fiction. Shadow & Claw brings together the first two books of the tetralogy in one volume:
The Shadow of the Torturer is the tale of young Severian, an apprentice in the Guild of Torturers on the world called Urth, exiled for committing the ultimate sin of his profession — showing mercy toward his victim.
The Claw of the Conciliator continues the saga of Severian, banished from his home, as he undertakes a mythic quest to discover the awesome power of an ancient relic, and learn the truth about his hidden destiny." –Blurb for the combined volume of the first 2 in the series, Shadow & Claw
The Broken Earth Trilogy by N.K. Jemisin
Where to Start? The Fifth Season
Finished? Yes
"This is the way the world ends…for the last time.
A season of endings has begun.
It starts with the great red rift across the heart of the world's sole continent, spewing ash that blots out the sun.
It starts with death, with a murdered son and a missing daughter.
It starts with betrayal, and long dormant wounds rising up to fester.
This is the Stillness, a land long familiar with catastrophe, where the power of the earth is wielded as a weapon. And where there is no mercy."
The Broken Empire by Mark Lawrence
Where to Start? Prince of Thorns
Finished? Yes
"When he was nine, he watched as his mother and brother were killed before him. By the time he was thirteen, he was the leader of a band of bloodthirsty thugs. By fifteen, he intends to be king…
It's time for Prince Honorous Jorg Ancrath to return to the castle he turned his back on, to take what's rightfully his. Since the day he hung pinned on the thorns of a briar patch and watched Count Renar's men slaughter his mother and young brother, Jorg has been driven to vent his rage. Life and death are no more than a game to him—and he has nothing left to lose.
But treachery awaits him in his father's castle. Treachery and dark magic. No matter how fierce his will, can one young man conquer enemies with power beyond his imagining?"
The Castes and the OutCastes by Davis Ashura
Where to Start? A Warrior's Path
Finished? Yes
"Sweeping from the majestic city of Ashoka to the perilous Wildness beyond her borders, enter a world where Caste determines mystical Talents, the purity of Jivatma expresses worth, and dharma may be based on a lie.
Rukh Shektan has always understood duty. As a member of Caste Kumma, the warrior Caste, nothing else is acceptable. He is expected to take part in the deadly Trials, to journey the Wildness and protect the caravans linking Humanity's far-flung cities. Though the mission is dangerous, Rukh's hope and optimism are undaunted. Karma, however, is a fickle fiend. His caravan is destroyed by the monstrous Chimeras; twisted servants of their fearful goddess, Suwraith. While Rukh survives the attack, events force him along an uncertain path. Morality becomes a morass – especially when he encounters a mysterious warrior, Jessira Grey, a woman whose existence ought to be impossible. The holy texts warn against her kind: ghrinas, children of two Castes, abominations. They are to be executed whenever discovered, but for the first time in his life, Rukh defies duty. Jessira may be the key to his city's survival."
Chronicles of Elantra by Michelle Sagara
Where to Start? Cast in Shadow (there are several prequels, but this is book 1)
Finished? No, but 12 are published, so plenty to read!
"Seven years ago Kaylin fled the crime-riddled streets of Nightshade, knowing that something was after her. Children were being murdered—and all had the same odd markings that mysteriously appeared on her own skin.
Since then, she's learned to read, she's learned to fight and she's become one of the vaunted Hawks who patrol and police the City of Elantra. Alongside the winged Aerians and the immortal Barrani, she's made a place for herself, far from the mean streets of her birth.
But children are once again dying, and a dark and familiar pattern is emerging. Kaylin is ordered back into Nightshade with a partner she knows she can't trust, a Dragon lord for a companion and a device to contain her powers—powers that no other human has. Her task is simple—find the killer, stop the murders…and survive the attentions of those who claim to be her allies!"
Crown of Stars by Kate Elliott
Where to Start? King's Dragon
Finished? Yes.
"It begins with civil war….
For though King Henry still holds the crown of Wendar, his reign has long been contested by his sister Sabella. There are many eager to flock to her banner, and there are ways to make even the most unwilling lord into a weapon pointed at the heart of Henry's realm.
Torn by internal strife, Wendar also faces deadly raids from the north by an inhuman race, the Eika. And now terrifying portents are being seen; old ruins restored to life under the light of the full moon and peopled by the long-vanished Lost Ones; dark spirits walking the land in broad daylight.
And suddenly two innocents are about to be thrust into the middle of the conflict."
The Dandelion Dynasty by Ken Liu
Where to Start? The Grace of Kings
Finished? No. First 2 published.
"Two men rebel together against tyranny—and then become rivals—in this first sweeping book of an epic fantasy series from Ken Liu, recipient of Hugo, Nebula, and World Fantasy awards. Hailed as one of the best books of 2015 by NPR.
Wily, charming Kuni Garu, a bandit, and stern, fearless Mata Zyndu, the son of a deposed duke, seem like polar opposites. Yet, in the uprising against the emperor, the two quickly become the best of friends after a series of adventures fighting against vast conscripted armies, silk-draped airships, and shapeshifting gods. Once the emperor has been overthrown, however, they each find themselves the leader of separate factions—two sides with very different ideas about how the world should be run and the meaning of justice.
Fans of intrigue, intimate plots, and action will find a new series to embrace in the Dandelion Dynasty."
The Dark Tower by Stephen King
Where to Start? The Gunslinger
Finished? Yes
"A #1 national bestseller, The Gunslinger introduces readers to one of Stephen King's most powerful creations, Roland of Gilead: The Last Gunslinger. He is a haunting figure, a loner on a spellbinding journey into good and evil. In his desolate world, which mirrors our own in frightening ways, Roland tracks The Man in Black, encounters an enticing woman named Alice, and begins a friendship with the boy from New York named Jake.
Inspired in part by the Robert Browning narrative poem, "Childe Roland to the Dark Tower Came," The Gunslinger is "a compelling whirlpool of a story that draws one irretrievable to its center" (Milwaukee Sentinel). It is "brilliant and fresh…and will leave you panting for more" (Booklist)."
Deverry by Katharine Kerr
Where to Start? Daggerspell
Finished? Yes
"Even as a young girl, Jill was a favorite of the magical, mysterious Wildfolk, who appeared to her from their invisible realm. Little did she know her extraordinary friends represented but a glimpse of a forgotten past and a fateful future. Four hundred years-and many lifetimes-ago, one selfish young lord caused the death of two innocent lovers. Then and there he vowed never to rest until he'd rightened that wrong-and laid the foundation for the lives of Jill and all those whom she would hold dear: her father, the mercenary soldier Cullyn; the exiled berserker Rhodry Maelwaedd; and the ancient and powerful herbman Nevyn, all bound in a struggle against darkness. . . and a quest to fulfill the destinies determined centuries ago. Here in this newly revised edition comes the incredible novel that began one of the best-loved fantasy seers in recent years–a tale of bold adventure and timeless love, perilous battle and pure magic."
Discworld by Terry Pratchett
Where to Start? Chronological: The Color of Magic. My pick? Either Guards! Guards! or Equal Rites. But this series has so many starting points; you really can't go wrong.
Finished? Yes
"Long believed extinct, a superb specimen of draco nobilis ("noble dragon" for those who don't understand italics) has appeared in Discworld's greatest city. Not only does this unwelcome visitor have a nasty habit of charbroiling everything in its path, in rather short order it is crowned King (it is a noble dragon, after all…). How did it get there? How is the Unique and Supreme Lodge of the Elucidated Brethren of the Ebon Night involved? Can the Ankh-Morpork City Watch restore order – and the Patrician of Ankh-Morpork to power?
Magic, mayhem, and a marauding dragon…who could ask for anything more?" –Blurb for Guards! Guards!
Dragonlance by Margaret Weis and Tracy Hickman
Where to Start? Lots of places to begin. I started with Dragons of Autumn Twilight, which is also the first the pair wrote.
Finished? Yes and no. Weis and Hickman still publish books in this universe, but there are PLENTY of completed trilogies within the universe.
"Lifelong friends, they went their separate ways. Now they are together again, though each holds secrets from the others in his heart. They speak of a world shadowed with rumors of war. They speak of tales of strange monsters, creatures of myth, creatures of legend. They do not speak of their secrets. Not then. Not until a chance encounter with a beautiful, sorrowful woman, who bears a magical crystal staff, draws the companions deeper into the shadows, forever changing their lives and shaping the fate of the world. No one expected them to be heroes. Least of all, them."
Earthsea Cycle by Ursula K. Le Guin
Where to Start? A Wizard of Earthsea
Finished? Yes
"Originally published in 1968, Ursula K. Le Guin's A Wizard of Earthsea marks the first of the six now beloved Earthsea titles. Ged was the greatest sorcerer in Earthsea, but in his youth he was the reckless Sparrowhawk. In his hunger for power and knowledge, he tampered with long-held secrets and loosed a terrible shadow upon the world. This is the tumultuous tale of his testing, how he mastered the mighty words of power, tamed an ancient dragon, and crossed death's threshold to restore the balance."
Earthsinger Chronicles by L. Penelope
Where to start? Song of Blood & Stone
Finished? No. First 2 complete.
"Orphaned and alone, Jasminda lives in a land where cold whispers of invasion and war linger on the wind. She is an outcast in her homeland of Elsira, where her gift of Earthsong is feared. When ruthless soldiers seek refuge in her isolated cabin, they bring with them a captive–an injured spy who threatens to steal her heart.
Jack's mission behind enemy lines nearly cost him his life but leaves him convinced that the magical barrier between Elsira and Lagrimar is about to fall. He is saved by the healing Song of a mysterious young woman. Now he must do whatever it takes to protect Elsira and its people from the wrath of the True Father, and he needs Jasminda's Earthsong to do it. They embark on a perilous journey to save their land and to uncover the secrets of The Queen Who Sleeps.
Thrust into a hostile society, Jasminda and Jack must rely on one another even as secrets jeopardize their bond. But Jack has secrets of his own, and as an ancient evil gains power, Jasminda races to unlock a mystery that promises salvation."
Elric by Michael Moorcock
Where to Start? Elric of Melnibone
Finished? Yes
"It is the colour of a bleached skull, his flesh; and the long hair that flows below his shoulders is milk-white. From the tapering, beautiful head stare two slanting eyes, crimson and moody. He is Elric, Emperor of Melnibone, cursed with a keen and cynical intelligence, schooled in the art of sorcery — the hero of Michael Moorcock's remarkable epic of conflict and adventure at the dawn of human history."
Eternal Sky by Elizabeth Bear
Where to Start? Range of Ghosts
Finished? Yes
"Temur, grandson of the Great Khan, is walking from a battlefield where he was left for dead. All around lie the fallen armies of his cousin and his brother who made war to rule the Khaganate. Temur is now the legitimate heir by blood to his grandfather's throne, but he is not the strongest. Going into exile is the only way to survive his ruthless cousin.
Once-Princess Samarkar is climbing the thousand steps of the Citadel of the Wizards of Tsarepheth. She was heir to the Rasan Empire until her father got a son on a new wife. Then she was sent to be the wife of a Prince in Song, but that marriage ended in battle and blood. Now she has renounced her worldly power to seek the magical power of the wizards.
These two will come together to stand against the hidden cult that has so carefully brought all the empires of the Celadon Highway to strife and civil war through guile and deceit and sorcerous power."
Farseer Trilogy by Robin Hobb
Where to Start? Assassin's Apprentice
Finished? Yes
"Young Fitz is the bastard son of the noble Prince Chivalry, raised in the shadow of the royal court by his father's gruff stableman. He is treated as an outcast by all the royalty except the devious King Shrewd, who has him secretly tutored in the arts of the assassin. For in Fitz's blood runs the magic Skill—and the darker knowledge of a child raised with the stable hounds and rejected by his family.
As barbarous raiders ravage the coasts, Fitz is growing to manhood. Soon he will face his first dangerous, soul-shattering mission. And though some regard him as a threat to the throne, he may just be the key to the survival of the kingdom."
The First Law by Joe Abercrombie
Where to Start? The Blade Itself
Finished? Yes
"Logen Ninefingers, infamous barbarian, has finally run out of luck. Caught in one feud too many, he's on the verge of becoming a dead barbarian — leaving nothing behind him but bad songs, dead friends, and a lot of happy enemies.
Nobleman, dashing officer, and paragon of selfishness, Captain Jezal dan Luthar has nothing more dangerous in mind than fleecing his friends at cards and dreaming of glory in the fencing circle. But war is brewing, and on the battlefields of the frozen North they fight by altogether bloodier rules.
Inquisitor Glokta, cripple turned torturer, would like nothing better than to see Jezal come home in a box. But then Glokta hates everyone: cutting treason out of the Union one confession at a time leaves little room for friendship. His latest trail of corpses may lead him right to the rotten heart of government, if he can stay alive long enough to follow it.
Enter the wizard, Bayaz. A bald old man with a terrible temper and a pathetic assistant, he could be the First of the Magi, he could be a spectacular fraud, but whatever he is, he's about to make the lives of Logen, Jezal, and Glokta a whole lot more difficult.
Murderous conspiracies rise to the surface, old scores are ready to be settled, and the line between hero and villain is sharp enough to draw blood."
Gentleman Bastards by Scott Lynch
Where to Start? The Lies of Locke Lamora
Finished? No. First 3 published.
"They say that the Thorn of Camorr can beat anyone in a fight. They say he steals from the rich and gives to the poor. They say he's part man, part myth, and mostly street-corner rumor. And they are wrong on every count. Only averagely tall, slender, and god-awful with a sword, Locke Lamora is the fabled Thorn, and the greatest weapons at his disposal are his wit and cunning. He steals from the rich – they're the only ones worth stealing from – but the poor can go steal for themselves. What Locke cons, wheedles and tricks into his possession is strictly for him and his band of fellow con-artists and thieves: the Gentleman Bastards. Together their domain is the city of Camorr. Built of Elderglass by a race no-one remembers, it's a city of shifting revels, filthy canals, baroque palaces and crowded cemeteries. Home to Dons, merchants, soldiers, beggars, cripples, and feral children. And to Capa Barsavi, the criminal mastermind who runs the city.But there are whispers of a challenge to the Capa's power. A challenge from a man no one has ever seen, a man no blade can touch. The Grey King is coming.A man would be well advised not to be caught between Capa Barsavi and The Grey King. Even such a master of the sword as the Thorn of Camorr. As for Locke Lamora …"
Gormenghast by Mervyn Peake
Where to Start? Titus Groan, or The Gormenghast Novels, the complete trilogy
Finished? Yes
"A doomed lord, a scheming underling, an ancient royal family plagued by madness and intrigue – these are the denizens of ancient, sprawling, tumbledown Gormenghast Castle. Within its vast halls and serpentine corridors, the members of the Groan dynasty and their master Lord Sepulchrave grow increasingly out of touch with a changing world as they pass their days in unending devotion to meaningless rituals and arcane traditions. Meanwhile, an ambitious kitchen boy named Steerpike rises by devious means to the post of Master of the Ritual while he maneuvers to bring down the Groans. Breathtaking in its power and drenched in dark atmosphere, humor and intrigue, The Gormenghast Novels is a classic, one of the great works of 20th century British literature."
Heralds of Valdemar by Mercedes Lackey
Where to Start? Lots of entry points. Chronological: Arrows of the Queen. My favorite trilogy in this universe begins with Magic's Pawn. If you want a stand-alone in this series to see if you want to continue, read By the Sword.
Finished? Yes.
"Follows the adventures of Talia as she trains to become a Herald of Valdemar in the first book in the classic epic fantasy Arrows trilogy. Chosen by the Companion Rolan, a mystical horse-like being with powers beyond imagining, Talia, once a runaway, has now become a trainee Herald, destined to become one of the Queen's own elite guard. For Talia has certain awakening talents of the mind that only a Companion like Rolan can truly sense. But as Talia struggles to master her unique abilities, time is running out. For conspiracy is brewing in Valdemar, a deadly treason that could destroy Queen and kingdom. Opposed by unknown enemies capable of both diabolical magic and treacherous assassination, the Queen must turn to Talia and the Heralds for aid in protecting the realm and insuring the future of the Queen's heir, a child already in danger of becoming bespelled by the Queen's own foes." –Blurb for Arrows of the Queen
Kingdoms of Thorn and Bone by Greg Keyes
Where to Start? The Briar King
Finished? Yes
"In the kingdom of Crotheny, two young girls play in the tangled gardens of the sacred city of the dead. Fleeing an imaginary attacker, the girls–one of whom is the reckless young daughter of the king–discover the unknown crypt of the legendary, ancestral queen, Virgenya Dare.
In the wilds of the forest, while investigating the slaughter of an innocent family, king's holter Aspar White weaves his way through a maze of ancient willows–and comes face-to-face with a monstrous beast found only in folk tales and nightmares. Meanwhile, traveling the same road, a scholarly young priest begins an education in the nature of evil, found festering just beneath the surface of the seemingly peaceful land.
The royal family itself comes under siege, facing betrayal that only sorcery could accomplish. Now–for three beautiful sisters, for a young man made suddenly into a knight, and for a woman in love with a roguish adventurer–a rising darkness appears, shattering what was once certain, familiar, and good. These destinies and more will be linked when malevolent forces walk the land. For Crotheny, the most powerful nation in the world, is shaken at its core. And the Briar King, harbinger of death, has awakened from his slumber."
The Kingkiller Chronicle by Patrick Rothfuss
Where to Start? The Name of the Wind
Finished? No. First 2 published.
"DAY ONE: THE NAME OF THE WIND
My name is Kvothe.
I have stolen princesses back from sleeping barrow kings. I burned down the town of Trebon. I have spent the night with Felurian and left with both my sanity and my life. I was expelled from the University at a younger age than most people are allowed in. I tread paths by moonlight that others fear to speak of during day. I have talked to Gods, loved women, and written songs that make the minstrels weep.
You may have heard of me.
So begins a tale unequaled in fantasy literature—the story of a hero told in his own voice. It is a tale of sorrow, a tale of survival, a tale of one man's search for meaning in his universe, and how that search, and the indomitable will that drove it, gave birth to a legend."
Kushiel's Legacy by Jacqueline Carey
Where to Start? Kushiel's Dart
Finished? Yes
"In a kingdom born of angels, Phedre is an anguisette, cursed or blessed to find pleasure in pain. Sold to the Court of Night Blooming Flowers, her fate as a beautiful but anonymous courtesan was sealed. Her bond was purchased by the nobleman Anafiel Delauney, who recognized the scarlet mote in Phedre's eye as the rare mark of one touched by a powerful deity. Under Delauney's patronage she is trained in history, politics, language, and the use of body and mind as the ultimate weapon of subterfuge in a dangerous game of courtly intrigue.
Guided into the bed chambers of Terre D'Ange's most influential nobles, Phedre uncovers a conspiracy against the throne so vast that even her teacher cannot see the whole of it. As her nation is besieged by invading hordes from the north, the most unthinkable threat to her beloved home comes from traitors within. Betrayed and blindsided by her own longings, only Phedre and her trusted bodyguard Josselin are left to cross borders and warring armies in a race to stop the final blow from falling."
Long Price Quartet by Daniel Abraham
Where to Start? A Shadow in Summer
Finished? Yes
"The powerful city-state of Saraykeht is a bastion of peace and culture, a major center of commerce and trade. Its economy depends on the power of the captive spirit, Seedless, an andat bound to the poet-sorcerer Heshai for life. Enter the Galts, a juggernaut of an empire committed to laying waste to all lands with their ferocious army. Saraykeht, though, has always been too strong for the Galts to attack, but now they see an opportunity. If they can dispose of Heshai, Seedless's bonded poet-sorcerer, Seedless will perish and the entire city will fall. With secret forces inside the city, the Galts prepare to enact their terrible plan.
In the middle is Otah, a simple laborer with a complex past. Recruited to act as a bodyguard for his girlfriend's boss at a secret meeting, he inadvertently learns of the Galtish plot. Otah finds himself as the sole hope of Saraykeht, either he stops the Galts, or the whole city and everyone in it perishes forever."
The Lord of the Rings by J.R.R. Tolkien
Where to Start? I say The Hobbit, but you can start with The Fellowship of the Ring.
Finished? Yes
"The Lord of the Rings, J.R.R. Tolkien's three-volume epic, is set in the imaginary world of Middle-earth – home to many strange beings, and most notably hobbits, a peace-loving "little people," cheerful and shy. Since its original British publication in 1954-55, the saga has entranced readers of all ages. It is at once a classic myth and a modern fairy tale. Critic Michael Straight has hailed it as one of the "very few works of genius in recent literature." Middle-earth is a world receptive to poets, scholars, children, and all other people of good will. Donald Barr has described it as "a scrubbed morning world, and a ringing nightmare world…especially sunlit, and shadowed by perils very fundamental, of a peculiarly uncompounded darkness." The story of ths world is one of high and heroic adventure. Barr compared it to Beowulf, C.S. Lewis to Orlando Furioso, W.H. Auden to The Thirty-nine Steps. In fact the saga is sui generis – a triumph of imagination which springs to life within its own framework and on its own terms."
Lyonesse by Jack Vance
Where to Start? Suldrun's Garden
Finished? Yes
"A monument of fantastic literature to stand beside such classics as Dune and The Lord of the Rings, Lyonesse evokes the Elder Isles, a land of pre-Arthurian myth now lost beneath the Atlantic, where powerful sorcerers, aloof faeries, stalwart champions, and nobles eccentric, magnanimous, and cruel pursue intrigue among their separate worlds. In this first book of the trilogy, Suldrun's Garden, Prince Aillas of Troicinet is betrayed on his first diplomatic voyage and cast into the sea. Before he redeems his birthright, he must pass the breadth of Hybras Isle as prisoner, vagabond, and slave, an acquaintance of faeries, wizards, and errant knights, and lover to a sad and beautiful girl whose fate sets his undying hatred for her tyrannical father–Casmir, King of Lyonesse."
Millennium's Rule by Trudi Canavan
Where to Start? Thief's Magic
Finished? No. First 3 complete.
"In a world where an industrial revolution is powered by magic, Tyen, a student of archaeology, unearths a sentient book called Vella. Once a young sorcerer-bookbinder, Vella was transformed into a useful tool by one of the greatest sorcerers of history. Since then she has been collecting information, including a vital clue to the disaster Tyen's world faces.
Elsewhere, in an land ruled by the priests, Rielle the dyer's daughter has been taught that to use magic is to steal from the Angels. Yet she knows she has a talent for it, and that there is a corrupter in the city willing to teach her how to use it — should she dare to risk the Angels' wrath.
But not everything is as Tyen and Rielle have been raised to believe. Not the nature of magic, nor the laws of their lands… and not even the people they trust."
New Crobuzon by China Miéville
Where to Start? Perdido Street Station (though I actually read these completely out of order the first time and had no problem).
Finished? Yes
"Beneath the towering bleached ribs of a dead, ancient beast lies New Crobuzon, a squalid city where humans, Re-mades, and arcane races live in perpetual fear of Parliament and its brutal militia. The air and rivers are thick with factory pollutants and the strange effluents of alchemy, and the ghettos contain a vast mix of workers, artists, spies, junkies, and whores. In New Crobuzon, the unsavory deal is stranger to none—not even to Isaac, a brilliant scientist with a penchant for Crisis Theory.
A magnificent fantasy rife with scientific splendor, magical intrigue, and wonderfully realized characters, told in a storytelling style in which Charles Dickens meets Neal Stephenson, Perdido Street Station offers an eerie, voluptuously crafted world that will plumb the depths of every reader's imagination."
Obsidian and Blood by Aliette de Bodard
Where to start? Servant of the Underworld (there are several prequels, but this is book 1)
Finished? Yes
"Year One-Knife, Tenochtitlan the capital of the Aztecs. Human sacrifice and the magic of the living blood are the only things keeping the sun in the sky and the earth fertile.
A Priestess disappears from an empty room drenched in blood. It should be a usual investigation for Acatl, High Priest of the Dead–except that his estranged brother is involved, and the the more he digs, the deeper he is drawn into the political and magical intrigues of noblemen, soldiers, and priests-and of the gods themselves…"
Olondria by Sofia Samatar
Where to Start? A Stranger in Olondria
Finished? Probably (only 2 books in the series, and both are stand-alone)
"Jevick, the pepper merchant's son, has been raised on stories of Olondria, a distant land where books are as common as they are rare in his home—but which his mother calls the Ghost Country. When his father dies and Jevick takes his place on the yearly selling trip to Olondria, Jevick's life is as close to perfect as he can imagine. Just as he revels in Olondria's Rabelaisian Feast of Birds, he is pulled drastically off course and becomes haunted by the ghost of an illiterate young girl.
A Stranger in Olondria was written while the author taught in South Sudan. It is a rich and heady brew which pulls the reader in deeper and still deeper with twists and turns that hearken back to the Gormenghast novels while being as immersive as George R. R. Martin's Game of Thrones."
Paksenarrion by Elizabeth Moon
Where to Start? Sheepfarmer's Daughter
Finished? Yes, though she continues to write in this world on a regular basis.
"Paksenarrion–Paks, for short–refuses her father's orders to marry the pig farmer down the road and is off to join the army. And so her adventure begins–the adventure that transforms her into a hero remembered in songs, chosen by the gods to restore a lost ruler to his throne."
Return to Nevèrÿon by Samuel R. Delany
Where to Start? Tales of Nevèrÿon
Finished? Yes
"A boy of the bustling, colorful docks of port Kolhari, during a political coup, fifteen-year-old Gorgik, once his parents are killed, is taken a slave and transported to the government obsidian mines at the foot of the Faltha mountains. When, in the savagely primitive land of Nevèrÿon, finally he wins his freedom, Gorgik is ready to lead a rebellion against the rulers of this barely civilized land. His is the through-story that, now in the background, now in the foreground, connects these first five stories, in Tales of Nevèrÿon—and, indeed, all the eleven stories, novellas, and novels that comprise Delany's epic fantasy series, Return to Nevèrÿon, where we can watch civilization first develop money, writing, labor, and that grounding of all civilizations since: capital itself.
In these sagas of barbarism, new knowledge, and sex, you'll find far more than in most sword-and-sorcery. They are an epic feat of language, an ironic analysis of the foundations of civilization, and a reminder that no weapon is more powerful than a well-honed legend."
Riddle-Master by Patricia McKillip
Where to Start? The Riddle-Master of Hed
Finished? Yes
"Long ago, the wizards had vanished from the world, and all knowledge was left hidden in riddles. Morgon, prince of the simple farmers of Hed, proved himself a master of such riddles when he staked his life to win a crown from the dead Lord of Aum.
But now ancient, evil forces were threatening him. Shape changers began replacing friends until no man could be trusted. So Morgon was forced to flee to hostile kingdoms, seeking the High One who ruled from mysterious Erlenstar Mountain.
Beside him went Deth, the High One's Harper. Ahead lay strange encounters and terrifying adventures. And with him always was the greatest of unsolved riddles — the nature of the three stars on his forehead that seemed to drive him toward his ultimate destiny."
Sevenwaters by Juliet Marillier
Where to Start? Daughter of the Forest
Finished? Yes
"Lovely Sorcha is the seventh child and only daughter of Lord Colum of Sevenwaters. Bereft of a mother, she is comforted by her six brothers who love and protect her. Sorcha is the light in their lives, they are determined that she know only contentment.
But Sorcha's joy is shattered when her father is bewitched by his new wife, an evil enchantress who binds her brothers with a terrible spell, a spell which only Sorcha can lift–by staying silent. If she speaks before she completes the quest set to her by the Fair Folk and their queen, the Lady of the Forest, she will lose her brothers forever.
When Sorcha is kidnapped by the enemies of Sevenwaters and taken to a foreign land, she is torn between the desire to save her beloved brothers, and a love that comes only once. Sorcha despairs at ever being able to complete her task, but the magic of the Fair Folk knows no boundaries, and love is the strongest magic of them all…"
A Song of Ice and Fire by George R.R. Martin
Where to Start? A Game of Thrones
Finished? Notoriously no, but the first 5 are completed.
"Sweeping from a harsh land of cold to a summertime kingdom of epicurean plenty, A Game of Thrones tells a tale of lords and ladies, soldiers and sorcerers, assassins and bastards, who come together in a time of grim omens. Here an enigmatic band of warriors bear swords of no human metal; a tribe of fierce wildlings carry men off into madness; a cruel young dragon prince barters his sister to win back his throne; a child is lost in the twilight between life and death; and a determined woman undertakes a treacherous journey to protect all she holds dear. Amid plots and counter-plots, tragedy and betrayal, victory and terror, allies and enemies, the fate of the Starks hangs perilously in the balance, as each side endeavors to win that deadliest of conflicts: the game of thrones."
The Sorcerer of Wildeeps by Kai Ashante Wilson
Where to Start? The Sorcerer of Wildeeps
Finished? Maybe. Two so far, both stand-alone novellas in the same universe. Will there be more? We can only hope.
"Since leaving his homeland, the earthbound demigod Demane has been labeled a sorcerer. With his ancestors' artifacts in hand, the Sorcerer follows the Captain, a beautiful man with song for a voice and hair that drinks the sunlight.
The two of them are the descendants of the gods who abandoned the Earth for Heaven, and they will need all the gifts those divine ancestors left to them to keep their caravan brothers alive.
The one safe road between the northern oasis and southern kingdom is stalked by a necromantic terror. Demane may have to master his wild powers and trade humanity for godhood if he is to keep his brothers and his beloved captain alive."
The Stormlight Archive by Brandon Sanderson
Where to Start? The Way of Kings
Finished? No. First 2 published, 3rd coming in November (it's currently listed as a 10 book series on Goodreads).
"It has been centuries since the fall of the ten consecrated orders known as the Knights Radiant, but their Shardblades and Shardplate remain: mystical swords and suits of armor that transform ordinary men into near-invincible warriors. Men trade kingdoms for Shardblades. Wars were fought for them, and won by them.
One such war rages on a ruined landscape called the Shattered Plains. There, Kaladin, who traded his medical apprenticeship for a spear to protect his little brother, has been reduced to slavery. In a war that makes no sense, where ten armies fight separately against a single foe, he struggles to save his men and to fathom the leaders who consider them expendable…
Across the ocean, an untried young woman named Shallan seeks to train under an eminent scholar and notorious heretic, Dalinar's niece, Jasnah. Though she genuinely loves learning, Shallan's motives are less than pure. As she plans a daring theft, her research for Jasnah hints at secrets of the Knights Radiant and the true cause of the war."
The Sunbolt Chronicles by Intisar Khanani
Where to Start? Sunbolt
Finished? No. 2 published so far.
"The winding streets and narrow alleys of Karolene hide many secrets, and Hitomi is one of them. Orphaned at a young age, Hitomi has learned to hide her magical aptitude and who her parents really were. Most of all, she must conceal her role in the Shadow League, an underground movement working to undermine the powerful and corrupt Arch Mage Wilhelm Blackflame.
When the League gets word that Blackflame intends to detain—and execute—a leading political family, Hitomi volunteers to help the family escape. But there are more secrets at play than Hitomi's, and much worse fates than execution. When Hitomi finds herself captured along with her charges, it will take everything she can summon to escape with her life."
Sword of Truth by Terry Goodkind
Where to Start? Wizard's First Rule
Finished? I think he plans to continuously add books to this series forever. For. Ever.
"In the aftermath of the brutal murder of his father, Richard Cypher encounters a mysterious woman, Kahlan Amnell, in his forest sanctuary. She seeks his help…and more. His world, his very beliefs, are shattered when ancient debts come due with thundering violence. In their darkest hour, Kahlan calls upon Richard to reach beyond his sword—to invoke within himself something more noble. Neither knows that the rules of battle have just changed…or that their time has run out. This is the beginning. One book. One rule. Witness the birth of a legend."
Tamír Triad by Lynn Flewelling
Where to Start? The Bone Doll's Twin
Finished? Yes
"Sometimes the price of destiny is higher than anyone imagined….
For three centuries a divine prophecy and a line of warrior queens protected Skala. But the people grew complacent and Erius, a usurper king, claimed his young half sister's throne.
Now plague and drought stalk the land, war with Skala's ancient rival Plenimar drains the country's lifeblood, and to be born female into the royal line has become a death sentence as the king fights to ensure the succession of his only heir, a son. For King Erius the greatest threat comes from his own line — and from Illior's faithful, who spread the Oracle's words to a doubting populace.
As noblewomen young and old perish mysteriously, the king's nephew — his sister's only child — grows toward manhood. But unbeknownst to the king or the boy, strange, haunted Tobin is the princess's daughter, given male form by a dark magic to protect her until she can claim her rightful destiny.
Only Tobin's noble father, two wizards of Illior, and an outlawed forest witch know the truth. Only they can protect young Tobin from a king's wrath, a mother's madness, and the terrifying rage of her brother's demon spirit, determined to avenge his brutal murder…."
Tensorate by J.Y. Yang
Where to Start? With either The Black Tides of Heaven or The Red Threads of Fortune, though Tides is listed as Book 1.
Finished? No. First 2 novellas published.
"Mokoya and Akeha, the twin children of the Protector, were sold to the Grand Monastery as infants. While Mokoya developed her strange prophetic gift, Akeha was always the one who could see the strings that moved adults to action. While Mokoya received visions of what would be, Akeha realized what could be. What's more, they saw the sickness at the heart of their mother's Protectorate.
A rebellion is growing. The Machinists discover new levers to move the world every day, while the Tensors fight to put them down and preserve the power of the state. Unwilling to continue as a pawn in their mother's twisted schemes, Akeha leaves the Tensorate behind and falls in with the rebels. But every step Akeha takes towards the Machinists is a step away from Mokoya. Can Akeha find peace without shattering the bond they share with their twin?"
Temeraire by Naomi Novik
Where to Start? His Majesty's Dragon
Finished? Yes
"Aerial combat brings a thrilling new dimension to the Napoleonic Wars as valiant warriors rise to Britain's defense by taking to the skies . . . not aboard aircraft but atop the mighty backs of fighting dragons.
When HMS Reliant captures a French frigate and seizes its precious cargo, an unhatched dragon egg, fate sweeps Capt. Will Laurence from his seafaring life into an uncertain future–and an unexpected kinship with a most extraordinary creature. Thrust into the rarified world of the Aerial Corps as master of the dragon Temeraire, he will face a crash course in the daring tactics of airborne battle. For as France's own dragon-borne forces rally to breach British soil in Bonaparte's boldest gambit, Laurence and Temeraire must soar into their own baptism of fire."
The Wheel of Time by Robert Jordan and Brandon Sanderson
Where to Start? The Eye of the World
Finished? Yes. Finished posthumously by Brandon Sanderson
"The Wheel of Time turns and Ages come and go, leaving memories that become legend. Legend fades to myth, and even myth is long forgotten when the Age that gave it birth returns again. In the Third Age, an Age of Prophecy, the World and Time themselves hang in the balance. What was, what will be, and what is, may yet fall under the Shadow.
When The Two Rivers is attacked by Trollocs—a savage tribe of half-men, half-beasts— five villagers flee that night into a world they barely imagined, with new dangers waiting in the shadows and in the light."
Worldbreaker Saga by Kameron Hurley
Where to Start? The Mirror Empire
Finished? No. Final book in the trilogy comes out next year.
"On the eve of a recurring catastrophic event known to extinguish nations and reshape continents, a troubled orphan evades death and slavery to uncover her own bloody past… while a world goes to war with itself.
In the frozen kingdom of Saiduan, invaders from another realm are decimating whole cities, leaving behind nothing but ash and ruin. At the heart of this war lie the pacifistic Dhai people, once enslaved by the Saiduan and now courted by their former masters to provide aid against the encroaching enemy.
Stretching from desolate tundra to steamy, semi-tropical climes seething with sentient plant life, this is an epic tale of blood mages and mercenaries, emperors and priestly assassins who must unite to save a world on the brink of ruin….
In the end, one world will rise – and many will perish."
The World of Riverside/Tremontaine by Ellen Kushner and many other authors
Where to Start? Swordspoint or Tremontaine (Tremontaine is being co-written by multiple authors as a serial prequel. Can be read first, or you can start with Book 1, Swordspoint)
Finished? Kind of. The original The World of Riverside series is complete, but Tremontaine is still going!
"Hailed by critics as "a bravura performance" (Locus) and "witty, sharp-eyed, [and] full of interesting people" (Newsday), this acclaimed novel, filled with remarkable plot twists and unexpected humor, takes fantasy to an unprecedented level of elegant writing and scintillating wit. Award-winning author Ellen Kushner has created a world of unforgettable characters whose political ambitions, passionate love affairs, and age-old rivalries collide with deadly results.
On the treacherous streets of Riverside, a man lives and dies by the sword. Even the nobles on the Hill turn to duels to settle their disputes. Within this elite, dangerous world, Richard St. Vier is the undisputed master, as skilled as he is ruthless—until a death by the sword is met with outrage instead of awe, and the city discovers that the line between hero and villain can be altered in the blink of an eye."
World of the Five Gods by Lois McMaster Bujold
Where to Start? The Curse of Chalion
Finished? Kind of. The first 3 can work together as a trilogy, and are completed. She's been adding novellas to the series with Penric's story.
"A man broken in body and spirit, Cazaril returns to the noble household he once served as page and is named secretary-tutor to the beautiful, strong-willed sister of the impetuous boy who is next in line to rule. It is an assignment Cazaril dreads, for it must ultimately lead him to the place he most fears: the royal court of Cardegoss, where the powerful enemies who once placed him in chains now occupy lofty positions.
But it is more than the traitorous intrigues of villains that threaten Cazaril and the Royesse Iselle here, for a sinister curse hangs like a sword over the entire blighted House of Chalion. And only by employing the darkest, most forbidden of magics can Cazaril hope to protect his royal charge — an act that will mark him as a tool of the miraculous . . . and trap him in a lethal maze of demonic paradox."
This list can't catch them all–what do you think are the best epic fantasy series?