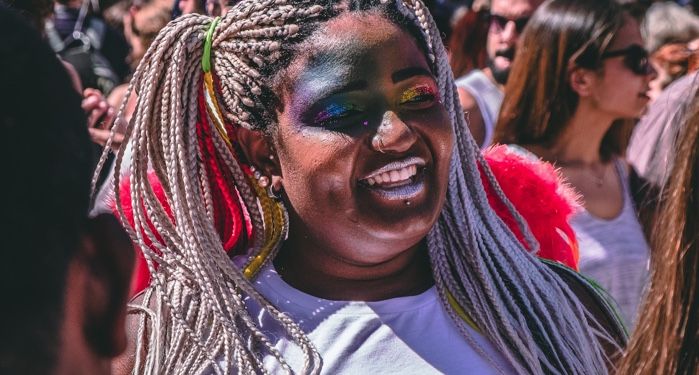 This content contains affiliate links. When you buy through these links, we may earn an affiliate commission.
Happy Pride Month! Every June, we all take a moment to appreciate the long way queer rights have come and to take joy in the queer community. So it's time to ring in this month of queer celebration with audiobooks for Pride month by LGBTQ+ authors!
Bisexual icon Keah Brown went viral with her hashtag #DisabledAndCute. In this collection of essays, Brown discusses her life a disabled, queer, Black woman who celebrates all the facets of her life. She describes her experience growing up with cerebral palsy with such a vibrant voice, resisting the social norm of viewing disabled folks as "less than," "weak," or "undeserving." Brown performs the audiobook of The Pretty One, giving the audiobook that extra spark that only happens when an author reads their work.
The Prettiest Star by Carter Sickels, Narrated by Tiffany Morgan and Charlie Thurston
Set in Appalachian Ohio, The Prettiest Star follows Brian, a young man living with AIDS in the 1980s. After his lover dies, Brian leaves New York City to head back home to live with his estranged family. Once he arrives, the town is abuzz with rumors of Brian's condition, and his family must decide whether to stand with Brian or to continue to bury the truth. Tiffany Morgan and Charlie Thurston narrate the novel's three different viewpoint characters, giving an insightful and moving performance.
Detransition, Baby by Torrey Peters, Narrated by Renata Friedman
Reese and Amy seemed to have everything. But when Amy detransitions to become Ames, Reese feels abandoned and confused, left alone to navigate the world as a trans woman without the person she loves most. Years later, she hears from Ames, who has a startling request — would Reese be interested in co-parenting a child with Ames and his new girlfriend? Detransition, Baby delves into the complex issues around trans identity, parenthood, and queer relationships. Renata Friedman brilliantly narrates this novel, fully embodying the story's characters.
All too often, the queer community forgets to include people on the Ace spectrum in our celebrations. It's important that Ace allies educate ourselves, and a great audiobook to start with is Ace: What Asexuality Reveals About Desire and the Meaning of Sex by Angela Chen. In Ace, she delves into the different facets of being on the asexuality or aromantic spectrums. Natalie Naudus narrates Ace with clarity, laying out the information in a way that helps the listener understand Chen's points.
A Taiwanese cult classic, Notes of a Crocodile is written as a series of journals from a college-aged queer woman attending college in the late 1980s. From her first class, she falls in love with another woman, but she struggles to come to terms with her own queer identity. In Taipei, she surrounds herself with found family, slowly accepting who she is over the course of several years. Jo Mei beautifully narrates this engrossing novel.
Lakshmi — known as Lucky to her family — and her best friend agreed to a marriage of convenience to hide the fact that they are both gay. They have relationships outside their marriage, living a half life of stolen kisses and passionate nights only to have to return to their charade in the morning. But all that comes crashing down when Lucky's ex-girlfriend reenters her life. Lucky begins to imagine what a life with a woman she loves could be like. She would never have to hide who she is and who she loves. All-star narrator Emily Woo Zeller performs this novel with such emotional depth and understanding.
---
For more audiobooks by LGBTQ+ authors, check out "6 of the Best Audiobooks for your LGBTQ+ Book Club" and "6 of the Best Audiobooks by Queer Black Authors."