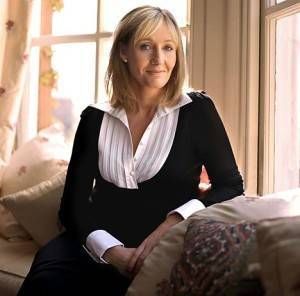 Featured
5 Books J.K. Rowling Should Write
Guys, I'm still amazed that J.K. Rowling secretly published a book under a pseudonym.
I'm also amazed at the versatility Rowling has shown in her writing career. After hitting it big with a young adult fantasy series, she published a literary look at small town England followed by hardboiled detective story.
While an argument could be made that her success with A Casual Vacancy and now The Cuckoo's Calling are a result of name recognition alone, I don't necessarily buy that. Rowling is a talented writer who has proved she can sell commercially viable and critically respected stories successfully across genres.
It's her flair across genres that got me thinking: What are other books I wish J.K. Rowling would write?
A Sci-Fi Dystopia: We know that Rowling can write imaginatively, and we know that she can be bleak. Why not put that together in some sort of Ready Player One meets The Year of the Flood mash-up set in a dark and not-too-distant future?
A Romance Novel: Rowling didn't get to write much steaminess into the Harry Potter series or most of A Casual Vacancy (I haven't read The Cuckoo's Calling, so I can't speak to that). But her writing is so vivid and visceral, I think she could write a pretty sexy story if she tried. Given her experiment with a male pseudonym, it'd be great to have this one come out under a totally feminine, frilly name to see what happens.
Some Twilight Fan Fiction: By now it's probably boring to think about more Twilight fan fiction (erotic or otherwise). But I would love to see Rowling take on that book, either rewriting the whole thing (because, my gosh, is the writing in Twilight awful) or looking at the story from the perspective of a minor character while ignoring Edward and Bella almost entirely.
Horror: I might just be on a gruesome books kick because I'm reading Under the Dome, but wouldn't it be awesome to see Rowling really push the gross factor and write something truly disgusting? There are some scary seeds in her books already. I'd love to see her just let loose.
A Memoir: While the basics of Rowling's biography (and her time as a nearly-starving artist while writing Harry Potter) are pretty well known, I want to hear more about it straight from the source. I'd love to learn more about her childhood in England, her difficult years while writing Harry Potter and what success has meant to her. Get on this one, J.K!
_________________________
Sign up for our newsletter to have the best of Book Riot delivered straight to your inbox every two weeks. No spam. We promise.
To keep up with Book Riot on a daily basis, follow us on Twitter, like us on Facebook, , and subscribe to the Book Riot podcast in iTunes or via RSS. So much bookish goodness–all day, every day.