Circe by Madeline Miller optioned for TV Series
Circe by Madeline Miller has been optioned for a TV series! The author of Circe and The Song of Achilles announced the news on her Instagram.
"A bold and subversive retelling of the goddess's story," this #1 New York Times bestseller "manages to be both epic and intimate in its scope, recasting the most infamous female figure from the Odyssey as a hero in her own right" (Alexandra Alter, The New York Times).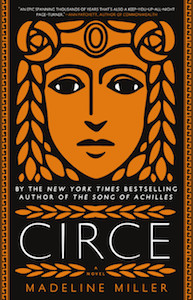 Circe is born into the house of Helios, god of the sun, but she's unlike the other gods. She's not powerful like her father or gorgeous like her mother, the nymph Perse. She does, however, have the power of witchcraft. Threatened by her powers, Zeus banishes her to a deserted island. On the island she grows stronger, honing her craft, and also crossing paths with some of the most famous figures in all of mythology, including the Minotaur, Daedalus and Icarus, Medea, and, of course, Odysseus. Circe is a "triumph of storytelling."
By signing up you agree to our Terms of Service
We have a $100 e-gift card to the country's only romance-only bookstore, The Ripped Bodice!
Go here to enter for a chance to win
, or just click the image below. Good luck!