Inbox/Outbox: December 11, 2015
You know those weekends when the calendar is empty and the sun is out and you can just sit and read for hours? I had one of those this past week, and it was glorious. Damn, it sure does feel good to be a reader. Here's my highlight reel. Can't wait to hear about yours!
Inbox (Books Acquired)
Silver Bullets by Élmer Mendoza (MacLehose Press, January 5) – A gritty crime story by one of Mexican literature's foremost figures? Yes, please! I almost always love crime fiction when I read it, and I never read enough of it. I also always wish I read more books by writers who aren't from the U.S., so this is a two birds with one gripping tale situation. I'm in it.
Inventology: How We Dream Up Things That Change the World by Pagan Kennedy (Houghton Mifflin Harcourt, January 26) – The history of innovation and invention is a thing that fascinates and inspires me, and I can't resist an opportunity to expand this particular area of my wheelhouse.
Outbox (Books Finished)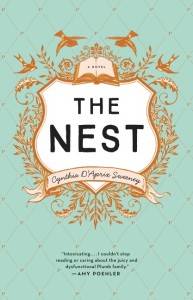 The Nest by Cynthia D'Aprix Sweeney (Ecco, March 2) – The four Plumb siblings, all middle-aged when we meet them, have all been looking forward to their inheritance, which they refer to as The Nest (as in egg) for as long as they can remember. The due date is quickly approaching when Leo, the charming and formerly-very-successful one of the bunch, makes a series of bad decisions that they all end up paying for. Now his sisters and brother must scramble to figure out how to make ends meet, keep their own lives from falling apart, and convince him to make them whole. This is an exemplary family drama told through a sizable and thoroughly enjoyable cast of characters that surround the Plumb family. It rang all of my "put the fun in dysfunctional" bells, and I'll be eagerly waiting for whatever Sweeney does next. Fans of The Vacationers, Maine, and Seating Arrangements should take special note!
Troublemaker: Surviving Hollywood and Scientology by Leah Remini – I listened to this memoir on audio after a floppity jillion of my fellow Rioters recommended it, and they were not wrong. Remini is strong, candid, funny, and a total delight to spend time with as she reveals her life in Scientology and why she left.
In the Queue (What I'm Reading Next)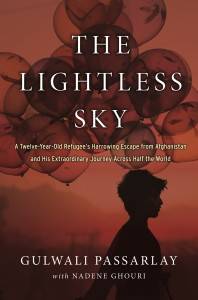 The Lightless Sky by Gulwali Passarlay (HarperOne, January 5) – When Gulwali Passarlay was twelve years old, his father was killed by U.S. troops. The Taliban wanted to recruit him, and the U.S. wanted to use him, so his mother sent him away for his own protection. This is his memoir of a year spent crossing eight countries, enduring imprisonment and hunger and brutality and fear, and what happened after. I don't expect this to be a fun read, but it certainly promises to be important.
That's it for me, friends. What are you into this week?
Do you like podcasts like
This American Life, RadioLab, or Planet Money
?
Annotated
is kinda like those, but for books. Go
here to find out more
, or click the image below: