Inbox/Outbox: September 11, 2015
Inbox (Books Acquired)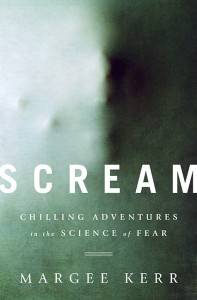 Scream: Chilling Adventures in the Science of Fear by Margee Kerr (PublicAffairs, September 29)– A sociologist moonlights at one of America's scariest haunted houses and spends years researching the science of fear to write a tour of the world's most terrifying places. There is nothing about this that doesn't sound awesome, AND the cover glows in the dark. I know because a sticker on the book said so, and I spent ten minutes in a dark, windowless room trying to make the glow show up on my phone's camera. This looks like just the kind of book to ring my Mary Roach-loving bells. Sign me up and scare me silly.
Honeydew by Edith Pearlman – Edith Pearlman is one of those acclaimed writers I'm always sad to admit I haven't read yet. This collection of twenty stories, coming out in paperback on September 22, looks like the perfect place to start.
Outbox (Books Finished)
Cat is Art Spelled Wrong, edited by Caroline Casey, Chris Fischbach, and Sarah Schultz (Coffee House Press, September 15) – This is a collection of smart essays by smart people about why we can't stop watching cat videos on the internet. It's funny and thought provoking, and if you're interested in the intersection of technology, culture, and art, it's not to be missed. This blurb would be longer, but I got distracted watching Lil BUB.
In the Queue (What I'm Reading Next)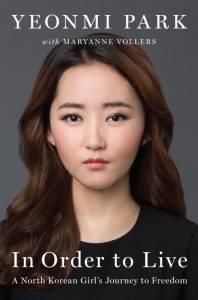 In Order to Live: A North Korean Girl's Journey to Freedom by Yeonmi Park with Maryanne Vollers (Penguin Press, September 29)– At just 21 years old, Yeonmi Park has become one of the most prominent activists for North Korean human rights. After her father was captured and tortured by the North Korean regime, she and her mother fled to China, where they were sold into slavery. They escaped and walked across the frozen Gobi desert, and this is her story. I'm prepared to be chilled by and in awe of this young woman's life.
Do you like podcasts like
This American Life, RadioLab, or Planet Money
?
Annotated
is kinda like those, but for books. Go
here to find out more
, or click the image below: