Inbox/Outbox: November 1, 2013
I'm honored to be taking the torch from fellow ginger Rebecca this week. I read just about anything and everything, so this week you'll get a hint of my eclectic tastes.
Inbox (Books Acquired) 
The Hiker's Bible by Robert Elman. I don't remember where, but I saw this book referenced somewhere on the internet last week and immediately went to Amazon to purchase a used copy (because it's out of print). My wife and I LOVE hiking, and it's pretty much how we spend our summers here in Colorado, so this was a no-brainer. The fact that it's from the 70s is icing on the cake. A quick look at the table of contents shows chapter titles named: "Planning a Ramble" and "Clothes Make the Hiker." Awesome.
Moby-Dick by Herman Melville. I finished reading In the Heart of the Sea a couple weeks ago, which is the real-life story that inspired Moby-Dick. So, not having read Melville's classic yet, I was dead set on getting myself a good copy. I ended up with the beautifully illustrated Modern Library Classics edition from 2000. I got it at a bookstore, and had a hard time finding it on the big bookseller websites. Find it if you can, though — it's illustrated by Rockwell Kent and is gorgeous.

Outbox (Books Finished)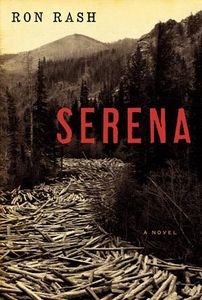 Serena by Ron Rash. This was the first book I read on Oyster and served as my test run for the new service. I actually chose it because I came across the Serena movie news (starring Jennifer Lawrence and Bradley Cooper) but hadn't yet heard of the book. Sure enough, I opened up Oyster for the first time, and there it was, just waiting to be devoured. I thoroughly enjoyed it, to say the least. And it's one of those where I enjoy it more the more I think about it. It tells the story of a powerful married couple who are logger barons in North Carolina trying to protect their land from the government, who wants it for a new national park. Powerful female characters, a budding environmental movement, and of course, plenty of murder, make this book a delight. I'm excited for the movie version.
Tropic of Cancer by Henry Miller. What a strange and eclectic and confusing and sometimes brilliant book. I can definitely understand why it was outlawed as porn in the US for 30 years after its original French publication. There was more generous use of the c-word (both as a sexual device and as a title for women) than in any other piece of media I've encountered in my life. If you're looking for a riveting story, this is not the place to go. It's really the disorganized semi-autobiographical ramblings of Miller's life in Paris. I wish I could describe it better, but you really just have to read it for yourself, if nothing else than for the literary historical value.
In the Queue
Gates of Fire by Steven Pressfield. I head a book club over at the Art of Manliness, and this is our November selection. It's a historical fiction that borders on being more history than fiction, and tells the super epic and manly tale of the Battle of Thermopylae (ya know, the one that the movie 300 is based on). I've heard only great things about Pressfield's work (both fiction and non-fiction), so I'm excited to dig in to this one.
Gerald's Game by Stephen King. You have to read some Stephen King around Halloween time. I've read most of his more well-known stuff, and I actually hadn't even heard of this one before seeing it in a used bookstore. Wikipedia describes it thusly: "The story is about a woman who accidentally kills her husband while she is handcuffed to the bed as part of a bondage game, and, following the subsequent realization that she is trapped with little hope of rescue, begins to let the voices inside her head take over." Heck yeah I'll read that.
Your turn, readers! Tell me about your week in books.
____________________________
Sign up for our newsletter to have the best of Book Riot delivered straight to your inbox every week. No spam. We promise.

To keep up with Book Riot on a daily basis, follow us on Twitter, like us on Facebook, , and subscribe to the Book Riot podcast in iTunes or via RSS. So much bookish goodness–all day, every day.
We have a $100 e-gift card to the country's only romance-only bookstore, The Ripped Bodice!
Go here to enter for a chance to win
, or just click the image below. Good luck!