Inbox/Outbox: September 6, 2013
Inbox (Books Acquired)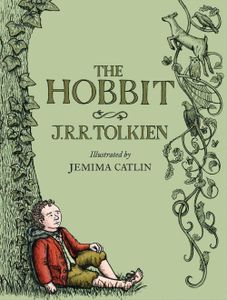 The Hobbit by J.R.R. Tolkien, Illustrated Edition by Jemima Catlin (Houghton Mifflin Harcourt, October 1)–In a hole in the ground there lived a hobbit. And now, in a place of prominence on my bookshelf, there lives a gorgeous illustrated edition of the famous hobbit's tale. The folks at HMH have been outdoing themselves with hobbit-tastic goodies in anticipation of the second installment of the 3-part film adaptation, and I think this latest piece is my favorite. The illustrations are beautiful complements to the story, and this very nice hardback is just begging to be a holiday gift and bedtime favorite.
Dust by Yvonne Adhiambo Owuor (A.A. Knopf, January 2014)–This is debut fiction from an award-winning writer, about "a splintered family in Kenya and the struggling nation around it." It piqued my interest the moment it slipped out of the shipping envelope, and I'm looking forward to meeting this author and her work.
Bared to You by Sylvia Day–What can I say? My ongoing adventures in romance and erotica have me all tied up (I'm sorry, that pun was totally intended, and I am very ashamed of myself) trying to understand how and why the Very Buzzy Books become so big. Sylvia Day has been a successful romance writer for a while (and she is currently the president of the Romance Writes of America), but the series that kicks off with this title, which came out hot on the heels of 50 Shades, has undeniably been her break out. And I've gotta know why.
Outbox (Books Finished)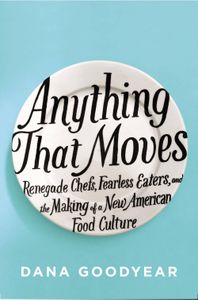 Anything That Moves: Renegade Chefs, Fearless Eaters, and the Making of a New American Food Culture by Dana Goodyear (Riverhead, November 14)–If in the not so distant past you've found yourself eating something considered adventurous or challenging, or if you've wondered how we got to this place in which being a food lover is equated with a snout-to-tail, try anything once, eat-everything-that-doesn't-eat-you-first philosophy, this is the book you've been waiting for. Working as a kind of embedded reporter, Goodyear goes deep into the ranks of the cooks (professional and self-taught alike), food writers, and everyday eaters who have shaped our contemporary food culture. She begins with Jonathan Gold, the Pulitzer Prize-winning food critic for the LA Times who began as a renegade in search of the weirdest stuff Los Angeles had to offer, and she touches on raw milk advocates, bug eaters, importers, chefs gone rogue, and the underground/black market that makes eating unusual things possible, if not always legal.
This is fascinating and occasionally horrifying stuff, and it's a must-read for anyone who cares about what we eat, how we eat it, and why. Fun, fast-paced, and highly recommended.
In the Queue
With one week of work standing between me and a week at the beach, I'm trying to get into the go-with-the-flow vibe early. My house is basically just a giant TBR pile, so I think I'll spend some time staring at this weekend and just read whatever pops out.
What's on tap for you, readers? Did you read anything rad or go on a book-buying binge this week?
In a book lover's life, there's nothing as magical as a perfect, surprising recommendation from someone who just
gets
you. But finding those people can be tough! That's where
TBR
comes in. Go here to find out more, or just click the image below: