Inbox/Outbox: April 26, 2013
I'm all over the map this week, in both geography and reading material. It tends to happen when I travel. Some women pack all their shoes so they'll have choices no matter what mood they find themselves in. I do it with books instead. (Okay, I do it with shoes sometimes too, but the books usually outnumber the shoes.) Here's a look at my highlight reel.
Inbox (Books Acquired)
She Left Me With the Gun: My Mother's Life Before Me by Emma Brockes (The Penguin Press, May 16)–Look at that cover, y'all! Tell me you don't want to read this book already. The jacket copy describes it as a work of "psychological suspense and forensic memoir." After her mother's death, Emma Brockes set out to reconstruct the events that led her mother to leave behind her life in South Africa and reinvent so completely that her old self all but vanished. Oh, and she left Brockes a gun that plays a major role in the story. I love a good secrets-get-revealed true story and can't wait to dig into this one.
The Explanation for Everything by Lauren Grodstein (Algonquin, September 2013)–One of my readerly weaknesses is fiction that takes a smart, questioning approach to issues of faith and religious, so I did a good old-fashioned happy dance when this novel showed up in my mailbox. About a young evangelist college student working on a paper about intelligent design, and the professor whose life she disrupts, this looks to be a tasty read about moral struggles and the search for meaning. I'm stoked!
Outbox (Books Finished)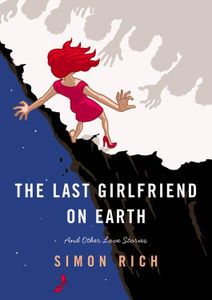 The Last Girlfriend On Earth: And Other Love Stories by Simon Rich–Stop what you're doing right now and go buy this book. No, really. This is hands down the most fun I've had reading in 2013. Rich's collection of super-short stories (nothing here is over ten pages, and most of the pieces are even shorted) takes a whimsical approach to the absurdity of dating, mating, and dumping. There's a story written from the perspective of a condom that gets carried around in a guy's wallet for WAY longer than you're supposed to carry a condom around. There's one about a Scared Straight-style camp to reform teenagers who are at risk for long-term relationships. There are Missed Connections written by dogs. And a whole bunch more really delightful stuff. This is a slim little volume, and you'll be hard pressed not to gulp it down in one bite. Go! Go now!
Fingersmith by Sarah Waters–So fingersmith is old-style slang for pickpocket. That's the first thing you should know. The second is that this is an amazing literary thriller with crossing and double-crossing and maybe even some triple-crossing. Dashing gentlemen (who are anything but), wealthy country ladies, dirty old men, and a host of colorful and fully realized minor characters make this the very best kind of pageturner. Writing and plot are equally important and equally well done here. Waters is a master, and she's not to be missed. And if that's not enough for you, there's some sorta-steamy girl-on-girl action too.
The Siren by Tiffany Reisz–If you like your steamy action REAL steamy and more than a little on the BDSM side, this one's for you. This, kids, is not your mama's 50 Shades. Nora Sutherlin is an erotica writer looking to break into the mainstream with her dirty little books, and she's assigned the uptightest of uptight editors at her new publisher. Given six weeks to completely rewrite her draft and prove she deserves her contract, Sutherlin pulls out all the stops, and not just with her writing. There's seduction and sexytimes and a dungeony sex club, and whips and chains and all that jazz. Not for the faint of heart, but great for making your heart beat faster.
In the Queue
She by H. Rider Haggard–Never heard of this one? Neither had I, until I read Margaret Atwood's In Other Worlds back at the first of the year, and she mentioned it repeatedly as one of her favorite books, and one that influenced her work. I don't know about y'all, but if it's good enough for Margaret Atwood, it's good enough for me. I'm expecting fantasy, intrigue, maybe some political turmoil, and who knows what else!
The Stone Diaries by Carol Shields–This one's been in the queue before, and I even started it once before, about a month back. Then I got sidetracked and put it down when I couldn't give it the concentration Shields' gorgeous writing demands and deserves. And now I'm back to it. At the halfway mark, I can tell you it's thoughtful, insightful, and quite memorable.
That's it for me. How's your reading week been?
_________________________
Sign up for our newsletter to have the best of Book Riot delivered straight to your inbox every two weeks. No spam. We promise.
To keep up with Book Riot on a daily basis, follow us on Twitter or like us on Facebook. So much bookish goodness–all day, every day.
By signing up you agree to our Terms of Service
As part of Season 2 of our podcast series Annotated, we are giving away 10 of the best books about books of 2017. Go
here to enter for a chance to win
, or just click the image below: