Inbox/Outbox: November 16, 2012
Back in the saddle again, oh I'm back in the saddle again! After a reading funk that lasted longer than I'd like to admit–not for lack of good reading material, but for lack of time and sanity–my reading groove and I have been reunited, and it feels so good. Here's what I'm into lately. Hit the highlights of your reading week in the comments, won't ya?
Inbox (Books Acquired)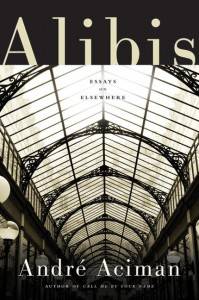 Alibis: Essays on Elsewhere by André Aciman (Picador, November 27)–I am a sucker for an essay collection, especially at this time of year, when being able to dip in and out of a book is a real plus. I know Aciman's work by reputation and am looking forward to sinking into these pieces about "time, place, identity, and art."
The Still Point of the Turning World by Emily Rapp (The Penguin Press, March 2013)–I have to confess that when this one turned up on my doorstep, I was excited about it based on the title alone. So evocative! Rapp's memoir about dealing with her son's diagnosis with Tay-Sachs disease, and her mission to "make [the] world big" for him and their family, this one promises to be a tearjerker.
Outbox (Books Finished)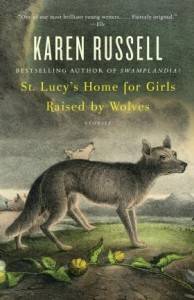 St. Lucy's Home for Girls Raised by Wolves: Stories by Karen Russell–Holy cats, y'all. I thought Karen Russell was good when I read Swamplandia! (which I liked-but-didn't-quite-love), and now I know that she is amazeballs. This collection opens with the story that was later expanded to make Swamplandia!, and it is perfect. Then there's the one about a sleepaway camp for kids with wacky sleep disorders. And the one about the family making a trek across the country in a wagon train, and their wagon is being pulled by the father, because the father is a muhfuckin minotaur. A minotaur!
There's something magical or surreal or ethereal about every single story, and some are linked by place and characters. Russell crafts incredibly beautiful sentences, filled with unexpected descriptions and incisive observations. She seems to be in her wheelhouse with short fiction–these are really a joy to read–and I can't wait to pick up her forthcoming collection Vampires in the Lemon Grove.
In the Queue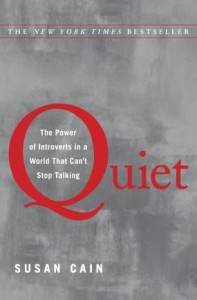 Quiet: The Power of Introverts in a World That Can't Stop Talking by Susan Cain–This one's been giving me the shame stare from my TBR pile since its release earlier this year, and I've decided that now is the time! What could be better going into the party-filled holiday season than reassuring myself that my need to be alone in order to recharge is not just normal but good and productive? Science + sociological inquiry + application to daily life = irresistible book. I'll be curling up in a quiet room with this over the weekend. Don't talk to me!
Your turn! How was your reading week?
By signing up you agree to our Terms of Service
In a book lover's life, there's nothing as magical as a perfect, surprising recommendation from someone who just
gets
you. But finding those people can be tough! That's where
TBR
comes in. Go here to find out more, or just click the image below: