About Book Riot
We're Different
Book Riot is dedicated to the idea that writing about books and reading should be just as diverse as books and readers are. So sometimes we are serious and sometimes silly. Some of our writers are pros. Many of them aren't. We like a good list just as much as we like a good review. We think you can like both J.K. Rowling and J.M. Coetzee and that there are smart, funny, and informative things to say about both and that you shouldn't have to choose.
And the only thing we like as much as books is talking about books with other readers. So welcome to Book Riot—you seem like our kind of people.
Our Beliefs
We create.
We always prefer the book to the movie.
We riot as a team.
We geek out on books, embarrassingly so.
We're leaders.
We practice charity.
We miss our subway stop cause the book is that good.
We are non-traditional.
We believe in family (bookshelves and cats count).
We Practice Charity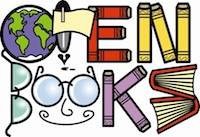 Book Riot is a for profit venture that practices charity. We give two percent of gross revenue (no funny math, just 0.02 times revenue) to organizations whose efforts promote social justice in the areas of literacy, health, gender or educational equity. Open Books is our current charitable partner. Join us in supporting their mission to provide literacy experiences for tens of thousands of readers each year through inspiring programs and creative capitalization of books. Open Books' literacy programs are designed to spark creativity, inspiration, and independence. Annually, they serve over 5,000 K-12 students through innovative instruction, including one-on-one reading with struggling elementary school students and creative writing workshops for middle and high school students.
Ownership
Book Riot is a Riot New Media Group property.