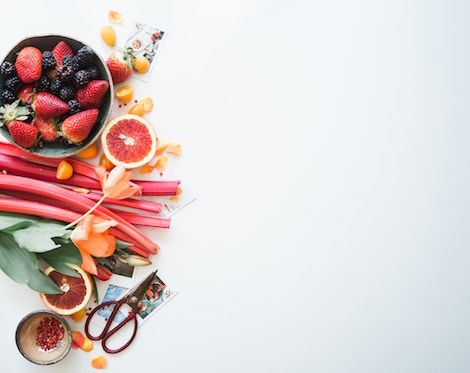 This content contains affiliate links. When you buy through these links, we may earn an affiliate commission.
Live your best bookish life with our New Release Index. It's a fantastically functional way to keep track of your most anticipated new releases. It's available exclusively to Book Riot Insiders. Subscribe to Book Riot Insiders!

---
In a recent episode of Hey YA, Eric and I were talking about Adi Alsaid's North of Happy and how it's a YA book with recipes within it. That got me thinking: what are some other YA books that include bonus recipes either within the story or at the back of the book for readers who want to try their own takes on what the characters in the story were talking about? And thus, a list of YA books with recipes.
Can you think of other YA books with recipes in them? Drop 'em in the comments so we can build the ultimate YA fictional cookbook collection.
SEVENTEEN-YEAR-OLD LAINEY DREAMS of becoming a world famous chef one day and maybe even having her own cooking show. (Do you know how many African American female chefs there aren't? And how many vegetarian chefs have their own shows? The field is wide open for stardom!) But when her best friend—and secret crush—suddenly leaves town, Lainey finds herself alone in the kitchen. With a little help from Saint Julia (Child, of course), Lainey finds solace in her cooking as she comes to terms with the past and begins a new recipe for the future.
Peppered with recipes from Lainey's notebooks, this delicious debut novel finishes the same way one feels finishing a good meal—satiated, content, and hopeful.
Once upon a time, Hudson knew exactly what her future looked like. Then a betrayal changed her life, and knocked her dreams to the ground. Now she's a girl who doesn't believe in second chances…a girl who stays under the radar by baking cupcakes at her mom's diner and obsessing over what might have been.
So when things start looking up and she has another shot at her dreams, Hudson is equal parts hopeful and terrified. Of course, this is also the moment a cute, sweet guy walks into her life…and starts serving up some seriously mixed signals. She's got a lot on her plate, and for a girl who's been burned before, risking it all is easier said than done.
It's time for Hudson to ask herself what she really wants, and how much she's willing to sacrifice to get it. Because in a place where opportunities are fleeting, she knows this chance may very well be her last.
Sixteen-year-old Kara McKinley is about to realize her dream of becoming a professional baker. Beautifully designed and piped, her cookies are masterpieces, but also her ticket out of rainy Seattle—if she wins the upcoming national baking competition and its scholarship prize to culinary school in California. Kara can no longer stand the home where her family lived, laughed, and ultimately imploded after her mean-spirited big sister Kellen died in a drowning accident. Kara's dad has since fled, and her mom has turned from a high-powered attorney into a nutty holy-rolling Christian fundamentalist peddling "Soul Soup" in the family café. All Kara has left are memories of better times.
But the past holds many secrets, and they come to light as Kara faces a secret terror. Someone is leaving her handwritten notes. Someone who knows exactly where she is and what's she's doing. As they lead her to piece together the events that preceded Kellen's terrible, life-changing betrayal years before, she starts to catch glimpses of her dead sister: an unwelcome ghost in filthy Ugg boots. If Kara doesn't figure out who her stalker is, and soon, she could lose everything. Her chance of escape. The boy she's beginning to love and trust. Even her life.
His whole life has been mapped out for him…
Carlos Portillo has always led a privileged and sheltered life. A dual citizen of Mexico and the U.S., he lives in Mexico City with his wealthy family, where he attends an elite international school. Always a rule follower and a parent pleaser, Carlos is more than happy to tread the well-worn path in front of him. He has always loved food and cooking, but his parents see it as just a hobby.
When his older brother, Felix—who has dropped out of college to live a life of travel—is tragically killed, Carlos begins hearing his brother's voice, giving him advice and pushing him to rebel against his father's plan for him. Worrying about his mental health, but knowing the voice is right, Carlos runs away to the United States and manages to secure a job with his favorite celebrity chef. As he works to improve his skills in the kitchen and pursue his dream, he begins to fall for his boss's daughter—a fact that could end his career before it begins. Finally living for himself, Carlos must decide what's most important to him and where his true path really lies.
Can a spot on a teen reality show really lead to a scholarship at an elite cooking school AND a summer romance?
Sixteen-year-old Sophie Nicolaides was practically raised in the kitchen of her family's Italian-Greek restaurant, Taverna Ristorante. When her best friend, Alex, tries to convince her to audition for a new reality show, Teen Test Kitchen, Sophie is reluctant. But the prize includes a full scholarship to one of America's finest culinary schools and a summer in Napa, California, not to mention fame.
Once on-set, Sophie immediately finds herself in the thick of the drama—including a secret burn book, cutthroat celebrity judges, and a very cute French chef. Sophie must figure out a way to survive all the heat and still stay true to herself. A terrific YA offering—fresh, fun, and sprinkled with romance.
Relish by Lucy Knisley
Lucy Knisley loves food. The daughter of a chef and a gourmet, this talented young cartoonist comes by her obsession honestly. In her forthright, thoughtful, and funny memoir, Lucy traces key episodes in her life thus far, framed by what she was eating at the time and lessons learned about food, cooking, and life. Each chapter is bookended with an illustrated recipe—many of them treasured family dishes, and a few of them Lucy's original inventions.
A welcome read for anyone who ever felt more passion for a sandwich than is strictly speaking proper, Relish is a book for our time: it invites the reader to celebrate food as a connection to our bodies and a connection to the earth, rather than an enemy, a compulsion, or a consumer product.
Thirteen-year-old Anjali's life is rich with the smell of curry from her parents' roti shop and an absolute passion for food. More than anything, Anjali wants to be a chef who competes on a kids' cooking reality TV show. But Anjali must keep her wish a secret from her family, who thinks Anjali's passions are beneath her. Thank goodness for Deema, Anjali's grandmother, whose insight and love can push past even the oldest family beliefs. Woven with recipes that cook up emotions and actual culinary recipes that make food, this novel is as delicious as it is satisfying.
If you can grill it, smoke it, or fry it, Nora Henderson knows all about it. She's been basting baby back ribs and pulling pork at her father's barbecue joint since she was tall enough to reach the counter. When she's accepted to Taste Test, a reality-television teen cooking competition, Nora can't wait to leave her humble hometown behind, even if it means saying good-bye to her dad and her best friend, Billy. Once she's on set, run-ins with her high-society roommate and the maddeningly handsome-not to mention talented-son of a famous chef, Christian Van Lorten, mean Nora must work even harder to prove herself. But as mysterious accidents plague the kitchen arena, protecting her heart from one annoyingly charming fellow contestant in particular becomes the least of her concerns. Someone is conducting real-life eliminations, and if Nora doesn't figure out who, she could be next to get chopped for good.
Zoe knows she doesn't belong in a hospital—so why is she in one?

Twin Birch isn't just any hospital. It's a strange mansion populated by unnerving staff and glassy-eyed patients. It's a place for girls with serious problems; skinny, spindly girls who have a penchant for harming themselves.
Zoe isn't like them. And she can't figure out why she was sent here. Writing letters to her best friend Elise keep her sane, grounded in the memories of her past—but mired in them, too. Elise never writes back.
Zoe is lost without her, unsure of how to navigate tenuous new friendships and bizarre rules without Elise by her side. But as her letters intertwine with journal entries chronicling her mysterious life at Twin Birch, another narrative unfolds. The hidden story of a complicated friendship; of the choices we make, the truths we tell others, and the lies we tell ourselves. The story of a friendship that has the potential to both save—and damage beyond repair. And Zoe finds she must confront the truth about her past once and for all, before she can finally let go.
Want more "3 On A YA Theme" posts? Gotcha covered.