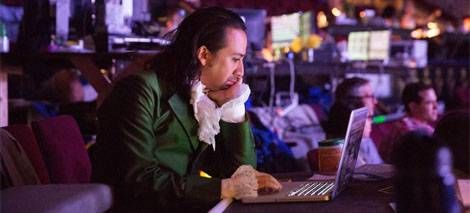 Literary Activism
Writing Our Way Out: How to Take Inspiration in the Time of Crisis, Via Lin-Manuel Miranda
This content contains affiliate links. When you buy through these links, we may earn an affiliate commission.
Book Riot is featuring ways to be a literary activist this week. See all the posts here.
---
Inspiration
Some days I envy a man like Lin-Manuel Miranda: composer, performer, rapid-fire rapper, and all around decent person. I also idolize him. While raising a toddler who also shows a promising future in music, Lin manages to keep writing. He also posts playlists on YouTube and shows supports to other shows. He's rapped about Puerto Rico, hosted workshops for students.
As he snarks in the Saturday Night Live opening, Lin managed to transcribe the realities of present politics into his historical Broadway show Hamilton. He discusses how affairs used to ruin political careers, and how connections could make or break a nation. Thomas Jefferson opposes Hamilton for supporting bankers rather than farmers, while George Washington mediates between the Cabinet members. Politics don't really change over two hundred years.
Legacy
Lin makes it entertaining with rapid-fire rapping lyrics, devastating musical motifs, and stunning visuals that depict how Hamilton rose and fell. Lin also released a "mixtape" of the Hamilton soundtrack, that is multiple covers from various artists. He contributes to a remix of "Hurricane" titled "Wrote My Way Out." Lin discusses how he was bullied for liking books and having artistic sensibility. Rather than fight back physically, he would focus on his work. As a result of this focus, he started writing music for Sesame Street, produced two Tony-winning musicals, and composed for Disney. He has also raised awareness about Puerto Rico's poverty, and the need to fight tragedy.
Alexander Hamilton was the same way. After a hurricane devastated his island, St. Croix in the Caribbean, he wrote a letter to his father about what he saw. This letter motivated the community leaders to pay for his schooling, so Alexander could eventually attend King's College, which would become Columbia University. He would write for General Washington, for a national debt plan, and for his country.
Crisis
Right now our country risks turning into a dictatorship. Our president golfs while cutting necessary funding to healthcare and the arts. Meanwhile, his programs devastate our international reputation and tear families apart. I fear that our days will end in nuclear war.
Do we take inspiration from Lin? Can Hamilton the monarchist provide insight? Yes, I believe. Both believed in creating a better world. Both used their wit at appropriate times. And most importantly, both used their writing to improve lives.
Words
Writing has power. Words have power. For that reason, in many totalitarian regimes, the dictators go for the books first. We saw that in World War II with Hitler's book burnings, in Ray Bradbury's fictional future of firemen that destroy houses, and in the school textbooks that rewrite history. Laws forbade slaves from learning to read, and women were barred from many universities. When a writer faces such tyranny, they can either write against the fear of dying or fold up until the storm clears.
Another problem emerges: tyrants strike fear into artists. So do their supporters when hate crimes increase. We fear for our safety, since governments arrest artists or accuse them of treason . Losing the Affordable Healthcare Act would have hurt many freelance writers, and endangered them. Thinking we're going to die, or we have to die, puts a damper on creativity.
Writing
I fold up to focus on a crisis. I need stability to write my fiction. In this time, when I want to write, our current regime is a problem. Yet we need to keep creating. Why? To prove that fear of death and oppression will not control our lives. We write to remind people that tyranny cannot last. Creative people despise dictators, because dictators want us dead. People in charge know we can imagine a better world, or the worst outcome of a totalitarian future.
Let's look at two different Russian expatriates: Ayn Rand and Vladimir Nabokov. Rand arrived to the US in 1926 after the Soviet Union attempted to purge her from college before graduation. Afterward, she would write books about Objectivism, or extreme selfishness. Her books feature stubborn protagonists that refuse to reform, often with tragic consequences. The Republican party and libertarians would adopt these books and use them as excuses for questionable policies.
Nabokov was different. An aristocrat with synesthesia, he and his family fled Russia in 1917, living in exile after World War I. After traveling from country to country, with his brother dying in a German concentration camp, Nabokov and his family made it to the US in 1940. His books never became political centerpieces, but they had an impact. Such works, which include Lolita and Invitation to A Beheading, discuss how others determine a person's identity, and how oppression easily occurs. Nabokov believes that imagination can create better worlds, or destroy present realities. He argues for the need to let people exist without others defining arbitrary roles and images. Azar Nafisi in her book Reading Lolita in Tehran calls this need "empathy".
Rand and Nabokov exist on polar extremes. One believes in absolute selfishness, while another believes in absolute empathy. But they have one thing in common: they hate tyrants.
Ending Thoughts
We only have a pen on our worst days. Or we have a laptop with a good battery, in this day and age. Ideally we also have space in which to work, and our heads. One writes best with an intact brain.
Find ways to get those words down. Write the Trump dystopias, the novels about living, and the satires of tyranny. Remind dictators that we are here to stay, and we remember. Seek friends for comfort, and motivation.
The next few years are going to be hard. We don't know how many will get hurt, if we will get hurt with them. But I know Lin has paved a path. So have his predecessors. Let's add mighty words and stories to a scary world.
Also In This Story Stream