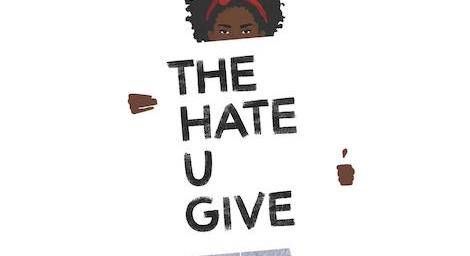 This content contains affiliate links. When you buy through these links, we may earn an affiliate commission.
What should you read if you love Angie Thomas's The Hate U Give? Here's a look at a handful of books like The Hate U Give and why you might enjoy them.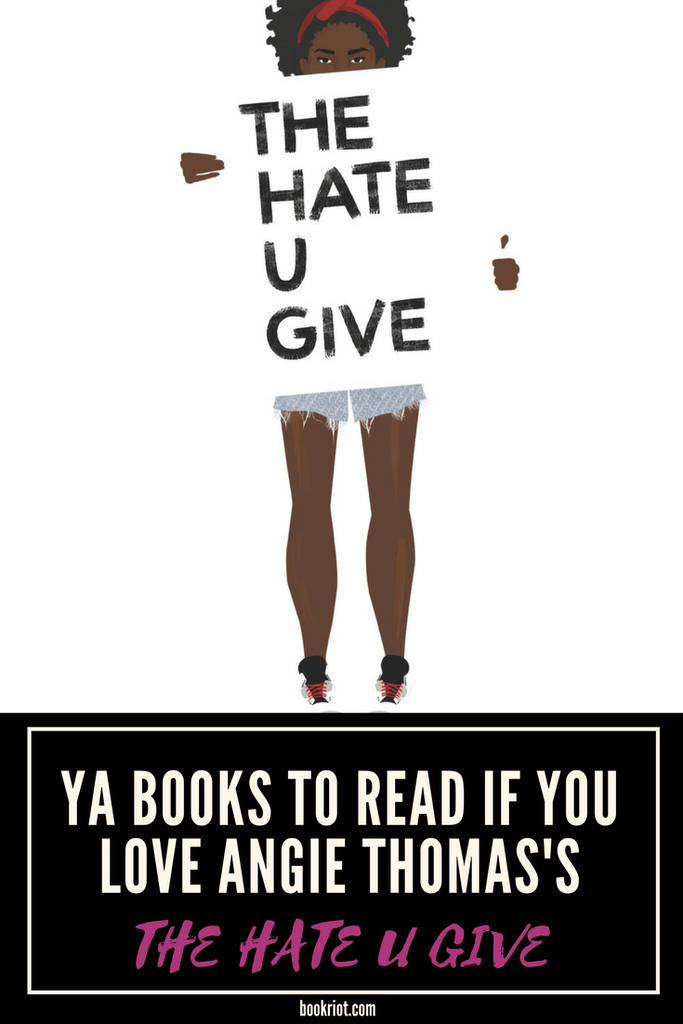 A few years back, I ran a series here called "Beyond the Bestsellers." The goal of the series was to highlight books which were high-selling and well-read, discuss why they're successful, and they offer up an array of next reads for those who loved the named title. It covered individual books like The Perks of Being a Wallflower, to series like "Divergent," to authors like Sarah Dessen. You can dig into those recommendations and posts here.
Thanks to a much more interesting weekly bestseller list, as well as a wider array of titles to highlight, "Beyond the Bestsellers" is back. And it only seems right to begin with one of the most buzzed-about, decorated titles in a long time: Angie Thomas's The Hate U Give. Let's take a look at books like The Hate U Give.
Why you like Angie Thomas's The Hate U Give
Angie Thomas's The Hate U Give is a stand-alone, contemporary debut novel told through the raw, unfiltered voice of sixteen-year-old Starr Carter and set in an unnamed, yet familiar, urban area.
The Hate U Give explores police violence and brutality, in a manner that readers can relate to the ongoing cultural reality and to the #BlackLivesMatter movement.
This is a well-paced novel with a variety of fleshed-out secondary characters. Thomas does a spectacular job of exploring not only race but also class, as Starr lives in a poor neighborhood but attends a prep school in the wealthy suburbs.
There are no easy answers in this book and in no way are the challenging issues presented in a manner which are clear-cut or preachy. The book invites dialog, and it encourages readers to be both a part of Starr's world and an observer of it. In many clever ways, Thomas reflects Starr's own experience living between her home life and her school life in the way we readers experience our life in the world we're reading and the one outside the pages.
This is an #OwnVoices book, meaning that the author is writing about an experience — in this case being black in America — that is an experience she shares personally.
Try One Of These Books Like The Hate U Give Next
Fabiolo is ready to begin her new life in America with her family and experience everything that she's been led to believe is good. But once they leave their home of Port-au-Prince, Haiti, Fabiola's mother is detained by US Immigration and she's left alone to navigate the entire experience alone. She'll have to figure out how to live with her cousins, how to make her way through the tough and gritty streets of Detroit, and more, be away from her mother. But an interesting opportunity presents itself — and one which might allow her to be with her mother again — and Fabiola must decide what to do.
This immigrant story will resonate deeply with readers looking for realistic fiction, as well as anyone who has ever had the experience (or fear of the experience) of immigrating to a politically-tense America. Fabiola has an incredible voice.
Set in Oakland, California, Oshiro's debut YA novel follows Moss Jeffries in his sophomore year of high school, which begins by bumping into a boy on the train and the two of them quickly beginning a relationship. Jeffries lost his father six years prior in a police shooting, and as the school year starts, he becomes more and more frustrated by the changes in his school. There are random locker searches. Police bullying students between classes. Intimidation.
But when the students decide they're going to organize and protest, things become even more heated and Jeffries experiences yet another loss in his life.
Oshiro's book digs into police brutality like Thomas's does, and it also offers up great insight into class. Adding a further layer to Oshiro's book is the exploration of how white liberal guilt only further fuels these social challenges. Raw, honest, and challenging, without any clear-cut answers or neat resolution.
A bestseller in its own right, Stone's debut novel is much shorter than Thomas's but delivers no less of a punch. Justyce McAllister is a top-notch student and on his way to the Ivy League. But when a cop arrests him without due cause, none of those accolades matter. It makes him the center of his classmates' attention yet again, something he so desperately wants to leave behind.
Things only get worse when, while out with his friend Manny driving around, an off-duty police officer finds their music offensive. Both words and bullets fly.
Through it all, Justyce turns again and again to the teachings of Dr. Martin Luther King Jr. to find an answer about how to be the best person he can be and survive his life as it is.
Stone's book is another exploration of police brutality, with homage paid to the social justice movement that helped eventually lead to #BlackLivesMatter. Like Thomas's book, this one explores what it feels like to be part of two different communities and never feel like you fit well in either.
4. I Am Alfonso Jones by Tony Medina, illustrated by Stacey Robinson and John Jennings
This graphic novel is one of the best books like The Hate U Give out there. The story follows Alfonso Jones who is stoked to play the role of Hamlet in his school's upcoming production. He and his best friend are out buying his first suit, and it's here when the story unravels into something terrifying, heartbreaking, and too-close-to-reality.
A police officer mistakes a coat hanger in Alfonso's hand for a gun and shoots.
Alfonso is dead instantly, and the book follows as he wakes up in the afterlife, aboard a ghost train. It's filled with well-known victims of police gun violence, and each of them teaches him something he needs to know about the afterlife. Where his family grieves, he himself becomes more fired up, and together, the living and the dead push for finding justice for senseless lives lost.
This Black Lives Matter graphic novel is tough, challenging, and powerful.
Maya Aziz struggles with how she's supposed to be. As an American-born daughter of Indian immigrants, there's tremendous pressure to follow in the customs and beliefs of her parents, who want her to be a "good Indian daughter." But Maya wants to pursue dreams that exist beyond what feels like the constraints of those expectations. She wants to go to film school in New York City — far from her Chicago suburban life — and even pursue the boy she's had her eye on.
A horrific display of Islamophobia in the story impacts the entire course of Maya's life, though, as she and her neighbors are now forced to reckon with bigotry and racism on a level they'd never anticipated. Forced to question who she really is, Maya learns how to stand up: to her parents, in her community, and against those who want to fill her with fear.
6. Monster by Walter Dean Myers
With Myers's classic YA read being turned into a film and certainly being one of Thomas's inspirations, it's a book readers who love The Hate U Give should pick up.
Steve Harmon is sixteen and he's on trial for murder. Police believe he played lookout for a crime that took place at a local drugstore, wherein the owner was killed. Now waiting his trial, Steve is forced to think about his life as it is, and what it might look like with a prison sentence.
Told through Steve's transcription of his trial like a movie would be, Myers's novel digs into tough questions about justice and about himself in a way where there are no easy answers. Readers who love the challenge of Thomas's novel will love this aspect, as much as they'll love having the lines of right and wrong explored in ways which aren't clear-cut.
If you haven't already read Thomas's blockbuster followup to her debut, you'll want to put this one on your TBR as soon as you can. The book follows 16-year-old Bri, who wants to become the next great rap legend. Her father, before he died, had been big in the industry and she wants to take his legacy even further — but with her voice and words. Bri's family is living paycheck to paycheck, and when she writes a song that captures the attention of rap fans in her community, she suddenly doesn't know whether or not she really wants to release it. But with the bills piling up, it seems like a smart step to take to help out, both her family and her burgeoning career.
This book takes a hard look at economic challenges, as well as police surveillance and treatment of black and brown people. Many of the themes present in THUG are present here, but they're explored on an even more micro level.
Jade knows that her ticket to success is getting out of her poor Portland, Oregon, town, and she's been encouraged by her mother to take every opportunity she can get. One of those opportunities comes in the way of a scholarship to attend a private school that is primarily white, and on her first day, she quickly befriends a white girl on the bus.
Though she's grateful for the educational opportunity, Jade knows that something is off. She's been invited to take part in a mentorship program that others haven't—it's for "at risk" students—and she's not been invited to take part in a volunteer opportunity abroad that others have and she desperately wants to be part of.
Frustrated, Jade wants to ignore the mentor. Even though her mentor is black, no way can she understand Jade's world, her experiences, or understand her deep passion for art.
But perhaps that mentorship really is what Jade needs to better see who she is and what she has to offer the world.
Watson's book, in many ways, doesn't sound like an obvious fit for readers who love Thomas's. Yet it very much is: this book explores race and class in the sorts of ways that The Hate U Give does. We see a complex female character trying to navigate more than one world, and we see how much work she has to put into her friendship (the white girl is also poor, but being white, Jade has to tangle with the intersections as much as her friend does). This is a shorter and quieter book than Thomas's, but it packs a lot of power in it.
When Lily begins a new year at her elite high school after a disastrous end to the previous year, she's not surprised it's the hellscape she imagined it to be. But when she meets Dari—an artsy, brilliant new transfer student—things are suddenly looking up.
It's instant chemistry between the two. Lily wants to avoid social activities and Dari wants to avoid his controlling father. Everything seems to be going great, until the fact that Lily is white and Dari is black becomes a hurdle to their relationship in ways they never anticipated after a terrible tragedy.
Corthron's debut novel explores interracial romance in a way that's relevant and timely. Where things seem like they're progressive and fabulous, the reality of today's world for Dari becomes a challenge to Lily's understanding of who he is and what life is really like for a black guy. Both characters are rendered with great care and both are empathetic and sympathetic toward each other's plights. But the sticking point—the thing that changes the entire course of their relationship—is what lends this book to being a great companion read after The Hate U Give. This is honest and real, with an ending that felt just right.
Coles's debut novel follows the aftermath of a party that's been raided by police, and only one of the twin boys who attended returns home. It's up to Marvin to find his brother Tyler, and as social media unravels what happened, the truth becomes more unnerving.
The exploration of police violence, as well as the use of social media in exposing the truth, make this an obvious pairing with Thomas's book.
---
Still want more The Hate U Give recommendations? All American Boys by Jason Reynolds and Brendan Kiely, How It Went Down by Kekla Magoon, and The Education of Margot Sanchez by Lilliam Rivera would also all make excellent next reads for fans of Angie Thomas's The Hate U Give.