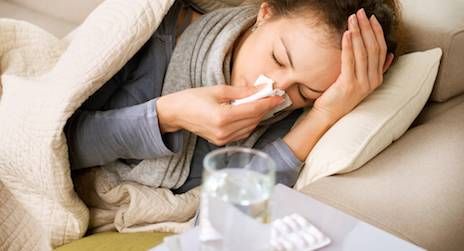 How To
Tips and Tricks for Reading When You're Sick
This content contains affiliate links. When you buy through these links, we may earn an affiliate commission.
I have had at least two rounds of a nasty cold over the last month. This has meant trying to keep on track with my yearly reading goal while blowing my nose, coughing, and sweating out a fever. Lucky for you, my time on the sick bed has meant time to develop this list of five tips and tricks for reading when you're sick.
Listen to audiobooks.
Sometimes when you're sick you just can't deal with having your eyes focus on a page for too long. This is where audiobooks come in. You can listen to some great stories while resting and getting better. I would particularly suggest looking into some essay collections with warm voiced narrators, such as Astrophysics for People in a Hurry by Neil deGrasse Tyson and The Clothing of Books by Jhumpa Lahiri.
Find Your Perfect Reading While Prone Position.
It's taken me a few years, but I have finally found my perfect position to read that also allows easy sojourns into napping. For me it's best to lie down with a whole bunch of pillows under my head and put my knees up to rest my book on while I read. The real secret is to keep your bookmark in the crack of the book so that if you do nod off you don't lose your spot.
Re-Read a childhood favourite.
Sometimes when you're sick you just want something comforting. For me that means re-reading some of my favourites from when I was a kid, such as Harry Potter and the Philosopher's Stone by J.K. Rowling or Tuck Everlasting by Natalie Babbit. It's like chicken soup for your reading life.
get a Kleenex Catcher.
When I'm sick and still trying to get reading done I like to keep a garbage can or even just a plastic shopping bag next to the couch for my snotty kleenexes and the like. There's something about not having all of my tissues and such out that makes it easier for me to focus on what I'm reading. Check out even more essential items for a bookish sick day here.
Give Up. watch a movie based on a book instead.
Sometimes you just have to throw your hands up in the air, forget about your reading goals and snuggle up with a good movie. Plus, I figure if it's based off of a book you're still contributing to your healthy reading life. My favourite for this option is Lord of the Rings: The Fellowship of the Ring; long sweeping landscape shots mixed with great instrumentals make for a great film to nap to.
What are your tips for reading when you're sick?