Fiction
"Swiss Army" Recommendations, Part Deux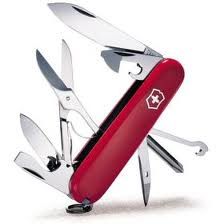 Book Riot's illustrious co-founder/editor-in-chief Jeff posted back in mid-October about his "Swiss Army" Recommendations — books that will appeal to pretty much everyone and can be universally recommended. As we approach the ever-exhausting retail mammoth that is Black Friday, I thought adding my own Swiss Army list to the growing number of book buying recommendations out there would of course only help you make holiday purchases. While there are plenty of end-of-year, best-of lists, sometimes it's hard to gauge which of those brand new books are going to be good options for friends and family who like to read.
And while the qualification "who like to read" is possibly the broadest generalization ever, there are a few go-to books that you can pretty much count on to appeal to almost everyone. Jeff included a few on his list that I would also recommend — Motherless Brooklyn by Jonathan Lethem, The Amazing Adventures of Kavalier and Klay by Michael Chabon, The Interpreter of Maladies by Jhumpa Lahiri. But these lists are like any other book lists — the more you read, the more they evolve. So my Swiss Army list has adapted based on great books I've read recently, as well as long-loved favorites (and I'm indecisive, so there are 15, not 10). I also included non-fiction in with the fiction titles and I hope that you can find at least one or two books to appeal for that reader(s) on your list:
The Art of Racing in the Rain by Garth Stein
Forever by Pete Hamill
Await Your Reply by Dan Chaon
Before You Know Kindness by Chris Bohjalian
Truth & Beauty: A Friendship by Ann Patchett
Haroun & the Sea of Stories by Salman Rushdie
The Coffins of Little Hope by Timothy Schaffert
Domestic Violets by Matthew Norman
The Hunger Games Trilogy by Suzanne Collins
Matterhorn by Karl Marlantes
A Death in Belmont by Sebastian Junger
Don't Breathe a Word by Jennifer McMahon
We the Animals by Justin Torres
The Story of Beautiful Girl by Rachel Simon
Bossypants by Tina Fey
I also encourage you if you're heading out to brave the crowds this weekend, don't forget that Saturday is Shop Small Saturday so support your local independent book retailer!