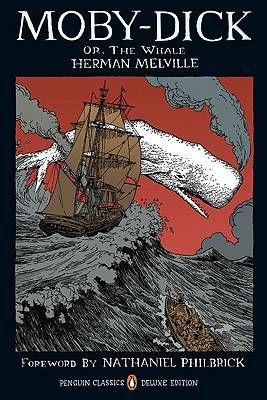 Reading MOBY-DICK with My Dad: Part 1
Like everyone else in America I read Melville's Moby-Dick in high school. I walked to school, so I hated the book for its massiveness. Like a lead weight in my backpack. Like a bow whale. To read, it was also massive, opaque, foggy, long-winded. My sails went slack. It was the doldrums. The one thing I learned was the word "monomaniacal," my English teacher (it was rumored, a former nun turned lingerie model turned English teacher) used to describe Ahab. Monomanical. It sounds like a harpoon, doesn't it?
My dad, 70, is a retired high school English teacher. He went to Yale, has a PhD in English. That sort of thing. He used to teach Moby-Dick, and he loves the book, as a sailor and a scholar. When he was young, he and his father (also a Yalie) renovated a wooden boat together and sailed it in the Chesapeake. Why am I telling you this? Because the seafaring gene and Yale skipped me completely, and I suspect it makes my dad a little sad to have no one to pass on to all his accumulated and no doubt fascinating experience with clove hitches. I was hoping that reading Melville with him would be a kind of a balm.
Because this is part one of a series of posts about reading Moby-Dick with my dad, I will tell you the idea nearly capsized at the dock. I watched an incredible PBS American Experience about whaling, in which Melville was much quoted, and I told my dad about what I had learned, slack-jawed, "Did you know Melville actually was a whale-man?" My dad, ever the downplayer of his wiseness, said: "I did." I was reminded of that Mark Twain quote, "When I was a boy of 14, my father was so ignorant I could hardly stand to have the old man around. But when I got to be 21, I was astonished how much the old man had learned in seven years."