This content contains affiliate links. When you buy through these links, we may earn an affiliate commission.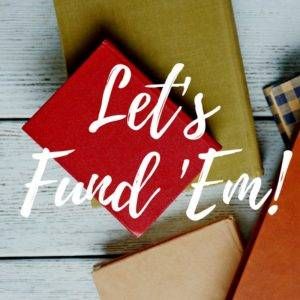 Late last year, librarian Angie Manfredi took to Twitter with a challenge: How many classrooms in need could the book community fund over the course of one day? Other librarians and bloggers and authors and industry folk joined in, and it quickly became apparent that there were a whole lot of people out there just itching to do some good, whether by spreading the word or opening their wallets or both.
On Inauguration Day, we (we being Kelly Jensen and Leila Roy) put together a list of classrooms in need, with a focus on classrooms that served immigrant, refugee, and ESL communities. With the help of Book Twitter, every single one of those classrooms was fully funded by the end of the day. Since then, every Friday, we've continued to highlight and advocate for similar classrooms, and again and again Book Twitter has come through.
Now, we're bringing our Fund 'Em Fridays to you, the Book Riot Community. Please boost, donate if you can, or even pick out a classroom to personally champion!
And now, our classrooms of the week! Both classrooms are seeking class libraries with inclusive books and both are serving highest poverty populations.
A Book is a Gift You Can Open Many Times!, in Lowell, MA
My students need current, high interest novels to read. We don't have a librarian in our school, and our library is lacking current up-to-date reading materials that interest them. My goal is to engage them with high-interest, relevant to their lives, quality materials that will make learning fun while being aligned with the new Common Core Standards. They deserve the same opportunities that wealthier communities are provided.
Bringing Social Justice & Current Event Issues Into Our Classroom, in Salinas, CA
I teach a special education class of kinder through sixth graders. They spend part day with me and part with same age peers. My classroom is in rural California and many of my students' families work in the fields of the agricultural industry. My students need books about social justice icons and refugees like I Dissent: Ruth Bader Ginsburg Makes Her Mark, Stepping Stones: A Refugee Story and The Two Rabbits.
______________________________________
Sometimes, the sheer enormity of all of the wrongs we have to right, the injustices we have to fight, the work we have to do… it can feel overwhelming. Funding a single classroom might feel like a drop in the bucket. But a single drop of water causes ripples, and a single classroom ultimately serves a larger community. Small actions make change. Join us.