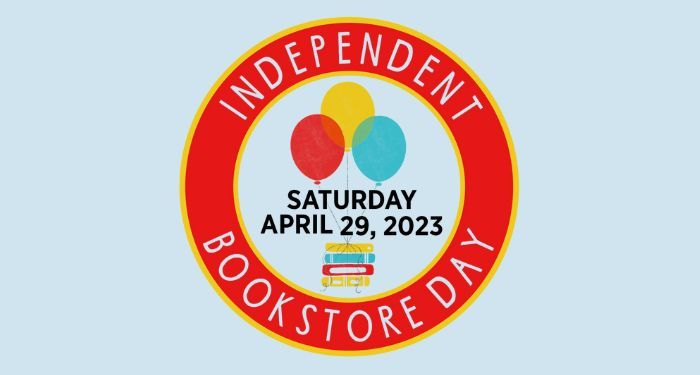 Events
Independent Bookstore Day 2023 Celebrations Across the Country
April 29 is the 10th anniversary of Independent Bookstore Day! For those new to the celebrations, this is a day to celebrate and support independent bookstores across the U.S. It takes place on the last Saturday of April each year, and there are many different ways to participate. From city-wide bookstore crawls to author events to live music to great deals, there's a way for every kind of reader to join the party.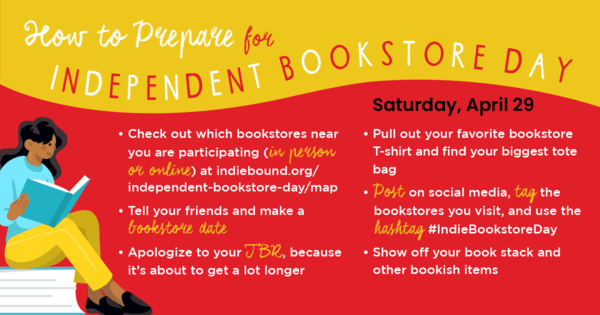 Indie bookstores are irreplaceable pillars of our communities. They sell books specifically curated for their areas, host book clubs and author events, and provide a space for book lovers to learn and explore. When I walk into my favorite local bookstore, Loyalty Bookstore in Washington, DC, there's almost always a bookseller there who knows me by name and has a recommendation ready for a book I'll love. That's the kind of magic that independent bookstores bring to their neighborhoods, and it's what we gather together to celebrate on Indie Bookstore Day.
"Each year we see more and more member indie bookstores sign up and throw bookish celebrations on this day," says Courtney Wallace, Independent Bookstore Day Program Director at the American Booksellers Association (ABA). "For the 10th anniversary, it's the largest Independent Bookstore Day to date! With a 21% increase in participation from last year, there are around 1,100 participating stores across the U.S. It is encouraging to see, as bookstores are central to communities and build support and loyalty. IBD is one big day out of the year to help keep indie bookstores front of mind."
While Independent Bookstore Day is generally coordinated by the ABA, each store gets to determine how they'll celebrate the big day. If you want to participate in some of the biggest events happening across the country, check out this list of cities hosting multi-bookstore events on or around Saturday, April 29.

Arkansas
Readers in Arkansas are in for a treat with the first ever Rock Cities Book Crawl on Saturday, April 29. Five independent bookstores across Little Rock and North Little Rock are teaming up for the event, and if you can make it to all of them, you might be in for a prize.
"We at WordsWorth Books are so excited to be part of the first Independent Bookstore Day book crawl in Central Arkansas," said Lynne Phillips, co-owner of Little Rock's largest and oldest indie bookstore. "The 10th anniversary of Independent Bookstore Day is the perfect day to celebrate our great community of bookstores in Little Rock and North Little Rock — and the book lovers who support us!"
California
Explore the best bookstores in the Sacramento area with the Read the Region Book Crawl. Each of the 8 participating bookstores is offering a free gift with purchases of at least $10. And that's not all! Earn tickets at each bookstore to be entered to win one of three "Huge Prize Collections". Kick off the weekend on Friday, April 28, with a bookstore happy hour from 4-6 PM at Wild Sisters Book Company.
Thirteen fantastic bookstores in San Diego are joining this year's book crawl. Pick up a book crawl passport and get a stamp for each store where you spend at least $10 to win a variety of fun prizes. It only takes 9 stamps to win this adorable reading shark pin that I, personally, would die for. Two stores are participating in the crawl for the first time this year: mobile store Joyride Bookshop and the new romance-focused Meet Cute Bookshop.
"We're thrilled to be joining the San Diego Book Crawl crew this year for our first Independent Bookstore Day," said Becca Title, owner of Meet Cute Bookshop, when I checked in ahead of the big event. "It's been a gift to open a little bookshop in such a book-loving town! With book bans gaining traction across the country, the existence of independent bookstores is more important than ever, and we can't wait to celebrate all our indie bookstore friends around San Diego county and across the U.S."
Connecticut
Take a trip around the Constitution State with the Connecticut Independent Bookstore Day Passport Program. Download your passport online or pick one up in your first store of the weekend and get a stamp at each of 16 participating bookstores to win a 20% coupon for every store. And five lucky winners will get the grand prize — a $50 giftcard to each store for a whopping total of $800. In your journeys, be sure to stop by RJ Julia Booksellers in Madison and search for the Golden Ticket. Whoever finds it will win a year's worth of free audiobooks from Libro.fm.
District of Columbia
Celebrate Earth Day and Indie Bookstore Day in one week of bookish adventures through Washington, DC. Download or purchase a zine with profiles and illustrations from local artists for each of DC's 17 independent bookstores. You've got a week to visit all of them and get your zine stamped. Participants are highly encouraged to travel to stores through public transit, biking, and walking because sustainability is super cute. On Saturday, be sure to stop by East City Bookshop to celebrate their 7th birthday with flash sales, giveaways, refreshments, and more.
Florida
The book loving folks in Lakeland know that one day a year isn't enough to celebrate independent bookstores. So they've got six days of book crawl celebrations, with each day focused on one of the six different participating stores. Each store has their own deals, events, and giveaways. With that kind of marathon book crawl, be sure to drop by Pressed Books & Coffee on Wednesday, April 26, for a midweek pick-me-up of free coffee with a book purchase.
Georgia
See the sweetest bookstores the Peach State has to offer during a full week of festivities at the Georgia Indie Bookshop Hop. Check out deals, events, and giveaways at a whopping 30 bookstores across the Atlanta area and beyond. Participants can submit one receipt of purchase per bookstore visited to enter to win a grand prize. And at the end of the week, celebrate Eagle Eye Book Shop's 20th birthday with a Bookshop Hop afterparty. The beloved bookstore in Decatur will start the party at 1 PM on April 29 with cake, prizes, surprise guests, and more.
Illinois
If you live in the Chicago area and love a challenge, you can win year-long rewards at the Chicagoland Bookstore Crawl. Visit 10 different bookstores and get stamps in your passport to win a 10% discount at all 41 participating bookstores for a full year. Not intense enough for you? Alright then, try visiting 15 different participating bookstores to win 15% off from all 41 bookstores for a year. Think of the savings! It may make for a busy Saturday, but trust me, you'll thank yourself come holiday shopping season.
Book Riot contributor Melissa Baron has joined the Chicagoland fun in previous years and highly recommends it. "Chicago has a fantastic bookstore crawl lineup every year, and they have a website to help you plan your crawl," Melissa shared. "It includes a map and a list of participating bookstores and what their events are. Last year, bookstores gave away tote bags, bookmarks, puzzles, and The Book Cellar also included a free ARC of an upcoming book for the first 60 customers."
Iowa
Take a roadtrip through central Iowa and stamp off all seven participating independent bookstores on your passport for a chance to win a grand prize collection of Iowa indie bookstore swag. You'll find a variety of special events, gifts, and more in your travels. Be sure to take a break to refuel at Dungeon's Gate Games & Books in Ankeny, where they'll have pizza, ice cream, and taco food trucks on Saturday.
Louisiana
You've got two weeks to laissez les bon temps rouler at seven independent bookstores in the Big Easy. Visit at least four stores to be entered to win a gift bag, and visit all seven stores to potentially win the grand prize package, which includes a $25 giftcard to each participating store for a total of $175. Drop by Blue Cypress Books between 10 AM and 1 PM on April 29 for live music by Valerie Sassyfras.
Minnesota
Spend a week visiting some of the most magical indie bookstores in the Twin Cities and you could reap the rewards for months to come! From April 24 through 29, visit as many of the 23 participating bookstores as you can. Each stamp unlocks a coupon for that bookstore that you can use after May 1. With 12 stamps, you'll unlock all 23 coupons in the passport booklet. And if you make it to all 23 stores and fill your passport with stamps, you'll be entered to win one of several Literary Prize Packs of bookish goodies. And one lucky winner will get the grand prize: one free book from each participating bookstore, along with handwritten notes explaining why each store feels that book represents them. What a great way to get to know your local bookstores, not just during Indie Bookstore Day, but all year long!
Nebraska
The Seward-Lincoln area in Nebraska says it's never too early to celebrate your local indies! You've got two weeks to visit all six participating stores, get stamps on your bookstore crawl postcard, and win prizes. If I lived close enough, you'd find me visiting Chapters Books & Gifts in Seward daily during the week leading up to Indie Bookstore Day. They've got a different costume theme each day: Silly Sock Monday, Plaid Tuesday, On Wednesdays We Were Book Shirts Day, Bookish Dress-Up Day on Thursday, and Chapters Spirit Day on Friday, when you can get a 10% discount for wearing a Chapters t-shirt. There's nothing better than a costume party!
New York
Book it through the borough and visit as many of the 25 participating bookstores in Brooklyn as you can between April 22 and 29. If you get stamps in your passport from at least 5 stores, you'll get a coupon for 25% off a single purchase from any participating bookstore. But the hottest tip for prizes and fun is to join the Indie Bookstore Day afterparty at the Center for Fiction from 5-7 PM on April 29. In addition to meeting other local book lovers and grabbing a happy hour drink, you'll get one raffle ticket for each bookstore you visited during the week, giving you the chance to win bookstore swag and all kinds of exciting prizes.
Buffalo loves books! That's why they've got ten independent bookstores joining a weeklong passport program, plus a special one-day book fair. Check off all 11 locations on your passport, then leave it with the last bookstore you visit for a chance to win a $25 giftcard to each store for a grand total of $275. While you've got a week to visit 10 of the bookstores, you'll have to wait for Indie Bookstore Day on April 29 to check out the Read It and Eat Book Fair and Market at Seneca One. Buy books from local independent booksellers and try food from local restaurants and food trucks. You can also find all kinds of special happenings at the coordinating bookstore, Alice, Ever After Books, including a balloon animal artist and an afterparty.
North Carolina
Book lovers in the Charlotte area got an extra early start on Independent Bookstore Day. Throughout the month of April, get a stamp on your passport from 15 different bookstores to get a special book crawl vinyl decal and an entry to win a $20 gift card from each store. The event is also supporting the nonprofit Promising Pages by donating a portion of books sold during the crawl and collecting new and gently used children's books at each participating bookstore.
Oklahoma
Ooooklahoma where the wind comes sweeping down the plain, and the book lovers celebrate local indie bookstores! Take a road trip through central Oklahoma for their first ever independent bookstore crawl. You'll get a raffle entry ticket for every three bookstores you visit of the seven participating stores in Oklahoma City, Norman, Edmond, and Bethany. And if you hit all seven stores, you'll get an extra raffle entry. Catch live music on Saturday from 7:30-9:30 PM at Full Circle Books in Oklahoma City, where Catherine Fuller will play honky-tonk, classic country, and easy rock.
Utah
Why limit your indie bookstore love to one weekend? In Utah, 21 bookstores are giving you a full year to celebrate! Get your passport at participating stores and collect all 21 stamps before Independent Bookstore Day 2024, then return it to Under the Umbrella Bookstore in Salt Lake City for "a queer surprise" (that's my favorite kind of surprise). And if you're looking for a place to celebrate on April 29, be sure to drop by Under the Umbrella to look for cupcakes and giveaways and The Printed Garden Booksellers in Sandy for refreshments and a bookish prize drawing at the end of the day.
Virginia
Hampton Roads is celebrating their first ever Independent Bookstore Day crawl with a bang! With 11 independent bookstores across 14 locations, participants will have a week to collect stamps in their passports and receive raffle entries for a basket full of prizes. Get one raffle ticket for visiting five stores, two tickets for six to eight stores, three tickets for nine to thirteen stores, and four tickets if you fill your passport with all 14 stamps.
Washington
Back in 2017 when Seattle hosted its first competition to visit all the city's independent bookstores, organizers weren't sure if anyone was up to the challenge. But they crowned 42 grand champions that first year, and last year their number of champions grew to 335. Will you be among the grand champions this year? Visit all 27 participating bookstores to get stamps in your passport and you'll win a one-time use 25% discount at each store to use over the next year. New this year is an intermediate prize: visit at least 5 stores and you'll get a single 25% discount at the participating bookstore of your choice.
Be a part of history and join the South Puget Sound area's first annual book crawl! Visit all 10 participating bookstores and get stamps in your passport — no purchase required — to win a 20% off coupon from each participating store good for the next year. If you fill your passport, you'll be entered to win a grand prize swag bag. You can also support the crawl and commemorate its first year with t-shirts, sweatshirts, and hoodies on Bonfire. The graphic design is, frankly, adorable enough that I'm about to buy a shirt even though I live all the way across the country in the other Washington (DC).
Other Ways to Celebrate
If your area isn't hosting a coordinated book crawl or celebration across multiple bookstores, there are still plenty of ways to get involved! Check out a list of special events at bookstores across the country on the American Booksellers Association website, or check the website and social media of your favorite local indie.
Planning your own book crawl is also a great option. "I am planning on a crawl with a friend on Independent Bookstore Day," said Book Riot contributing editor P.N. Hinton, who lives in an area of Texas with no coordinated bookstore crawl. "Our plans are to hit up a total of four stores in the area. We will start at the one furthest out and work our way in. After that, we will likely go to a local Tex-Mex place for queso, enchiladas, and margaritas which aren't book specific but will still be nice." Sounds like the perfect way to celebrate the holiday to me! If you're teaming up with book-loving friends to visit multiple bookstores, be sure to check those bookstores' websites and social media ahead of time to see if there are any special events or deals you'd like to take advantage of.
You can also celebrate Indie Bookstore Day from anywhere with audiobooks. Libro.fm, an audiobook platform that allows you to support the independent bookstore of your choice with each purchase, is giving away one free audiobook for new members with the code BOOKSTOREDAY. Check it out and claim your free audiobook here. Select partner bookstores will have golden tickets hidden in stores for lucky customers to win a year's worth of free audiobooks. Libro.fm is also running a weeklong sale on bestselling audiobooks through April 30th – check out the roundup of sale titles here.
---
Thanks for reading! You might also enjoy:
20 of the Coolest Bookstores in the World
Romance Bookstores to Fall in Love With
QUIZ: Build a Perfect Bookstore and We'll Recommend a Book For You