If You Like (Insert Something), Try (This Other Thing): TRUE GRIT Edition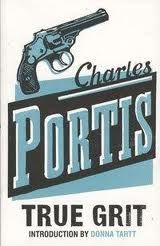 True Grit by Charles Portis is a classic of the western genre, full of guns and horses and cowboys and spurs and whiskey. But in the midst of the more expected tropes of the genre is Mattie, the no-nonsense, too-big-for-her-britches 14 year old girl who ruthlessly hunts down her father's killer. She outwits and outmaneuvers a varied cast of full grown men, all without ruffling her Presbyterian braids. As Donna Tartt points out in her afterword, Mattie is Huckleberry Finn's antithesis- she's competent, wise, and lacks any trace of child-like wonder (i.e, she's bad ass). If you liked True Grit but want something different-but-sort-of-the-same-ish, try these:
THE SHORT ONE
The Road by Cormac McCarthy. True Grit follows a newly formed, unconventional and temporary pseudo-family unit on a trek that is littered with stark and matter-of-fact violence. The Road is about the remnants of a real family, a father and son, as they desperately travel to the coast in search of God knows what (hope, other non-people-eating people, lasagna, something). Both books are written in simple, declarative, unadorned prose with moments of unexpected violence- though, be warned, The Road is much grittier (snortlaugh).
THE LONG ONE
East of Eden by John Steinbeck. Steinbeck's epic may not be as widely read as The Grapes of Wrath, but it's better (in my opinion) (which happens to be correct). Cathy, the main female character, is Mattie- if Mattie became possessed by the devil in infancy. East of Eden will give you the bleak, desolate landscapes of True Grit, the unexpected female characterization, and the violence and hard living of the best of the western genre. And tucked in there will be Steinbeck's brilliant thoughts on free will, sin, and redemption. OH! There's also a grumpy-yet-lovable old man, if that's what gets your literary motor running.
SET ASIDE A MONTH
Gone With the Wind by Margaret Mitchell. Like True Grit, Mitchell's work is a book about a girl that lacks softness. Mattie and Scarlett are both hard-headed and business like, concerned with propriety up until it gets in the way. They are both uncomfortably demanding in worlds where women are kept quiet- and both books manage to avoid the "girly" label despite being very much about women. And where True Grit captures the dying chivalry of the early 20th century west, Gone With the Wind presents the grating demise of Southern slave-based gentility. Underneath their single-minded characters, both books are about the passing of an era. If it's that sort of heart-hurt that you want, this is the tome for you. But really, it takes a long time. And please- avoid the romance novel, bodice-ripping edition. It just…it's so…wrong.