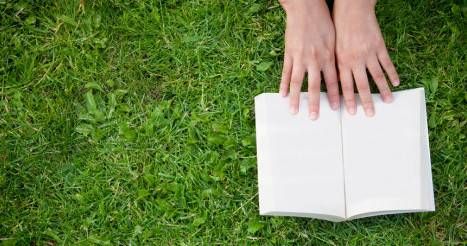 How To
How To Create Your Own Summer Reading Syllabus
This content contains affiliate links. When you buy through these links, we may earn an affiliate commission.
I'll put this out there first: I am a public school teacher, and damn lucky to have an extended vacation of at least seven weeks every summer. I've been teaching since I left college at 21, so for my entire life, the months of July and August have been a change from the norm, and even throughout summer jobs and family obligations, I've never lost touch with the summer freedom feeling. A few years ago I secured my master's degree and was finally ready to be done with required reading…except I missed it. I like rules and structure, and I missed having a list to at least taunt me about what I was SUPPOSED to be reading. That lead to my first self-created summer syllabus, a habit I've continued each summer with varying success.
Despite the academic connotations, I never stock my syllabus with titles I find intimidating. Instead, I evaluate where I am in various reading challenges, what I want to learn more about during the summer, and what my family will be doing at different times. Here are some steps to building a summer syllabus:
Pick 1-2 books that help you meet your personal reading goals for the year. I'm attending Book Riot Live in November, so I'm going to be adding titles by the amazing authors who will be speaking (you can see a full list here). I'm also loosely participating in the Read Harder challenge, so I'll shoot for at least one book that will satisfy a line item there.
Pick 1-2 books that address personal challenges and/or personal growth. My family is

in the middle of a big move that will execute right at the halfway point of summer, so I'm thinking about a book that will make me feel guilty about all the stuff I own. My young kids are a little late starting preschool, so if I can find a homeschool-style book that doesn't ick me out (lots of them have assumed that I am also interested in a gluten-free diet or strict Christian lifestyle, which is fine, but not what I'm looking for), then I will add that to the list.

Pick 2-3 books that are in a favorite genre.

I always add graphic novels, my favorite to read at the splash park. The summer is also the perfect time to start a new YA series, because they make me happy, and I like being happy in the summer.

Pick 1-2 books that you've been meaning to reread. I reread a ton in the summer, maybe because I am home and sitting near my bookshelves more often than not. I have reread Fortune's Rocks by Anita Shreve every summer for a buncha years, and any Harry Potter revisiting usually happens in the summer months.
Pick 1-2 books that support your career goals.

Anyone you know who works in a school is spending a big part of their summer planning and preparing for the upcoming year. Aside from any suggested reading from my administration, I always have at least one topic that I'm researching (last summer I read a lot about Responsive Classroom, this summer I'm alllll book clubs and classroom libraries) and I usually try to hit at least two books in that vein.
And there you have it. The bare-bones formula for a decent summer reading list. Adjust the number of titles based on how quickly you fly through books. Adjust the time period to address how long you want to be working on your list. With tiny tweaks, this could be a great way to plan your reading year. Or, if you're a blessed vacationer like myself, give yourself a summer syllabus that eliminates head scratching the next time you find yourself in the bookstore or library. The best part? Come September, no one will know if you've stuck to the plan.

Do you plan your yearly or summer reading? Do you find yourself saddled with syllabi from higher ups, or are you in total control of your book choices? Do you have any suggestions to help me flesh out the categories above? I'd love to hear your summer reading thoughts.