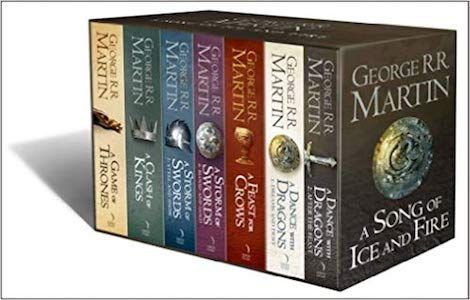 Science Fiction/Fantasy
Want To Read the Entire SONG OF ICE & FIRE Series before the GAME OF THRONES Season 8 Premiere? Here's How
This content contains affiliate links. When you buy through these links, we may earn an affiliate commission.
I live my reading life by a code of bookish rules, and the one I follow most loyally is, "Thou shalt not watch a movie or TV show based on a book without reading it first." One of my very few exceptions is the A Song of Ice and Fire series, by George R. R. Martin. I read the first book, A Game of Thrones, after devouring Season 1 of the eponymous HBO show, but never bothered reading books two through five. I continued to watch the show and the guilt for breaking my bookish rule continued to grow.
I need to right this wrong, and with the final season just around the corner, now is the ideal time to read the series. A full review of the story could only enhance the Season 8 watching experience, right? But here's the real question: Is reading all five books before the season premiere on April 14 even plausible?
The books are massive, but I've crunched the numbers using www.howlongtoreadthis.com, and concluded that it is possible to finish all five before the mid-April deadline. Reading the full series won't be easy, but it can be done!
If you want to embark on this epic reading journey as well, the sooner you start the better, but for the purposes of this post, March 17 is the starting date.That gives you a total of 29 days (I'm including the day of the premiere because the show doesn't air until 9:00 p.m.)
It takes a total of 76 hours and 8 minutes to read the entire A Song of Ice and Fire series (see the chart below for the reading time for each title), so here's what your reading times will look like if you're measuring by day, by week, and by weekend marathons.
All calculations are based on www.howlongtoreadthis.com's average reader, who reads at a speed of 300 words per minute. Time totals may off by a few minutes due to rounding to the closest minute.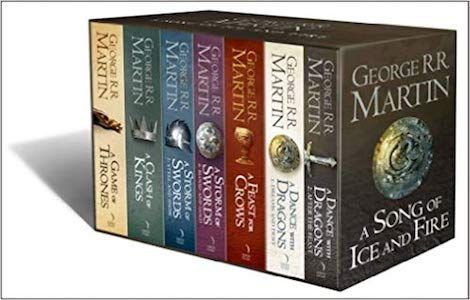 By day – 2 hours, 38 minutes
If you can commit to reading every day, you will need to read 2 hours and 38 minutes per day for the 29-day stretch. This seems like a lot of time to set aside on a daily basis, but when I think amount my daily screen time averages, I realize it's really just a matter of prioritizing. See you later, mindless Facebook scrolling!
By week – 7 hours, 54 minutes during the work week, plus 9 hours, 54 minutes over the weekend
Finding the time to read every single day just doesn't always happen, but if you read 2 hours and 38 minutes, 3 days per work week for 4 weeks, you can still make the April 14 deadline as long as you play catch-up on the weekends. You will need to read 4 hours and 57 minutes on Sunday, March 17 and then a total 9 hours and 54 minutes for each of the following 4 weekends.
By weekend marathons – 16 hours and 56 minutes (8 hours and 28 minutes per weekend day)
Sometimes reading during the work week can be close to impossible, so you might want to save all your GOT reading for the weekend. There are 4 weekends, plus an extra Sunday to work with between March 17 and April 14, so to finish by 9:00 p.m. on premiere night, you will have to read 8 hours and 28 minutes on March 17, then 16 hours and 56 minutes for the next 4 weekends. I doubt many readers will want to devote that many weekends to reading, but you never know!
Winter is coming, and no matter how you slice it, finishing A Song of Ice and Fire in time is going to be challenging, but I think it's worth a go. As Tyrion Lannister says in the first book, "…a mind needs books as a sword needs a whetstone, if it is to keep its edge." I'm looking forward to having a super sharp mind by the night of the premiere!
If you want to read all the books in A Song of Ice and Fire, but have trouble fitting reading time into your busy life, there are lots of great tips on Book Riot:
Learn How To Read More in 6 Easy Tips
Tips and Tricks for How To Read More
Four Simple Steps To Read More and Stress Less
Reading Times for Books in A Song of Ice and Fire
| | |
| --- | --- |
| Title | Approximate Reading Time |
| Game of Thrones | 12 hours and 14 minutes |
| A Clash of Kings | 14 hours and 44 minutes |
| A Storm of Swords | 17 hours and 13 minutes |
| A Feast of Crows | 15 hours and 38 minutes |
| A Dance with Dragons | 16 hours and 19 minutes |