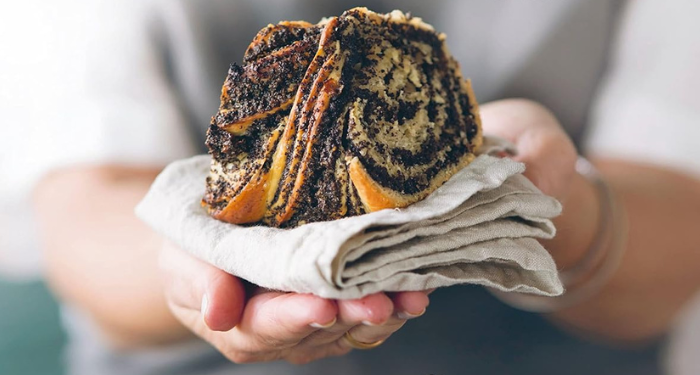 Food/Cooking
The Joys of Checking Cookbooks Out of the Library
This content contains affiliate links. When you buy through these links, we may earn an affiliate commission.
I've always loved cookbooks, and I've been an avid library user my whole life. I have checked out cookbooks from the library from time to time, but it's recently become something more than an occasional practice. Now, I always have at least one, and often two, cookbooks checked out at any given time.
There are the obvious reasons why getting cookbooks from the library is so great, of course. Being able to try out a cookbook before you buy it is a game-changer. Having access to loads of cookbooks without having to pay for them (and cookbooks are often so expensive) is also fantastic.
It's also a fun way to get something you want a little sooner. I'd heard a lot of great things about Yossy Arefi's book Snacking Cakes, and I knew I would probably love it. But I didn't have the budget for a new book, so I checked out the ebook instead — and then I kept checking it out from different libraries, practically monthly — for close to a year. By the time my birthday rolled around, I was ready for my own physical copy, so that's what I asked for.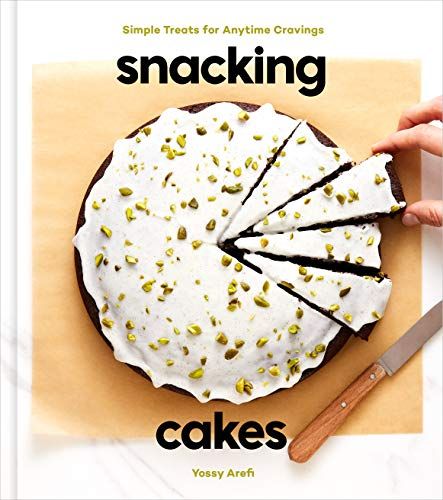 What's been so exciting about my current practice of constantly checking out cookbooks from the library is that it's changed my relationship with both cooking and cookbooks. I was feeling pretty uninspired in the kitchen this summer, so I asked around for some cookbook recs. I wanted to get excited about baking again, especially. Someone recommended Mayumu: Filipino American Desserts Remixed by Abi Balingit, so I placed a hold and picked it up a few weeks later.
Because life is life, and often extremely chaotic, I only made one recipe from the book before I had to return it: adobo chocolate chip cookies. They were incredible — possibly my new favorite chocolate chip cookie — and I can't wait to make them again. I made a list of other recipes I can't wait to try, as well as the ingredients I'll need from the Asian market. I'll either check it out again or buy it — either way, I am not done with this cookbook.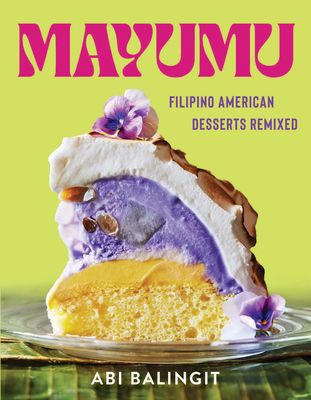 So, I made a delicious treat from a new-to-me cookbook I didn't pay for. It's already a win. But the real gift is that I am excited about baking again! I haven't been baking every day, and I doubt I'm about to start. But I've enjoyed everything I've baked in the past few months. All it took was something new — a project that wasn't the same cake I always make. And the library is what made that possible. Basically, the library has reinfused my baking life with joy. Libraries are truly incredible.
I currently have Now for Something Sweet by the Monday Morning Cooking Club checked out. I'm going to have to return it before I've made even one recipe from it, and when I realized this, my first thought was, "Well, what was the point of that?" But the truth, of course, is that it doesn't matter even a little bit that I didn't make anything from it. I flipped through it and flagged about 15 recipes. So many of them look so good! So I'll check it out again. Maybe I'll buy it. It's a cookbook I'm interested in, and that's all I need to know: the library has done its job.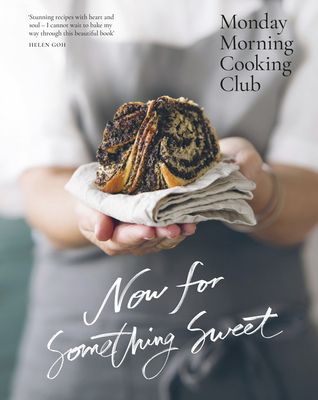 This is the other gift: my new habit of checking cookbooks out of the library has also reminded me that I do not need to use a cookbook to enjoy it. I see so many cookbooks all over the internet that look appealing to me. If I had unlimited space and money, I'd probably buy them all, just so I could flip through them from time to time. But since I do not have these things, I check cookbooks out of the library instead. I spent a truly lovely Saturday morning flipping through Now for Something Sweet. It reminded me that I want to make babka soon. The experience was its own reward. I'd never buy a cookbook for the pretty pictures alone, but thanks to the library, I don't have to. I have an enormous array of cookbooks of all kinds at my fingertips.