Lists
15 Amazing Books I Would Never Have Read If Not For Read Harder
This content contains affiliate links. When you buy through these links, we may earn an affiliate commission.
Read Harder 2018 is here! Before geeking out over what books to read for each challenge task, I took a moment to look back over the books I've read for Read Harder in years past. What struck me immediately was how many excellent books I've read in recent years that I never would have picked up if not for Read Harder.
For me, this is the essence of what makes Read Harder such a fantastic challenge. It has opened up so many possibilities in my reading life. I'd never read a middle grade book before; you'll find an excellent one on this list. I'd never given a second thought to micro presses, but the book I read published by Tiny Hardcore Press was one of my favorite story collections of 2017.
This list is eclectic. There's poetry, memoir, novels, nonfiction, a play. The only thing these books have in common is that, without Read Harder, they would likely not be in my life. In some cases, I'd heard of the books or knew of the authors, but had written them off as "not my kind of book." But I don't like memoirs! But I'm not into romance! But I don't have time to read nonfiction because THERE ARE SO MANY NOVELS!
Read Harder helped me bust up all those preconceived notions about what I would and would not like. The challenge has taught me how to be an eclectic, wide-ranging, try-anything-once reader. It taught me that I can love romance and literary fiction and mysteries and celebrity memoirs, all at the same time. Of course I still have favorite genres, but I no longer think of myself as someone who reads only contemporary fiction, science fiction, and fantasy. Now I think of myself as someone who reads books written by humans.
If you weren't planning to already, I hope this list inspires you to tackle the 2018 Read Harder Challenge, and make your own list of unexpected and surprising new favorites.
*I listened to these books, and I HIGHLY recommend them on audio!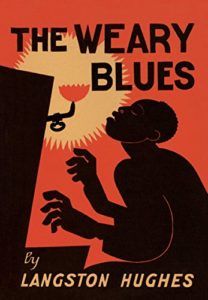 I'd read Hughes's poetry in school and on my own, but I'd never picked up a whole book of his poems. I'm so glad I did, because reading this book of poetry was an immersive and wondrous experience. Hughes was only 24 when he published it, but he already had a lot to say about living in Harlem, music, beauty, being black in America, being human—and he said it beautifully, in haunting and agile verse.
Friends have been raving to me about the Dear Sugar column for years. "But I'm really not into advice columns!" I said. I had no idea how beautiful, heartfelt, and moving Cheryl Strayed's advice would be. Tiny Beautiful Things is a collection of mini essays on practically everything that happens to humans: sex, love, breakups, financial disaster, death and grief, infidelity, parenthood, self doubt. Strayed not only offers advice, but compassion, wisdom, insight, and searingly honest accounts of some of the hardest times in her own life. If you think think (like I did) that an advice column can't be both moving and profound, I dare you to read this book.
Gender Failure by Rae Spoon and Ivan Coyote
Rae Spoon and Ivan Coyote, both accomplished writers, performers, and storytellers, collaborate on this beautiful collection of memories, anecdotes, thoughts, songs, and stories about their own journeys through gender. Honest, insightful, funny, heartbreaking, and joyful, this book got me thinking about gender in so many new ways. It is a condemnation of the gender binary and the ways in which it can trap and hurt us all. But it is also a celebration of the folks who have broken out of that binary, and of the wonderful diversity of human gender, experience, and expression.
I haven't actually read that much by Gaiman, so I don't have anything to compare this one to—I can only say that it is utterly delightful. Nobody Owens is a mostly ordinary boy, except for the fact that he grew up in a graveyard, raised by ghosts and spirits. The rest of his family was murdered when he was a baby; the wild but welcoming world of the graveyard is the only one he's ever known. So when he's forced to confront the wider world, adventures, mysteries, and shenanigans—both dangerous and silly—ensue.
The Gene is on my best of 2017 list, and I never would have tackled it without a push from Read Harder. It's big and a little intimidating (I highly recommend the audio!) but so, so worth it. Mukherjee is fabulously talented writer with an ability to illuminate complex scientific concepts without oversimplifying them too much. From Darwin and Mendel to the terrifying American eugenics of the early 20th century to the Human Genome Project, this book is everything you've ever wanted to know about the mysteries of what makes us us, the scientists who solved those mysteries, and the many possible futures they represent.
This was the first middle grade novel I read as an adult, and it was delightful. It takes place in 12th century Korea, where a young orphan, Tree-ear, enamored of the art of pottery, gains a place in the household of master potter Min. With Min, Tree-ear learns a lot about pottery, but also about family and belonging. This is a warm and engaging story that will make you smile and cheer. Plus you'll learn a lot about the history of traditional Korean pottery, which is totally fascinating.
I cannot say enough good things about this play. It's about Eliot, a young soldier who's just returned from Iraq, but it's also about a group of addicts who find love, friendship and support in an online chatroom. The layers of beauty and complexity are astounding; it's a masterfully told story about family and trauma, connection and community, all the ways we hurt and heal each other. It was one of the first books I read in 2017, and remained one of the absolute best.
Kpomassie was a boy in Togo when he came across a book about Greenland and decided he had to go there. It takes him almost a decade to work his way through West Africa and Europe to Greenland, but he finally arrives and spends nearly two years living with the Inuit people along the remote Arctic coast. It's a fascinating travel memoir, written with a lot of warmth and humor, but Kpomassie is also observant and smart and has a lot to say about colonization, both as an outsider to Inuit culture and as a native of a formerly colonized country.
From fire and pots to knives and spoons, Wilson's fascinating book is a journey through the history of kitchen technology, and how the things we use to cook have also shaped what we cook. It's a mostly Western perspective, focusing on the history of European cooking technology, although she also examines the history of Chinese cooking and cuisine. I love cooking, but until I read this book, I'd never thought about the impact that such simple things as wooden spoons and measuring cups have on both cuisine and culture.
Published by Tiny Hardcore Press (founded by Roxane Gay), Mother Ghost is a weird and beautiful collection of short stories about a thirty-something gay man and his relationship with his mother, his various lovers, and himself. Haunting and strange, with just a touch of magic and sharp, startling prose, this short book of very short stories has stayed with me for a long time.
Beautiful, beautiful poems about exile and home and war and immigration and loss and resilience and longing. I could not put this book down. I can't do justice to the beauty of this book with words, so I'll leave you with this excerpt from the poem "Tablets":
"Homeland, I am not your mother,
so why do you weep in my lap like this
every time
something hurts you?"
I love a good baseball novel, and this is one of the best I've read in recent years. On the surface, it's a story about one incredible college athlete and how his presence affects the baseball team at the sleepy liberal arts school he attends. But underneath, it's about so much more—it's about family and loss and the odd complexities of love, about friendship and aging and parenthood, about who we are to each other, and how that changes the way we see ourselves. An all-around gorgeous five-star novel.
Ghobash's letter to his sons is a beautiful and complicated exploration of all the big ideas that anyone who spends any time striving and questing must eventually wrestle with. He tackles religion and morality, faith, fundamentalism, violence, injustice, and global politics. Though he writes specifically about Muslim life, and muses about much that is central to Islam, this book is a must-read for anyone who thinks, feels, wonders, and doubts.
If you've been hanging around Book Riot for more than a few minutes, you've probably heard one of us rave about this book. It's awesome. I needed that push from a reading challenge to get me to pick up a "self-help" book, but you don't! Trust me when I tell you that this book is exactly what you need to start off your year inspired, excited, and affirmed.
Relish by lucy knisley
Lucy Knisley's graphic love letter to food—cooking it, eating it, sharing it—is like sitting down to eat a plate of your favorite cookies with your best friend on a beautiful fall afternoon. It's unabashedly joyful, mouthwateringly delicious, full of coziness, warmth and simple, pure revelry. Thinking about this book still makes me smile. It's perfection in comic form.