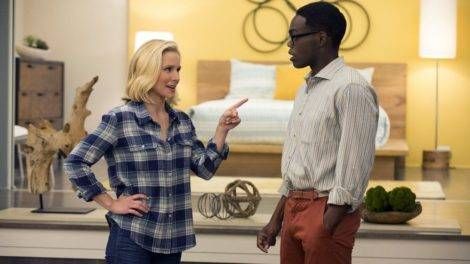 Lists
Book and Sitcom Pairings for Your Reading Pleasure
This content contains affiliate links. When you buy through these links, we may earn an affiliate commission.
A little while ago I was talking to a colleague and friend about books and reading. She asked me to recommend books that "are like an episode of New Girl." As we unpacked what exactly that meant so I could help her identify some good next reads I started thinking about the book equivalent to sitcoms. Books that are a good pressure valve release. Sometimes you need to be pushed and challenged by what you read. Other times you need to smile and laugh at the foibles of the human experience. So if you're in a sitcom-y mood here are some book/sitcom pairings to help you find your next read.
If you like: New Girl


You Should Read: The Wedding Date
b
y Jasmine Guillory
The set-up for this book is straight out of a New Girl episode. I can absolutely see Winston meeting someone while trapped in an elevator, that leading them to going to a wedding together, and then eventually leading to a will they/won't they storyline full of heart and humour. In fact it's eerily similar to an episode from early in the series when Jess goes as Nick's plus one to a wedding and hilarity ensues. The mix of absurd situations and romantic hilarity make these two a match made in sitcom heaven.
If You Like:
Fresh Off the Boat
If you love Fresh Off the Boat's look at the life of an immigrant family moving across the country, you are going to love The Wangs vs. The World. Funny and charming straight out of the opening scene of Fresh Off the Boat where we see the Huang family in a van talking through their move from Washington to Florida. This is a great pairing for those looking for that special mix of immigrant family drama and the absolute hilarity of being new to a city or a country.
If You Like: The Big Bang Theory
A book that takes on hard science fiction in a humorous way? Sounds exactly right for those who "Bazinga!" along with Sheldon every week. Just like Big Bang Theory, this book finds the funny at all of the wibbly-wobbly timey-wimey stuff that comes with science fictional universes.
If You Like: Black-ish
If you're looking for something that takes a funny look at the serious issues that face African-Americans, look no further than Phoebe Robinson's memoir, You Can't Touch My Hair. In fact, I'm almost 100% certain that Zoey Johnson read this book after seeing Phoebe on Broad City and then following her on Twitter. Zoey then probably gave it to her Mom, Rainbow, and now it's sitting on her nightstand underneath The Origin of Others and The Underground Railroad. Anyways, if you love the perspective and humour of Black-ish, you're gonna love this memoir. Hint: Listening to it on audiobook will give you a whole new respect for Robinson's amazing pop-culture infused wit that will serve to further reinforce this pairing. I guarantee it!
If You Like: Younger
You Should Read: The Perfect Find
by Tia Williams
If you love seeing Liza try to navigate the publishing world while being significantly older than most of her co-workers, you're going to love The Perfect Find. Both take a serious yet hilarious look at the hardships that come when trying to start over. It's even got a steamy subplot with a younger man that I'm sure will appeal to those who are #TeamJosh.
If You Like: Jane the Virgin
If you like your sitcom with a dose of magical realism and telenovela drama, you're going to love The Weight of Feathers. A love story a la Romeo and Juliet, except that the feuding families are traveling magical acts. Mermaids, fated love, family drama. This book truly feels like it was made for Jane the Virgin fans.
If You Like : The Good Place
WARNING: SPOILER AHEAD! (Sorry, everyone. The pairing for The Good Place was too good to pass up but it's definitely a spoiler for the end of Season One so stop here if you haven't gotten that far yet.)
SERIOUSLY. SPOILER ALERT.
You Should Read
:
Damned
by Chuck Palahniuk
A book written by a renowned comedic novelist about a young girl trying to come to terms with the fact that she's going to be spending eternity in hell. Sound familiar? If you love the morality humour and twisty examination of hell and heaven from the Good Place, this book seems like the perfect pairing given the twist at the end of Season One.