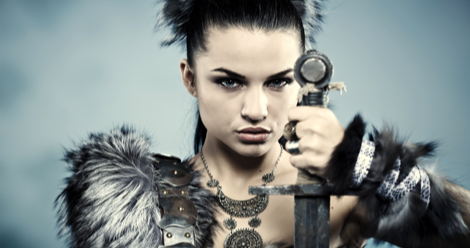 Feminism
10 of the Best YA Feminist Fantasy Releases of 2018 So Far
This content contains affiliate links. When you buy through these links, we may earn an affiliate commission.
2018 has been one of the best reading years for me so far, in no small part due to the many fantastic young adult fantasy novels I've read. I've written before about how fantasy made me a feminist, and I continue to love seeing how feminism develops in the genre.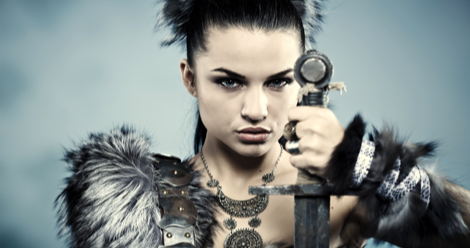 These 10 YA feminist fantasy books are sure to create some new badass feminists out there, as well as make any feminist's heart pull out their rage sword and slay some f*cking patriarchal dragons. And there are a lot of dragons out there. Get to slaying, girls.
Imagine an order of assassin nuns in a fantasy, apocalyptic world. Imagine they worship a goddess. Imagine a protagonist in this order of markswomen, but instead of renouncing her past life, as they are supposed to do, she seeks revenge. A compulsive read.
The Belles by Dhoneille Clayton
Another order of women, but this group of women—or belles—use magic to help people become beautiful. Camellia is such a belle and wants to serve the royal family (with a matrilineal hierarchy) more than anything else, or so she thinks. But when she makes some discoveries about her powers, her goals change. The Belles is a fantastic commentary on beauty and race, with female friendships.
Speaking of nunneries, Tess doesn't want to be in one. When her family threatens to put her in a nunnery because they don't want to deal with her rebellious ways, she runs away from home, posing as a boy. On her journey with her best friend, a quigutl, Tess tries to work through all the crappy things that have happened to her. Tess of the Road is a character driven fantasy that takes place in the same world as Seraphina, but you don't need to read Seraphina first (I didn't).
A secondary world based on African mythology that also comments on current social problems, like police brutality? Sign me up. Children of Blood and Bone is also high action, with two teen girls trying to save their kingdom's maji, but the king wants all maji dead. The main character, Zélie—just such a maji—is joined by her brother and the king's daughter, Amari, who has stolen a scroll that could bring magic back. I love the friendship that forms between Zélie and Amari.
Sister witches, seeking vengeance on the town that sentenced them to death centuries ago by luring away boys each summer and drowning them. Enough said.
If you liked The Bone Witch—book one in the series—then you'll definitely want to read The Heart Forger, which is even better. War is brewing and Tea, an asha who can raise the dead, is at the center of it. In this fantasy world, the women weld the magic. And Tea is one of the most powerful.
A retelling of King Lear, three sisters vie for power and queendom in a patriarchal society where the king has depleted the country's magical reserves. These sisters are amazingly complex, and POC.
Dread Nation is one of my favorite reads of the year so far. And talk about a feminist cover. Set in an alternate history of the Civil War era where the dead rise after the Battle of Gettysburg, Jane, that badass girl on the cover, kicks some zombie ass. I loved Jane's personality and attitude. There's also an amazing female friendship.
Set in a secondary fantasy world based on the Vikings, Eelyn is a warrior captured by the enemy. This is a world where women fight alongside the men, but also one where misogyny still dominates. And Eelyn is having none of it. While an excellent feminist read in most respects, I personally found the main love relationship problematic.
Furyborn by Claire Legrand
Two feminist perspectives on two totally different timelines living two totally different lifestyles, yet their fates are entwined. Rielle hides her magic, but when her magic is discovered she's forced to undergo a trial to possibly become the Sun Queen. And far in the future, the bounty hunter Eliana becomes wrapped up in trying to find out who is kidnapping women in her city. A slow burn, but worth it.
Want some more recommendations? There are so many great YA books that have been released recently, and many of them are fantasy.
What have been your favorite YA feminist fantasy books this year?