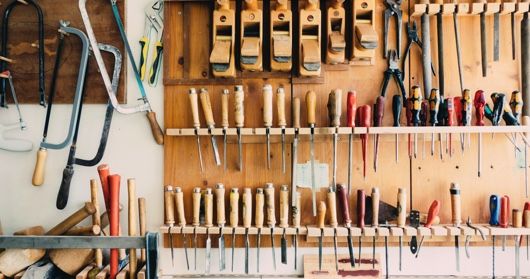 How To
50 Must-Read How-To Books
This content contains affiliate links. When you buy through these links, we may earn an affiliate commission.
Want to learn a new skill or try out a new hobby? Here are 50 of the best how-to books written to teach you 50 different things. I tried to keep this list as random as possible, catering to a wide range of interests and topics, but of course I'm naturally drawn to certain things so there is some bias. (Half of the list would be food-related if I hadn't stopped myself.)
Art & Crafts Books
"Shows simple step-by-step illustrations that make it easy for anyone to draw cool stuff with precision and confidence. These pages will guide you through the basic principles of illustration by concentrating on easy-to-learn shapes that build into complex drawings."
"Step-by-step instructions complete with color photographs. Includes a chapter on bisque firing, waxing, and glazing. 4 basic pottery projects for the beginning potter: The art of pottery making is described in detail for the beginning or experienced potter."
"Here are tools and insights, the instructions (and warnings against instructions) that poets—aspiring or practicing—can use to hone their craft, perhaps into art."
"This book contains 12 models that clearly illustrate specific key folds and base forms that provide a foundation for the development of origami skills. 365 pieces of beautifully designed origami papers are provided to create models in three different sizes-perfect for use as ornaments, jewelry, and just for fun."
"All the essential information and instruction the beginner needs to know to create stunning stained glass projects. The projects–starting with the simplest and ranging to the more difficult–build on mastering skills and tools; understanding glass, copper foil, and lead came techniques; creating a good work environment; and stained glass safety."
Business, Career & Finance How-To Books
"A guide to those bewildered or exhausted by management, written for bosses and those who manage bosses. … it shows managers how to be successful while retaining their humanity, finding meaning in their job, and creating an environment where people both love their work and their colleagues."
"Concise and highly readable, Get That Job! is packed with everything you need to prepare for the best interview of your life. Through proven advice and tips, step-by-step instructions, sample questions and worksheets, you will learn how to stand out for all the right reasons."
"Are you convinced the only way to survive your Idiot Boss is to drink heavily, quit your job, or grind up your medication into your I-Boss's coffee? Despair no longer. How to Work for an Idiot offers hope for the spirit and strategy for the mind."
"As nightlife blogger, then social media strategist, and now Senior Director of Influencer Strategy and Talent Partnerships at Hearst Magazines Digital Media, Brittany Hennessy has seen the role of influencers evolve and expand into something that few could have imagined when social media first emerged. She has unrivaled insight into where the branded content industry was, where it is, and where it's going."
"Bringing the wisdom of 30+ years in the finance industry to bear–much to the benefit of novice learners and experienced investors alike–Snow provides readers with the complete picture on stocks, bonds, treasuries, ETFs, mutual funds, indexes, REITS and several other investment securities. Snow's intrepid but practical asset-allocation investment philosophy is masterfully communicated and highly appropriate for market newcomers. "
"This book will not only guide you through the necessities of starting a nonprofit, but also provide you with the skills and resources to ensure that your nonprofit lives past the first year and you create the good in the world you want to see."
Food How-To Books
"Chef Yamashita shares a delightful collection of recipes for his signature sponge, chiffon and mousse cakes, so you can make these creations your own. With an additional section on special cakes that are gluten-free or eggless, everyone can join in the party!"
"As a professionally trained chef and avid home baker, she uses her experience to guide readers through the science and art of sourdough. With step-by-step master recipe guides, readers learn how to create and care for their own starters, plus they get more than 60 unique recipes to bake a variety of breads that suit their every need."
"With the easy, step-by-step cheese making recipes specifically designed for beginners, you'll be making the fresh, tasty cheeses that you love so much in no time."
"Kenji focuses on the science behind beloved American dishes, delving into the interactions between heat, energy, and molecules that create great food. Kenji shows that often, conventional methods don't work that well, and home cooks can achieve far better results using new—but simple—techniques."
Games & Hobbies Books
"Ramp up your role-playing game (RPG) and make your character your own with this fun, interactive workbook—an essential addition to any player's gaming kit."
"The perfect guide for all skill levels to learn the different styles of Mahjong—from Mahjong beginners to pros."
"J.R. Capablanca was a World Chess Champion and one of the greatest players in chess history, yet he wrote very little about the game. Chess Fundamentals, though normally for the beginning player, contains valuable insights that will benefit players at all levels of understanding, including masters."
"By understanding your cat's motivations, needs and communication you can modify and prevent behavior problems, avoid common mistakes made by both novice and experienced owners, and ultimately continue to enrich and enjoy a relationship in which you are unconditionally loved, endlessly forgiven for your mistakes, never judged, and constantly entertained.
"Learn classic sleight of hand techniques that are simple enough for any apprentice to grasp. Conquer magical ruses that require no special equipment, and are explained with simple step-by-step instructions."
"Written specifically for the western reader by one of the strongest players in the world, it presents the rules, tactics, and strategy of this unique game in a step-by-step, easy to understand way."
"An introduction details the different ways in which beeswax has been used throughout history, as well as the products that contain it today. You'll also find an explanation of the different types of beeswax, as well as insider tips on working with beeswax, followed by step-by-step instructions for making candles, balms, salves, creams, scrubs, soaps, ornaments, art, and more out of beeswax."
"Everything a student pilot needs to gain aviation certification is included in this handbook for student pilots."
"With detailed descriptions and profiles, Yamasaki provides you with expert advice on growing, shaping, potting, cultivation techniques and more. Everything you need to know about growing bonsai is here."
For even more books in this category, check out our lists Best Crochet Books, Best Cross-Stitch Books, and Woodworking Books for Beginners.
Health & Fitness Books
"The first moments after an injury occurs are the most critical. This authoritative guidebook, based on course materials used by Red Cross chapters across the United States, shows you how to handle every type of first aid emergency."
"Shaun T unveils the 7 transformational principles that guided his progress through life and that are at the core of his incredibly successful workouts. T is for Transformation is a motivational master class as Shaun shows you how to become more flexible and resourceful, give everything you've got, and, most importantly, trust and believe in your path to success."
"Ayurveda is the world's oldest health system and sister science of yoga, originating in India 5000 years ago. It's the age-old secret to longevity, digestive health, mental clarity, beauty and balance that's regaining popularity today for its tried-and-trued methods."
"Jessica meets you at your current level of stretching ability and guides you step-by-step through each stretch, arming you with the confidence you need to progress into deeper levels of stretching for enhanced flexibility and strength over time."
"Designed to be both inspiration and guidebook for those new to mindfulness practice, Making Space offers easy-to-follow instructions for setting up a breathing room, listening to a bell, sitting, breathing, and walking meditations, and cooking and eating a meal in mindfulness."
How-To Books For the Home
"Organizing Solutions for People with ADD outlines new organizing strategies that will be of value to anyone who wants to improve their organizational, or lack of, skills in their life."
"This comprehensive guide will help you assess your priorities and your instincts, as well as your likes and dislikes, with practical steps for navigating and embracing your authentic design style."
"Your road map to the entire build process. By reading the guide you'll understand the steps that will need to be taken and know where and how to start building your own tiny house."
"With signature sass and straight talk, Jolie takes on questions ranging from the basic—how do I use a mop?—to the esoteric—what should I do when bottles of homebrewed ginger beer explode in my kitchen? My Boyfriend Barfed in My Handbag proves that even the most nightmarish cleaning conundrums can be solved with a smile, the right supplies, and a little music."
"A do-it-yourself guide to designing, building, and maintaining water tanks, cisterns and ponds, and sustainably managing groundwater storage. It will help you with your independent water system, fire protection, and disaster preparedness, at low cost and using principles of ecological design."
"Relevant to parents of toddlers as well as of twentysomethings-and of special value to parents of teens-this book is a rallying cry for those who wish to ensure that the next generation can take charge of their own lives with competence and confidence."
Outdoor How-To Books
"Expert angler and award winning outdoor writer Wade Bourne has created a step-by-step guide that masterfully breaks down the art of fishing with diagrams, vivid photographs, and lessons."
"Raising Monarch butterflies is made easy with the help of this detailed guide. How to Raise Monarch Butterflies explains what threats Monarchs face today and how readers can help conserve the Monarch's feeding grounds from encroachment. Revel in one of the most remarkable miracles of nature."
"Told with keen observations and sparkling with wry humor, Julie describes the terrors and pleasures of living a life of total independence on a sailboat where even simple decisions can have big consequences. This exhilarating, true story will thrill those planning to sail off into the sunset as well as armchair adventurers."
"Whether they own the latest model or a classic with thousands of miles on it, beginners and experienced cyclists alike can depend on this book to get their bikes out of the shop faster and keep them on the road longer."
Personal Improvement Books
"The definitive guide to being a bawse—a person who exudes confidence, reaches goals, gets hurt efficiently, and smiles genuinely because they've fought through it all and made it out the other side."
"Trent takes you through the necessary steps to become everything you are meant to be, from facing the reality of your circumstances and realizing your purpose in life, to breaking free from toxic environments and forgiving those–including yourself–who've harmed you, to learning how to guard yourself against the pitfalls of life."
"We all want people to do stuff. Whether you want your customers to buy from you, vendors to give you a good deal, your employees to take more initiative, or your spouse to make dinner–a large amount of everyday is about getting the people around you to do stuff. Instead of using your usual tactics that sometimes work and sometimes don't, what if you could harness the power of psychology and brain science to motivate people to do the stuff you want them to do – even getting people to want to do the stuff you want them to do."
"World-renowned body language expert Dr. Lillian Glass shares with you the same quick and easy approach she uses to unmask signals of deception–from "innocent" little white lies to life-changing whoppers."
This book "documents Cait's life for twelve months during which she bought only consumables: groceries, toiletries, gas for her car. Along the way, she challenged herself to consume less of many other things besides shopping. She decluttered her apartment and got rid of 70 percent of her belongings; learned how to fix things rather than throw them away; researched the zero waste movement; and completed a television ban. At every stage, she learned that the less she consumed, the more fulfilled she felt."
"Hitha Palepu, a former consultant who has traveled more than 500,000 cumulative miles around the world, shows that what and how you pack are who you are. Confidence and comfort inspire success upon arrival, whether you're exploring a new city, hoping to nail a job interview, or relaxing on a beach."
Science & Technology Books
"This classic beginner's guide has been completely revised to bring it up to date with the latest discoveries. Updated with the latest, most accurate information, new online resources, and more than 100 new graphics and photos."
"You'll learn everything you need to know to enter the secretive world of computer hacking. It provides a complete overview of hacking, cracking, and their effect on the world. You'll learn about the prerequisites for hacking, the various types of hackers, and the many kinds of hacking attacks."
"He provides insights into the creative process, his working life, his relationship with clients, and the struggles that any design professional faces in bringing innovative ideas to the world. Inspiring, informative and authoritative, How to…is set to be the bible of graphic design ideas."
Fictional How-To Books
"Lying is like 95% of what I do. But believe me: in this book, I'll let you know exactly how to become a master spy just like me. Obviously, you won't be as good at it as I am, but that's because you're you, and I'm Sterling Archer."
"In the apocalyptic world we live in, Mother Nature is angry. Danger waits at every turn, and catastrophes like the Los Angeles sharknados have taught us that we need to be ready for anything. But fear not. How to Survive a Sharknado and Other Unnatural Disasters is the first and only comprehensive guide to surviving the very worst that Mother Nature can throw our way."
---
Have you ever learned a new skill from a book? Do you have any recommendations for the best how-to books?