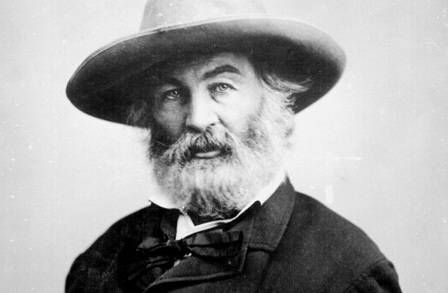 Lists
50 Walt Whitman Quotes And Poems for Every Occasion
This content contains affiliate links. When you buy through these links, we may earn an affiliate commission.
"I am an acme of things accomplish'd, and I an encloser of things to be." Or so my social media biography has read since I first fell in love with the cosmic and quotidian visions of Walt Whitman, as encapsulated in Leaves of Grass.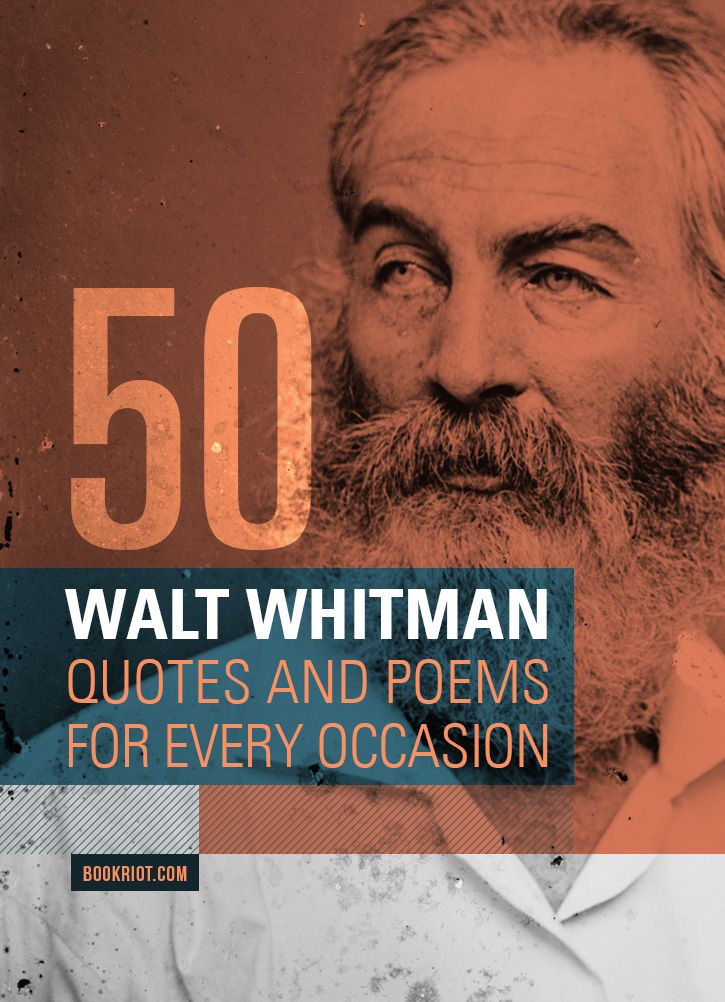 Walt wouldn't mind such borrowing, I'm sure; after all, it was he who said that "every atom belonging to me as good belongs to you." For Walt, the tiniest living particle was part and parcel of the stars—proof of the indelible connectedness of all that exists, and with all that came before and all that will come after. In this conception: sharing is not a big deal. We're doing it anyway, every moment, with every thing.
That may sound a little highfalutin. It isn't; it is quintessentially transcendentalist, and accessible by design. Walt is just…well, he's there for us. For whatever we need.
Published for the first time in 1855, Leaves of Grass does contain multitudes: a line that fits every moment, a promise to answer every feeling of despair, a quip to lighten even the darkest of moods.
Below are gathered a few of Walt Whitman quotes and his most enduring lines (and his sexiest ones, and the lines of Leaves that are most easily memorized for quick comebacks) for your ease of viewing.
Here's hoping that you find these Walt Whitman quotes helpful, and that they inspire you to dig farther into the mystical, tactile wonder that is Leaves of Grass.
IN RESPONSE TO THE VERY RUDE QUESTION OF HOW MUCH YOU EXERCISED THIS WEEK
"The first step I say awed me and pleas'd me so much,
I have hardly gone and hardly wish'd to go any farther." —from "Beginning My Studies," Inscriptions
TO PUMP UP THE CROWD FOR A PROTEST
"To the States or any one of them, or any city of the States, Resist much, obey little,
Once unquestioning obedience, once fully enslaved,
Once fully enslaved, no nation, state, city of this earth, ever afterward resumes its liberty." —from "To the States," Inscriptions

"I will make a song for the ears of the President, full of weapons with menacing points,
And behind the weapons countless dissatisfied faces." —from Section 6, Starting from Paumanok
AN EXCUSE FOR WHEN YOU JUST NEED TO SHOP
"In the name of these States shall I scorn the antique?" —from Section 4, Starting from Paumanok
RELIGIOUS/MORAL PRINCIPLES
"Whoever degrades another degrades me,
And whatever is done or said returns at last to me." —from Section 24, Song of Myself
"I believe a leaf of grass is no less than the journey-work of the stars." —from Section 31, Song of Myself
"I see something of God each hour of the twenty-four, and each moment then,
In the faces of men and women I see God, and in my own face in the glass,
I find letters from God dropt in the street." —from Section 48, Song of Myself
WHEN SENDING YOUR CHILD OFF TO COLLEGE
"Not I, not any one else can travel that road for you,
You must travel it for yourself." —from Section 46, Song of Myself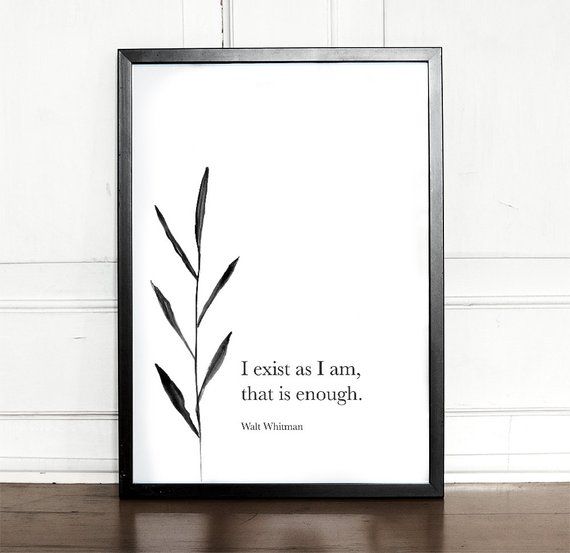 AN INSCRIPTION FOR A BOOK YOU'RE GIFTING
"falter not O book, fulfil your destiny" —from "In Cabin'd Ships at Sea," Inscriptions
TO SET THE MOOD
"I mind how we once lay such a transparent summer morning,
How you settled your head athwart my hips and gently turn'd over upon me,
And parted the shirt from my bosom-bone, and plunged your tongue to my bare-stript heart,
And reach'd till you felt my beard, and reach'd till you held my feet." —from Section 5, Song of Myself
"Is this then a touch? quivering me to a new identity,
Flames and ether making a rush for my veins,
Treacherous tip of me reaching and crowding to help them,
My flesh and blood playing out lightning to strike what is hardly different from myself,
On all sides prurient provokers stiffening my limbs,
Straining the udder of my hear for its withheld drip,
Behaving licentious toward me, taking no denial,
Depriving me of my best as for a purpose,
Unbuttoning my clothes, holding me by the bare waist,
Deluding my confusion with the calm of the sunlight and pasture-fields,
Immodestly sliding the fellow-senses away…" —from Section 28, Song of Myself
FOR YOUR EMAIL AWAY MESSAGE
"Done with indoor complaints, libraries, querulous criticisms,
Strong and content I travel the open road." —from Section 1, "Song of the Open Road"
TO BEGIN A FEMINIST DISCUSSION
"I will show of male and female that either is but the equal of the other." —from Section 12, Starting from Paumanok
FOR THE NYC TOURISM DEPARTMENT TO FINALLY TAKE ADVANTAGE OF
"City of orgies, walks and joys…O Manhattan" —from "City of Orgies," Calamus
IN DEFENSE OF IMMIGRANTS
"The man's body is sacred and the woman's body is sacred,
No matter who it is, it is sacred…
one of the…immigrants just landed on the wharf?
Each belongs here or anywhere just as much as the well-off, just as much as you" —from "I Sing the Body Electric," Children of Adam
FOR LGBTQ EQUALITY

"I dream'd in a dream I saw a city invincible to the attacks of the whole of the rest of the earth,
I dream'd that was the new city of Friends,
Nothing was greater there than the quality of robust love, it led the rest." —from "I Dream'd in a Dream," Calamus
"I wish to infuse myself among you till I see it common for you to walk hand in hand." —from "A Leaf for Hand in Hand," Calamus
AS A MANTRA
"I exist as I am, that is enough." —from Section 20, Song of Myself
WHEN SOMEONE CATCHES YOU PULLING A CYRANO DE BERGERAC
"These are really the thoughts of all men in all ages and lands, they are not original with me,
If they are not yours as much as mine they are nothing, or next to nothing." —from Section 17, Song of Myself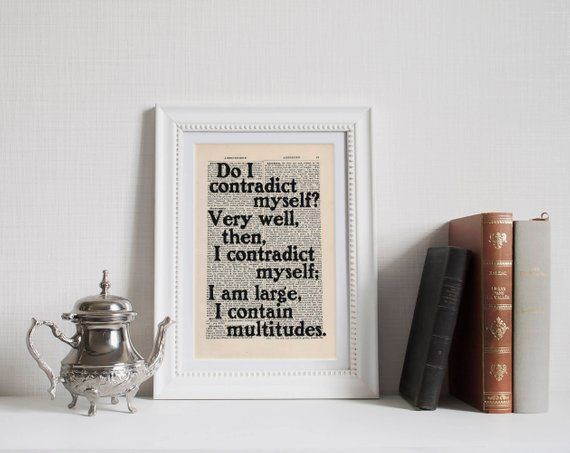 TO ROUSE THE 4th GRADE SOCCER TEAM AFTER A LOST GAME
"Have you heard that it was good to gain the day?
I also say it is good to fall, battles are lost in the same spirit in which they are won." —from Section 18, Song of Myself
FOR OBSCURE DIRECTIONS WHEN ARRANGING A TRYST
"Where the brook puts out of the roots of the old tree and flows to the meadow…" —from Section 33, Song of Myself
FOR LITERARY BUMPER STICKERS
"Resist much, obey little" —from "To the States," Inscriptions
"All truths wait in all things" —from Section 30, Song of Myself
"Heroic deeds were all conceiv'd in the open air" —from Section 4, Song of the Open Road
FOR SALACIOUS EUPHEMISMS TO MAKE YOU BLUSH
"love-flesh tremulous aching" —from "From Pent-Up Aching Rivers," Children of Adam
"Limitless limpid jets of love hot and enormous, quivering jelly of love, white-blow and delirious juice" —from "I Sing the Body Electric," Children of Adam
FOR A SERMON
"I know that the hand of God is the promise of my own,
And I know that the spirit of God is the brother of my own,
And that all the men ever born are also my brothers, and the women my sisters and lovers,
And that a kelson of the creation is love." —from Section 5, Song of Myself
WHEN YOU AREN'T QUITE READY TO SAY "I LOVE YOU" BACK
"There is that in me—I do not know what it is—but I know it is in me." —from Section 50, Song of Myself
FOR WALT WHITMAN TATTOOS
"all the things of the universe are perfect miracles" —from Section 12, Starting from Paumanok
"Clear and sweet is my soul" —from Section 3, Song of Myself
"Resist much, obey little" —from "To the States," Inscriptions
"I wear my hat as I please indoors or out." —from Section 20, Song of Myself
"…a leaf of grass…the egg of the wren…the running blackberry…and a mouse is miracle enough." —from Section 31, Song of Myself
"lilac, with a branch of pine…
some moss which I pull'd off a live-oak in Florida as it hung trailing down,
Here, some pinks and laurel leaves, and a handful of sage." —from "These I Singing in Spring," from Calamus
FOR A DATING PROFILE
"Are you the new person drawn toward me?
To begin with take warning, I am surely far different from what you suppose." —from "Are You the New Person Drawn Toward Me?" Calamus
AS AN ORIGIN STORY
"We have thus far exhausted trillions of winters and summers,
There are trillions ahead, and trillions ahead of them…
"My feet strike an apex of the apices of the stairs,
On every step bunches of ages, and larger bunches between the steps,
All below duly travel'd, and still I mount and mount.
"Rise after rise bow the phantoms behind me,
Afar down I see the huge first Nothing, I know I was even there,
I waited unseen and always, and slept through the lethargic mist,
And took my time, and took no hurt from the fetid carbon,
Long I was hugg'd close—long and long.
"Immense have been the preparations for me…
"All forces have been steadily employ'd to complete and delight me.
Now on this spot I stand with my robust soul." —from Section 44, Song of Myself
WALT WHITMAN QUOTES FOR SELF-REFLECTION
"Where is what I started for so long ago?
And why is it yet unfound?" —from "Facing West from California's Shore," Children of Adam
FOR A WEDDING
"When he whom I love travels with me or sits a long while holding me by the hand,
When the subtle air, the impalpable, the sense that words and reason hold not, surround us and pervade us,
Then I am charged with untold and untellable wisdom, I am silent, I require nothing further,
I cannot answer the question of appearances or that of identity beyond the grave,
But I walk or sit indifferent, I am satisfied,
He ahold of my hand has completely satisfied me." —from "Of the Terrible Doubt of Appearances," Calamus
FOR A FUNERAL
"They are alive and well somewhere,
The smallest sprout shows that there is really no death,
And if ever there was it led forward to life, and does not wait at the end to arrest it,
And ceas'd the moment life appear'd.
All goes onward and outward, nothing collapses,
And to die is different from what any one supposed, and luckier." —from Section 6, Song of Myself
"I bequeath myself to the dirt to grow from the grass I love,
If you want me again look for me under your boot-soles." —from Section 52, Song of Myself
AN EPIGRAPH FOR A MEMOIR
"This hour I tell things in confidence,
I might not tell everybody, but I will tell you." —from Section 19, Song of Myself
TO RIBALDLY CHANT AFTER A NIGHT OUT WITH FRIENDS
"Press close bare-bosom'd night—press close magnetic nourishing night!
Night of south winds—night of the large few stars!
Still nodding night—mad naked summer night." —from Section 21, Song of Myself
"I sound my barbaric yawp over the roofs of the world." —from Section 52, Song of Myself
FOR A LAST MINUTE BOOK PROPOSAL
"Twenty-eight young men bathe by the shore,
Twenty-eight young men and all so friendly;
Twenty-eight years of womanly life and all so lonesome.
"She owns the fine house by the rise of the bank,
She hides handsome and richly drest aft the blinds of the window.
Which of the young men does she like best?
Ah the homeliest of them is beautiful to her.
"Where are you off to, lady? for I see you,
You splash in the water there, yet stay stock still in your room.
"Dancing and laughing along the beach came the twenty-ninth bather,
The rest did not see her, but she saw them and loved them.
"The beards of the young men glisten'd with wet, it ran from their long hair,
Little streams pass'd all over their bodies.
"An unseen hand also pass'd over their bodies,
It descended tremblingly from their temples and ribs.
"The young men float on their backs, their white bellies bulge in the sun, they do not ask who seizes fast to them,
They do not know who puffs and declines with pedant and bending arch,
They do not think whom they souse with spray." —from Section 11, Song of Myself
PRECEDING AN ANTIVAX ARGUMENT
"Your facts are useful, and yet they are not my dwelling." —from Section 23, Song of Myself
ALLEGEDLY HEARD ON THE LEWD PRESIDENTIAL TAPE
"Dash me with amorous wet, I can repay you." —from Section 22, Song of Myself
QUOTES TO REASSURE YOUR LIT PROFESSOR THAT YOU DID, INDEED, READ LEAVES OF GRASS
"I celebrate myself, and sing myself,
And what I assume you shall assume,
For every atom belonging to me as good belongs to you." —from Section 1, Song of Myself
"A child said What is the grass? fetching it to me with full hands;
How could I answer the child? I do not know what it is any more than he.
"I guess it must be the flag of my disposition, out of hopeful green stuff woven.
"Or I guess it is the handkerchief of the Lord,
A scented gift and remembrancer designedly dropt,
Bearing the owner's name someway in the corners, that we may see and remark and say Whose?
"Or I guess the grass is itself a child, the produced babe of the vegetation.
"Or I guess it is a uniform hieroglyphic,
And it means, Sprouting alike in broad zones and narrow zones,
Growing among black folks as among white,
Kanuck, Tuckahoe, Congressman, Cuff, I give them the same, I receive them the same.
"And now it seems to me the beautiful uncut hair of graves." —from Section 6, Song of Myself
"Do I contradict myself?
Very well then I contradict myself,
(I am large, I contain multitudes.) —from Section 51, Song of Myself
"I am of old and young, of the foolish as much as the wise,
Regardless of others, ever regardful of others,
Maternal as well as paternal, a child as well as a man,
Stuff'd with the stuff that is coarse and stuff'd with the stuff that is fine." —from Section 16, Song of Myself
---
What are your favorite Walt Whitman quotes?